UPDATE: Dec. 11 ― Officials in New Jersey initially said the shooting was not a hate crime or terroristic act. However, some officials are now saying the shooters targeted a kosher Jewish grocer. Stay tuned to the story HuffPost published on Wednesday for the most up-to-date details.
JERSEY CITY, N.J. ― A police officer was among six people killed in a shootout on Tuesday that spanned several locations in Jersey City over the course of hours.
The officer, identified as veteran Jersey City Police detective Joseph Seals, was fatally shot and three other officers were wounded as they responded to two incidents at two locations, Chief Mike Kelly said at a press conference.
Gunfire erupted for hours both at a local cemetery and a kosher market. Officers were immediately fired upon with "high-powered rifles" as they responded at both locations.
Officials believe the two gunmen shot Seals in the cemetery before stealing a U-haul truck and fleeing the scene. They ended up at the nearby kosher market, where they barricaded themselves for the next several hours during the shootout with police, authorities said.
The gunmen and three bystanders inside the market were killed, Kelly said. He said he does not believe the bystanders were killed by police gunfire.
A bomb squad was examining the stolen U-haul, which was thought to possibly contain "an incendiary device," police said.
Jersey City Mayor Steven Fulop tweeted Tuesday night that an initial and ongoing investigation has revealed that the shooters targeted the location they attacked.
Fulop's tweet did not further clarify whether he meant the cemetery or the supermarket, or whether the kosher supermarket was chosen with anti-Semitic intent. At the earlier press conference, Kelly said that there was no immediate evidence the incident was a hate crime or terrorist act.
One of the surviving officers was shot in the shoulder and the other two officers wounded by shrapnel, Fulop told reporters. Local schools, which had been on lockdown since the shooting began, started to release students just after 4 p.m., Fulop later added on Twitter.
"Due to an excess of caution the community may see additional police resources in the days/weeks ahead," Fulop tweeted. "We have no indication there are any further threats."
Seals, a detective tasked with removing guns from city streets, leaves behind a wife and five children, Kelly said.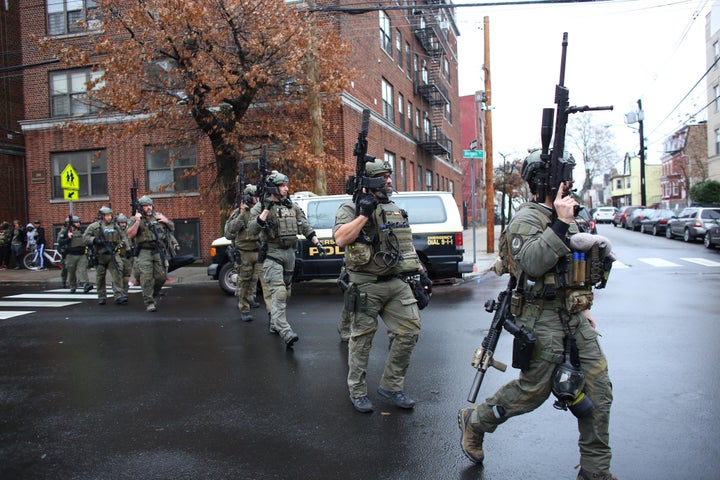 Harry Schwartz and his nephew Abe joined dozens of bystanders watching the police activity Tuesday afternoon a few blocks away from the shooting site.
Schwartz, a real estate investor in the neighborhood, told HuffPost he had never seen anything like it before. "Definitely nervous," he said. "It makes the whole area feel not safe."
A worker at a convenience store four blocks from the shooting told HuffPost he was inside when he heard gunfire and police sirens outside. He said he immediately locked the door and sat down behind the counter, calling the situation "very scary."
"It's OK though," he said. "It's life. Anything could happen anywhere."
New Jersey Gov. Phil Murphy (D) said in a statement posted to Twitter that he had been briefed on the situation and that his "thoughts and prayers" were with the city's police force, the wounded officers and local residents.
"I have every confidence in our law enforcement professionals to ensure the safety of the community and resolve this situation. Today reminds us of their bravery and the sacrifices they, and their families, make for our communities," he tweeted.
The Bureau of Alcohol, Tobacco, Firearms and Explosives also responded to the scene.
The New Jersey Office of Homeland Security and Preparedness said it is coordinating with local, county, state and federal partners. The White House also said that President Donald Trump has been briefed on the situation.
"We need a lot of prayers right now for Jersey City officers," tweeted the New Jersey State Policemen's Benevolent Association. "Keep all those involved in your thoughts."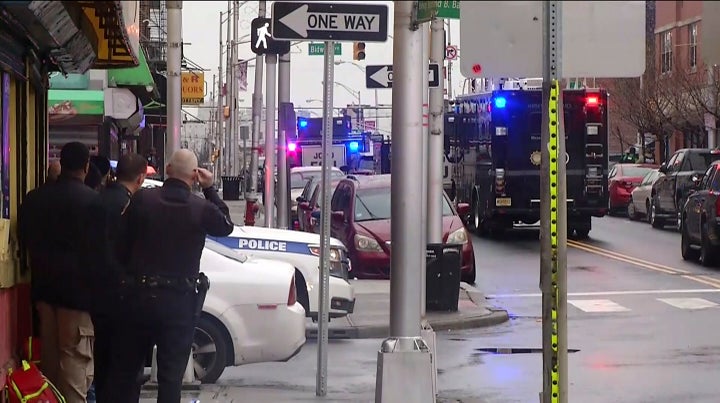 Local resident Andy Patel, who works at a liquor store about three blocks away from the site of the shooting, described hearing consistent gunfire for about an hour on Tuesday afternoon.
"I can hear the gunshots. It's like firecrackers going off. They were shooting like crazy about an hour ago. Then it stopped for like 20 or 30 minutes. The cops were clearing everyone off the streets," he told The Associated Press.
Jersey City is located across the Hudson River from Manhattan, New York City. It's the state's second most populous city with a population of roughly 265,000.
Andy Campbell contributed reporting.
Popular in the Community