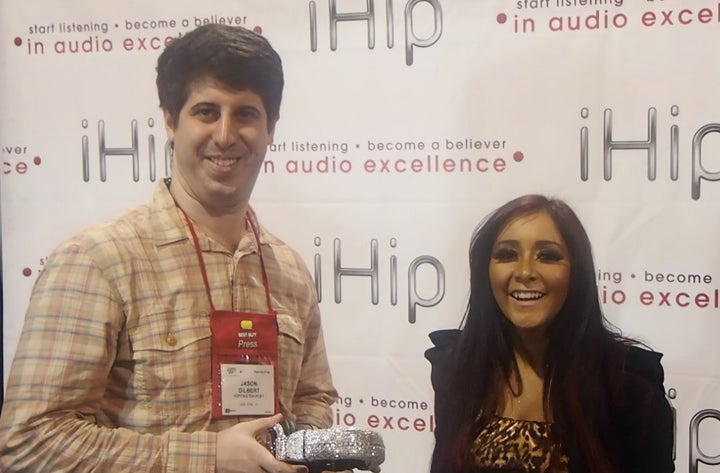 SPOILER ALERT: Snooki owns an iPhone 4S, and she loves it, and she loves Siri.
Celebrity endorsements and appearances have become an increasingly large trend at the Consumer Electronics Show, and this year's guest list was certainly impressive: Justin Bieber pimped a Vietnamese company's dancing robot (never thought I'd write that sentence), Will Smith and Kelly Clarkson showed up at Sony's press conference, and 50 Cent, LL Cool J and Damian Marley were all on hand to hawk their own wares.
Guest performances at exclusive nightclub parties included Will.I.Am for IHeartRadio, The All American Rejects for Lenovo/Intel, DJ Tiesto for HP/Intel and RedFoo from LMFAO for Panasonic/MySpace. At a conference overstuffed with companies large and small jockeying for every journalist and buyer's attention, a megawatt celebrity can tip the scales and lure interest to where it otherwise wouldn't be.
Apropos of this truism: Snooki. She was in Las Vegas promoting an upcoming line of bedazzled over-ear headphones for iHip, a company that has built its brand with celebrity endorsements from NBA stars Carmelo Anthony, Matt Barnes and Larry Hughes in the past. With Snooki present, and a DJ spinning dance tunes all afternoon, iHip was one of the most popular booths at CES this year; in order to get to my interview with Snooki, I had to squeeze through a throng of photographers, gawkers, fans and detractors alike, all of whom had swarmed the booth as soon as it was announced that the "Jersey Shore" star was in the house.
Snooki's headphones don't have a release date or a price, but they do have a design: totally bedazzled in pink, purple and leopard print. At the very least, one can say that Snooki did not just slap her name on something that has little to do with her brand; having appeared on an MTV show whose scenes are at least liminally united around nightclubs with pounding dance music, Snooki is a logical fit to promote headphones -- and that those headphones are encrusted in rhinestones and fake gems is more than fitting.
Below, Snooki talks the inspiration for headphones, Apple versus Android versus BlackBerry, and more.
Calling all HuffPost superfans!
Sign up for membership to become a founding member and help shape HuffPost's next chapter