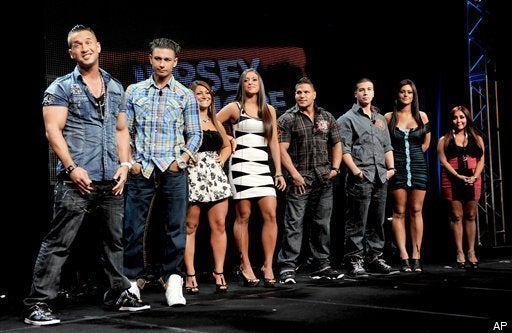 Rolling blackouts hit the cast of Jersey Shore in episode three.
As episode three opens, we see her slapping Pauly D in the face three times and then, minutes later, she quite honestly forgets that she hit him.
Reflecting on Angelina's behavior, a baffled Pauly D remarks, "I've never seen that before. I think that's a problem."
For those keeping score at home, Jersey Shore season three has featured at least one complete blackout per episode.
Remember when Ruthie was kicked off Real World: Hawaii for being an alcoholic? She was a complete nerd compared to the Jersey Shore crew.
Angelina's antics ostracize her from everyone else in the house. That is until "The Situation," not known for his charitable nature, pulls everyone together and gets the rest of the cast to give Angelina a second chance.
The amiable environment must not last, because her replacement, Deena Nicole Cortese, was introduced at a meeting of the Television Critics Association last week.
Meanwhile Ronnie and Sammi, everyone's least favorite lovebirds, gobble up most of episode three with tedious drama.
First they get into a fight at a club and Ronnie, just as he did in episode 1, starts making out with girls immediately after Sammi goes home. Nobody tells Sammi about this, so she keeps on believing that ol' Ron is her faithful boyfriend.
A much more intriguing story line emerges when team "M.V.P." (Mike, Vinny, Pauly) bring several "grenades" (ugly girls) back to the hot tub. It looks like The Situation and Pauly are about to wade waist-deep in a pool of bad decisions. Then one of the girl's breast forms falls out of her bra and the boys lose their buzz. Isn't that the way it always goes, ladies?
On another drunken night (is there any other kind?) Snooki and Vinny spend the night in bed together. The dialogue before the two of them pass out in each other's arms goes something like, Snooki: "Do you wanna fuck?" Vinny: (unenthusiastically) "Sure." It's tough to tell, but I don't think anything explicitly sexual happens.
The facts are unclear because (surprise!) nobody remembers anything when they wake up.
Get some rest Jersey Shorers. It's gonna be a long season.
Episode four is slated to air next Thursday at 10 p.m on MTV.