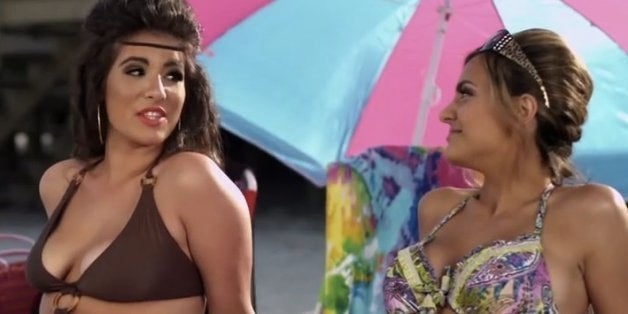 And "Jersey Shore Massacre" definitely would've been worse, if it weren't for the help of JWoww.
Jenni "JWoww" Farley told HuffPost Entertainment that she was contacted about halfway through the film's process, when producers wanted to add an authentic "Jersey Shore" cast member to the production team. When Farley eagerly signed on as executive producer -- "I've always dreamed of being a movie producer" -- the film took a whole new direction.
"It was more of a thriller, slasher. And I'm like, 'This totally should be a comedy,'" Farley said.
"When you think of the show 'Jersey Shore,' of course there was drama, but everybody likes the show because it's funny and lighthearted. That's what I was trying to focus on in the film," she added.
The movie centers on a group of obnoxious girls heading down the shore for the weekend. Ron Jeremy -- yes, that Ron Jeremy -- gives a realistic performance in his role of stoner landlord. (Because if you haven't encountered an unreliable, irresponsible super in your lifetime, don't worry ... you will.)
Once Jeremy's character mistakenly rents out the girls' house to another party, Teresa (Danielle Dallacco) offers up her mobster uncle's woodland estate in the Pine Barrens as an alternative vacation getaway. From there, "Jersey Shore Massacre" develops into a mix of cliche "Jersey Shore" moments and unoriginal horror movie tropes: a creepy neighbor, a secluded mansion in the woods and more. Just like MTV's reality show, there are definitely scenes of uncomfortable male aggressiveness and misogyny. But it's hard to be incredibly offended considering "Jersey Shore Massacre" isn't expected to be tasteful.
"There are moments where I clearly got inspiration from the 'Jersey Shore' cast members," Farley said. "You'll definitely watch at one point and be like, 'Oh, my god, that's so Mike.'
"And this is my way to kill them off, too, because we always wanted to kill each other" Farley joked.
Overall, Farley said she's happy to be give something back to the "Jersey Shore" fans.
"A lot of people miss our show and say they want a new season. I don't know if we'll ever have another season or get back together, but at least you can laugh your ass off at these dumb, stereotypical 'Jersey Shore' moments," she said.
Watch the trailer for "Jersey Shore Massacre":
Calling all HuffPost superfans!
Sign up for membership to become a founding member and help shape HuffPost's next chapter
BEFORE YOU GO
PHOTO GALLERY
'Jersey Shore' Style We Won't Miss