In front of thousands of basketball fans attending the Israeli Final Four semi-finals game between Hapoel Jerusalem and Hapoel Eilat on Monday, Asael Shabo, 22, stepped out onto the Jerusalem Arena court during halftime and proposed to his girlfriend, Saray Cohen. Shabo, who lost his mother and three brothers in a terror attack 14 years ago, was just as thrilled as the cheering crowd when his girlfriend accepted the ring, brushing away tears.
"I love basketball, and Hapoel Jerusalem is one of my favorite basketball teams," he told Tazpit Press Service (TPS). "I wanted to connect everything together. Saray had no idea that I was going to propose. She thought she was going to see the game."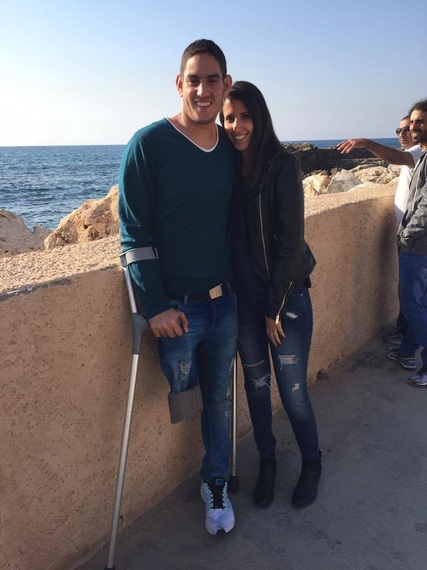 Photo: Courtesy / Asael Shabo and Saray Cohen.

Shabo was nine years old when a Palestinian terrorist broke into his family's home in the Itamar community of Samaria and murdered his three brothers (Neria, Tzvika, and Avishai) and his mother (Rachel) on June 20, 2002. The terrorist shot Shabo in his right leg and wounded his sister, Aviya, in the attack.
With three bullets and pieces of shrapnel in his leg, Shabo was in a coma for five days. The limb had to be amputated, and he spent two years in the hospital, after which he went through intensive rehabilitation treatments at the Israel Sports Center for the Disabled (ISCD) in Ramat Gan.

"In life, you can only get up and keep going," Shabo put it succinctly.

Today, Shabo is a leading athlete at the Israel Sports Center for the Disabled, both as a basketball player and a swimmer on a national and international level. He also trains children with disabilities.

As a member of Israel's national wheelchair basketball team, Shabo competed in the European Wheelchair Basketball Championships in 2013 and more recently in a wheelchair basketball competition in Spain. He is Israel's national champion for the 50-meter freestyle of disabled swimmers and is training for the 2016 Paralympics in Rio de Janeiro.

Speaking about his fiancée, Shabo said that she is a source of strength for him: "The love of my life has helped me out through a lot of difficulties, and, thanks to her, I was able to get through the ups and downs."

"This is a big step for us: the next chapter in our life together" Shabo said. "This is how I am continuing life, and I believe that our relationship can only get stronger. There is a lot to look forward to in the future."
Calling all HuffPost superfans!
Sign up for membership to become a founding member and help shape HuffPost's next chapter