Two Palestinian cousins attacked worshippers at a synagogue in Jerusalem with meat cleavers and a gun on Tuesday, killing four Israelis.
The attack in the ultra-Orthodox Har Nof neighborhood was the deadliest in Jerusalem since 2008. Three of the victims also had U.S. citizenship; the fourth was also British. Israeli police said at least six others were wounded and the attackers were killed in a police shoot-out.
In the wake of the attack, gruesome images of the scene showed the synagogue strewn with blood-soaked prayer shawls and books. "I looked up and saw someone shooting people at point-blank range. Then someone came in with what looked like a butcher's knife and he went wild," one witness told Israel radio.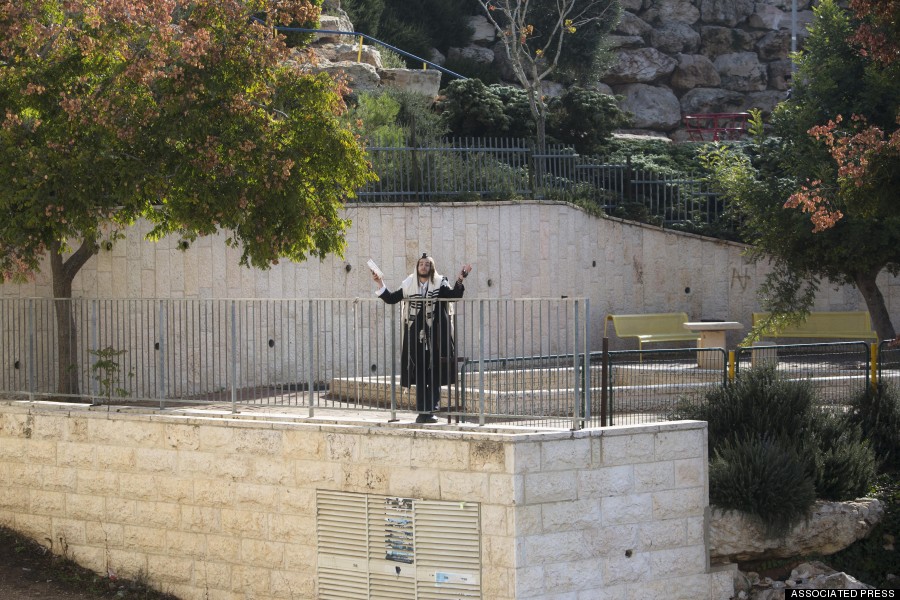 An ultra-Orthodox Jewish man prays at the scene of an attack on a synagogue in Jerusalem, Nov. 18, 2014. (AP Photo/Sebastian Scheiner)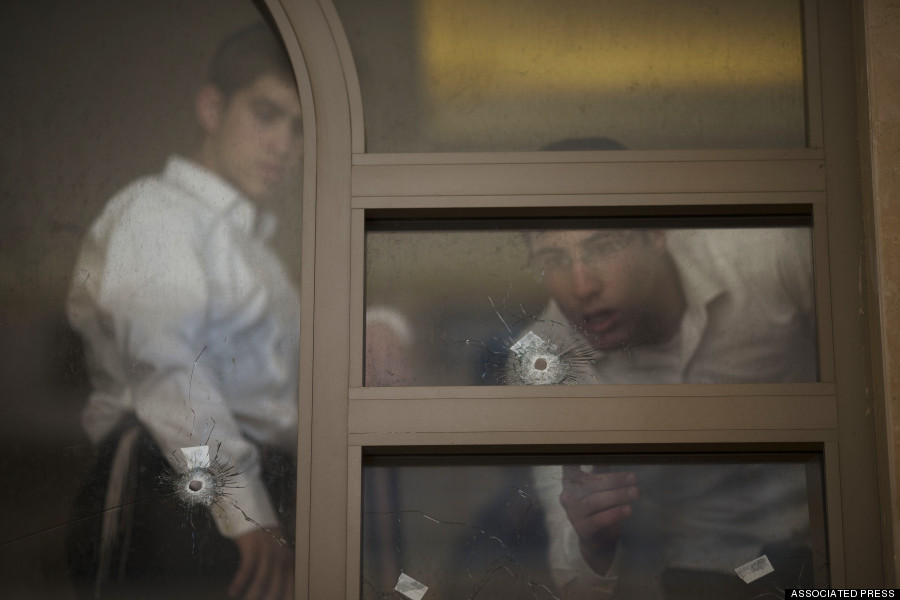 Two youths look at bullet holes inside a synagogue after an attack in Jerusalem, Nov. 18, 2014. (AP Photo/Ariel Schalit)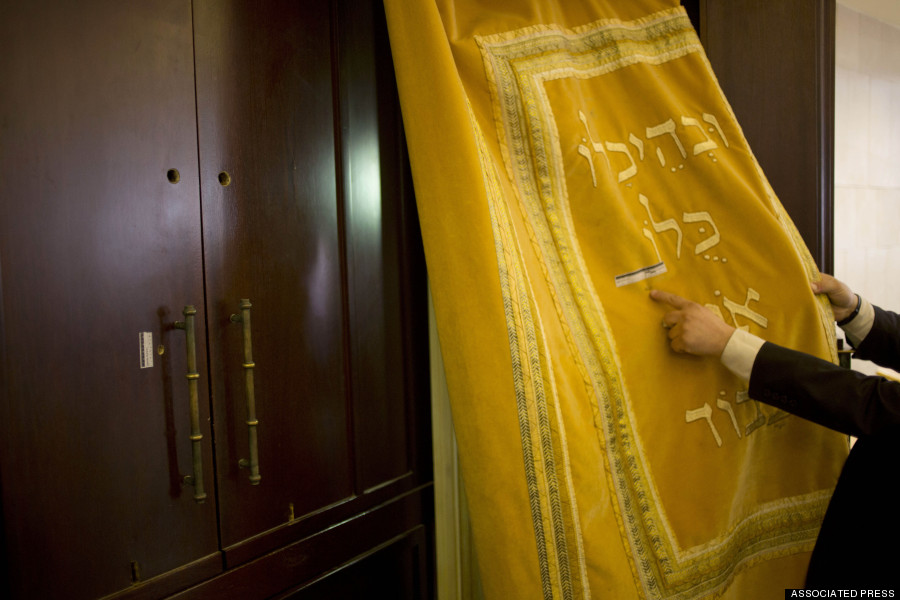 A man points to a bullet hole inside the synagogue after a shooting attack in Jerusalem, Nov. 18, 2014. (AP Photo/Ariel Schalit)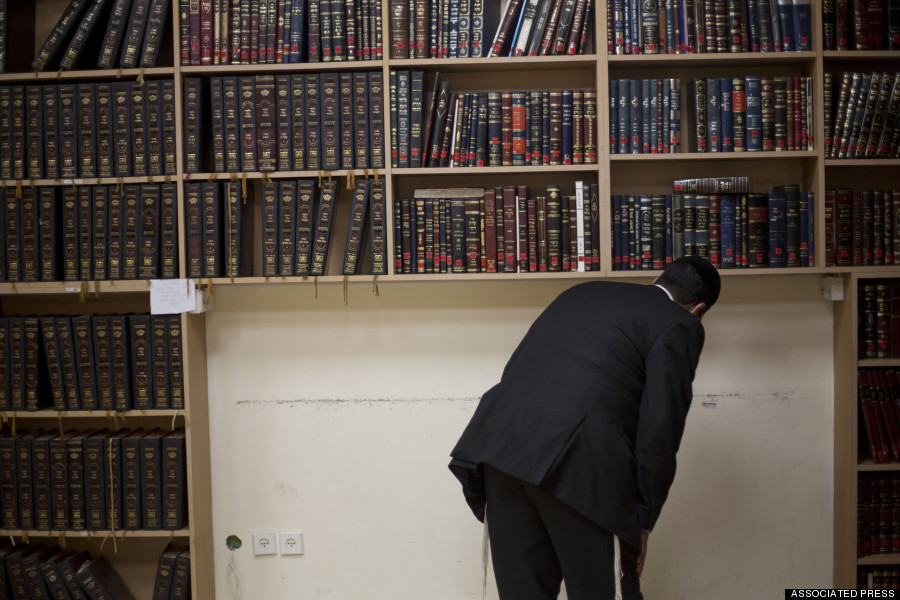 A man looks at holy books, blood stains and forensic evidence inside a synagogue after an attack in Jerusalem, Nov. 18, 2014. (AP Photo/Ariel Schalit)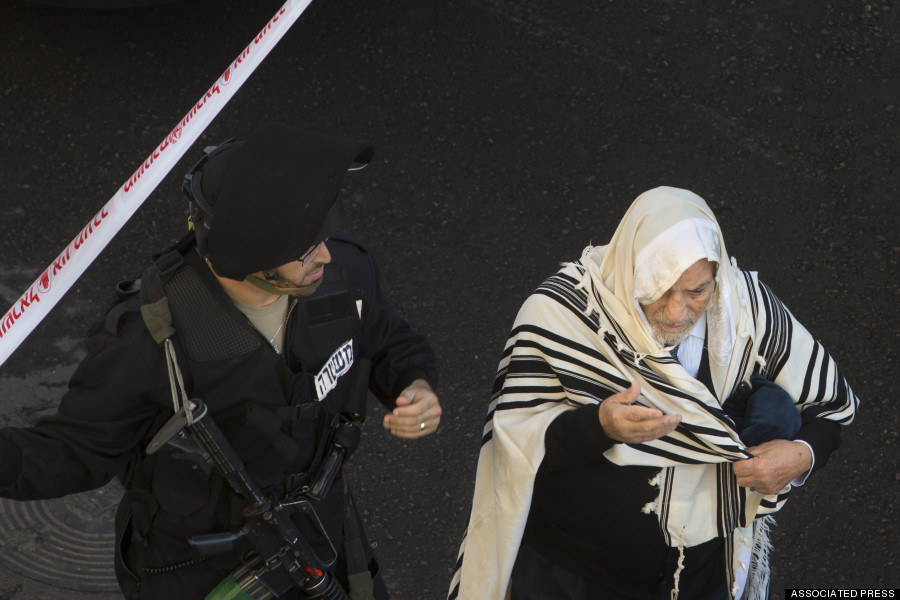 An Israeli police officer escorts an ultra-Orthodox Jewish man near the scene of an attack on a synagogue in Jerusalem, Nov. 18, 2014. (AP Photo/Sebastian Scheiner)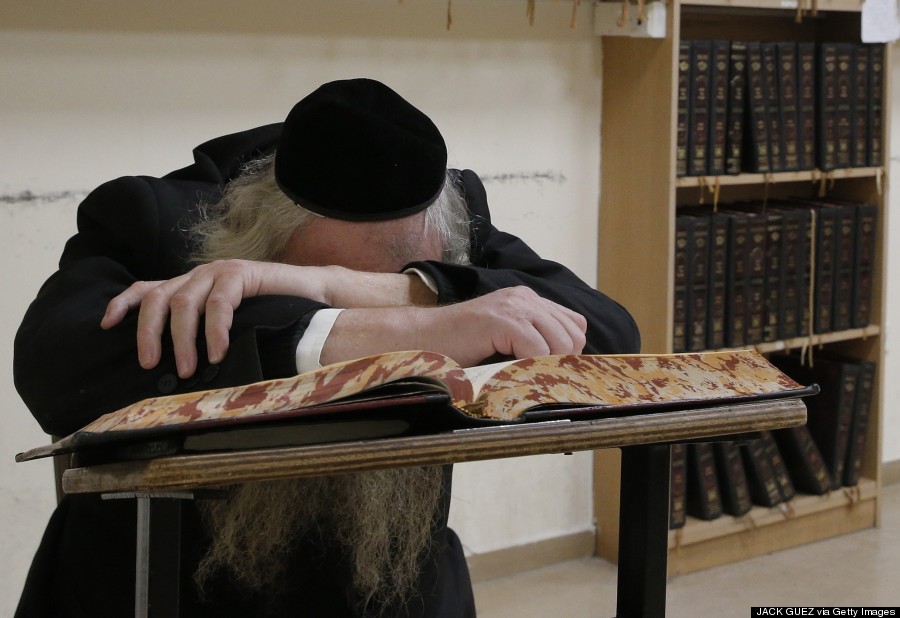 An ultra-Orthodox Jewish man puts his head in his hands inside a synagogue that was attacked in Jerusalem on Nov. 18, 2014. (JACK GUEZ/AFP/Getty Images)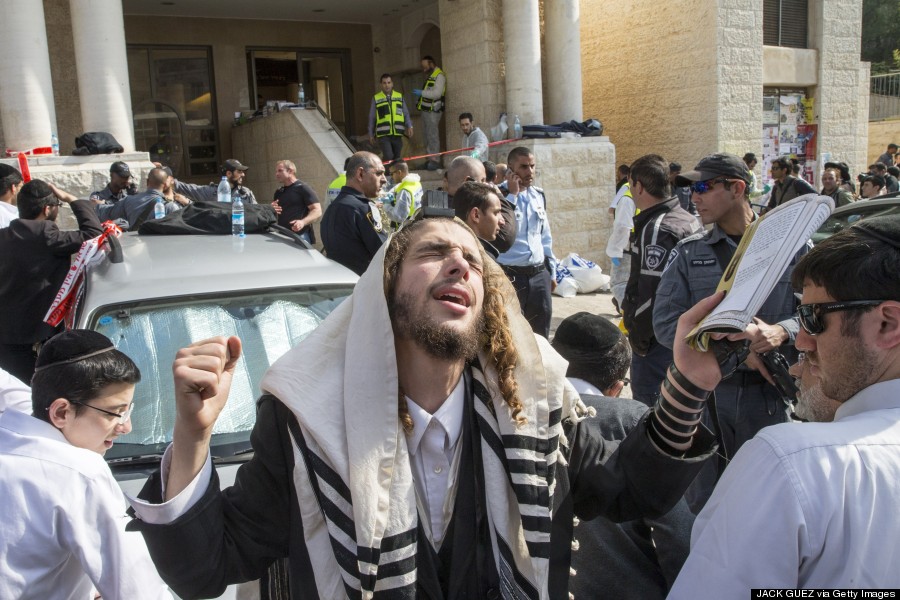 An ultra-Orthodox Jewish man prays at the scene of an attack on a synagogue in Jerusalem on Nov. 18, 2014. (JACK GUEZ/AFP/Getty Images)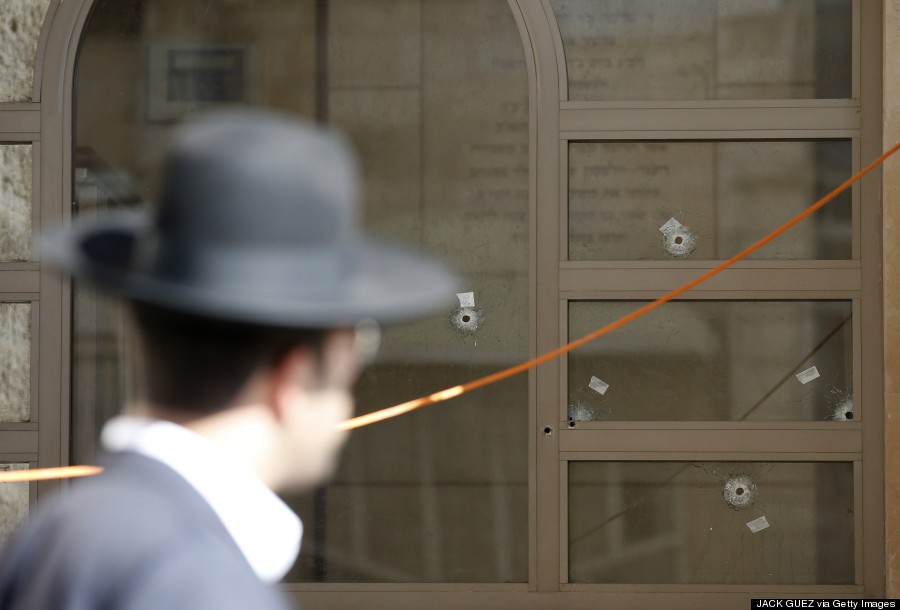 An ultra-Orthodox Jewish man walks past a synagogue with bullet holes in the window that was attacked in Jerusalem on Nov. 18, 2014. (JACK GUEZ/AFP/Getty Images)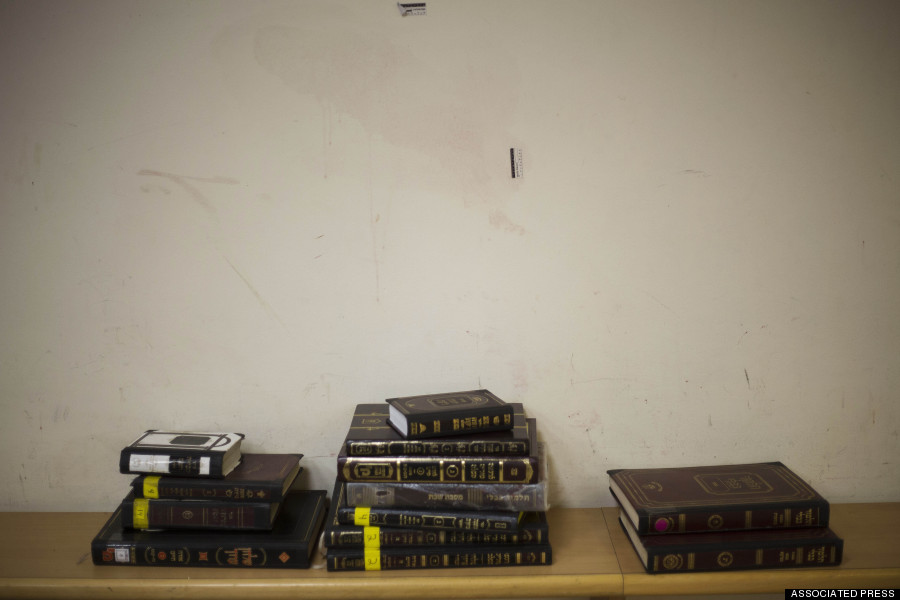 Holy books, blood stains and forensic evidence inside the synagogue that came under attack in Jerusalem, Nov. 18, 2014. (AP Photo/Ariel Schalit)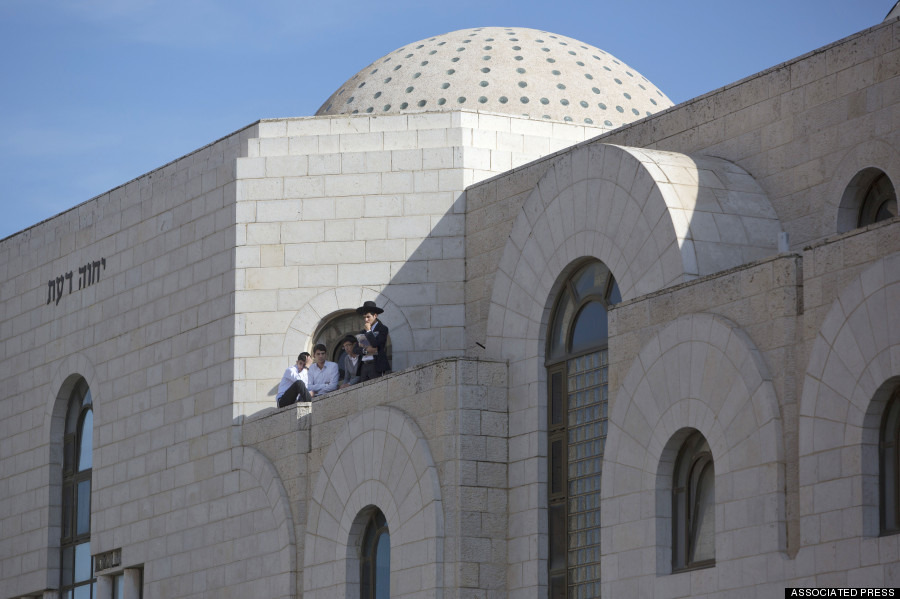 Ultra-Orthodox Jewish youths look at the scene of an attack on a synagogue in Jerusalem, Nov. 18, 2014. (AP Photo/Sebastian Scheiner)
Before You Go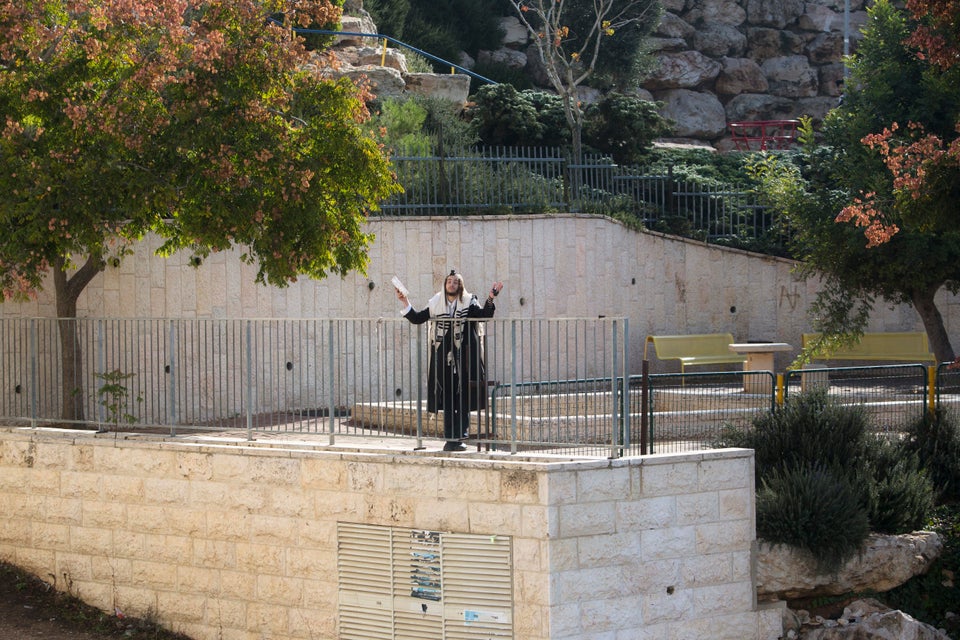 Jerusalem Synagogue Attack
Popular in the Community