Wandering around the narrow, labyrinthine lanes of Jerusalem's Old City, past wall-to-wall shops selling everything from exquisite rugs to knock-off watches to world-class tchotchkes, it's easy to imagine what this spot must have looked like thousands of years ago. You half expect to see Charlton Heston racing about in a chariot, right out of a scene in Ben Hur. Or perhaps you can spot King Solomon chasing the Queen of Sheba around his fabulous palace overlooking the city.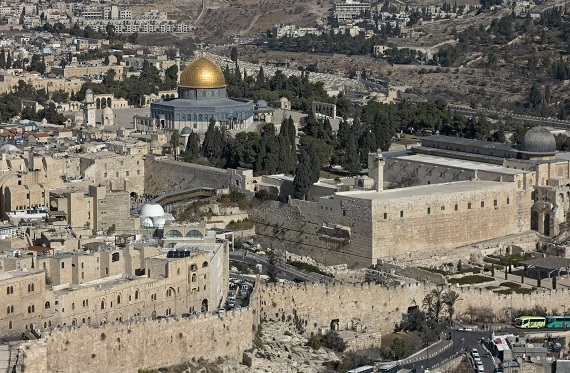 Golden Dome of the Rock sits atop the Old City of Jerusalem. Photo courtesy of Mordagan/Israel Ministry of Tourism.
Shut your eyes and it's not hard to slip into the sandals and boots of the invading Jebusites, Canaanites, Israelites, Assyrians, Babylonians, Persians, Greeks, Egyptians, Seleucids, Maccabees, Romans, Muslims, Crusaders, Mamluks, Ottomans, Brits and everyone else who raised their flags here over the last 4,000 years.
Atop the city you can conjure up the Muslim Prophet Muhammad ascending to heaven from a sacred rock (said to be the same one on which Abraham prepared to sacrifice his son Isaac and also the foundation stone for the Jewish temple) under Jerusalem's landmark golden dome. Mosey over to the Via Dolorosa - "the Way of Sorrows" - and you can follow the footsteps of Jesus on his agonized walk along the 14 stations of the cross he was forced to carry. And you can put on a yarmulke skullcap, scribble prayers on little pieces of paper and slip them into cracks in the visible 62-foot-high section of the Western Wall of the Temple Mount, the holiest site in Judaism.
Tsion Ben-David and other veteran tour guides say Jerusalem's millions of annual visitors typically are well behaved, respect the spiritual beliefs of others and take the city's religious history in stride. But some fall a bit short of that bill. For instance, now and then tourists have been known to start looking for the messiah right after they get off planes at Tel Aviv's Ben Gurion International Airport on the highway to Jerusalem. In the Holy City, guides report they've seen a few visitors get so emotional -- it's called "the Jerusalem Syndrome" -- they have to be hospitalized or even put back on planes at the airport. As Academic Tours guide Amir Orly puts it, "If you're on the edge back home, (the ambiance of) Jerusalem can nudge you over the top."
In Jerusalem, find a table (if you can) at a restaurant the size of a postage stamp along the Via Dolorosa, nosh on a pita full of chicken shawarma and check out the mish-mash of people passing by. You'll see some dressed in everyday western street clothes, pilgrims in native outfits from all over the globe, church, biblical and social groups wearing same-name sweatshirts and others in all kinds of religious garb, such as Jewish men in ultra-orthodox long black coats and black hats and Muslim women in full burqas. Look closer, and you'll likely see a sprinkling of tourists sporting what appear to be two big sellers here: plastic crowns of thorns and "Guns and Moses" tee-shirts. Still others can be seen tooting plastic shofars (Jewish ceremonial instruments resembling rams' horns, like those used by Joshua to down the walls of Jericho).
Just inside Jerusalem's Jaffa Gate is a 4,000-year jump back in time called "The Night Spectacular." It's a half-hour outdoor light-and-sound show projected on the ancient fortress walls of the Citadel of the Tower of David Museum, one of the city's must-see attractions (which is quite a distinction in a city loaded with so many holy and historical sites).
Viewers look on as 20 computer-driven projectors make the area's 40-foot-high sandstone walls come alive with some two dozen historical events. Highlights of the show include the Queen of Sheba's visit to King Solomon, the destruction of the first Jewish temple, the Babylonian exile, the destruction of the second temple, the city under Roman rule, the Muslim Prophet Muhammad's Night Journey, Crusader knights slashing away at anything that moves, the city under Mamluk, Ottoman and British rulers, and the creation of the state of Israel in 1948 - all backed by stirring music produced especially for the presentation.
After the show you can take a quick leap back to today a few minutes away at Jerusalem's upscale Mamilla Mall. Lining its 2,000-foot-long open-air promenade are toni art galleries, hip restaurants and Israeli- and European-chic shops with names like Swarovski, Chaya, Zara, Mango and Montblanc (and of course a Rolex outlet).
A personal note: When I told my family and friends I was going to Israel, their reactions ranged from cautiously lifted eyebrows to "Is it safe there?" Frankly, I was a little concerned. I shouldn't have been. Not once during my week-long journey around the country, including stays in Jerusalem, Haifa and Tel Aviv and in small hotels up north around the Galilee, did I feel even remotely threatened. Of course if I'd gone out looking for trouble, I likely would have found it, just as I would anyplace else in the world. -- Bob Schulman.