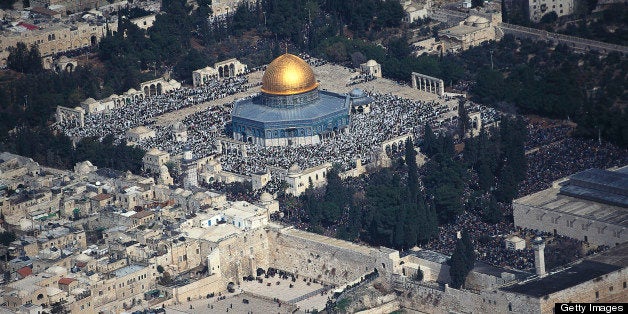 There are moments when cities become the focus for great filmmaking energy and imagination. It happened for Paris with the French New Wave (Truffaut, Godard, Chabrol and Resnais) in the sixties; and for New York with the noir classics of the fifties and early eixties and later with the grime of Martin Scorsese's dark vision and Woody Allen's neurotic humor in the seventies; and it's happening now in a city that may surprise you: Jerusalem.
Jerusalem has long been beloved by three of the world's major religions, but in spite of the renaissance in the Israeli movie industry over the past decade, it has taken a back seat to Tel Aviv. Israel's secular, artistic and cultural elite has long considered Jerusalem a dull backwater, much as blue-state liberals might think about rural Alabama. Tel Aviv, by and large, is where Israeli filmmakers live and generally where their movies are set.
As the movie critic for The Jerusalem Post and a longtime Jerusalem resident, I found Jerusalem's absence from the big screen dismaying. Jerusalem is Israel's most diverse city -- approximately one third of its residents are secular Jews and modern Orthodox, a third ultra-Orthodox, and a third Arab Israelis. Living here can be infuriating and upsetting, but never boring. I often feel that it's a city of mystery and you never know when you'll open a door and find yourself tumbling down the rabbit hole. For example, years ago, when I was a student, I answered an ad in The Jerusalem Post for a secretary. I got the job, which turned out to be at the Ethiopian consulate. In addition to clerical work, I was expected to visit the Ethiopian monks who live in huts on top of the Church of the Holy Sepulcher in the Old City and make sure they weren't fasting too much, not exactly the usual office routine.
This is a city where all aspects of life can and often do become a battleground. For years, ultra-Orthodox groups defaced any images of women in public advertising, even the most banal and demure ones. My favorite example of this vandalism was the time when the Adam Sandler film Jack and Jill opened here. Sandler played male and female twins and the ultra-Orthodox blacked out the image of Sandler in drag as Jill on the billboards.
While that particular act may have been more of a public service than anything else, it shows how crazy things can and do get here.
So it's with great joy that I can report that a cinematic New Wave is underway here, led by an amazing new feature film by Avi Nesher, The Wonders, which will be released in June.
The Wonders, which is difficult to classify and combines live action with animation, tells a complex film noir story -- infused with literary and biblical overtones -- of a graffiti artist/bartender who becomes involved with a kidnapped rabbi and a mystery woman. The film, which was co-written by Nesher and Shaanan Streett, the frontman for the hip hop/funk group, Hadag Nahash, features original music by the band. It brings together many of Jerusalem's subcultures -- the ultra-Orthodox, artists, denizens of the city's nightlife scene -- and presents a fictional city as vibrant, funny, quirky, and, at times, as frightening as the real one.
Nesher, an acclaimed Israeli director (The Troupe, Turn Left at the End of the World, and The Matchmaker among others), said in a recent interview, "When I was a boy, growing up in Tel Aviv, Jerusalem seemed to us like an anachronism -- a city that stood for fanaticism, conservatism, repression (sexual and otherwise) and plain old provincialism. We were not aware of the magical realism and surrealism that has been part of the Jerusalem experience for 3000 years. Once I discovered it, I got hooked."
After making three movies in recent years set in the Negev, Safed and Haifa, he found his cinematic soul yearned for the Holy City: "Jerusalem is the most cinematic city I have ever encountered -- almost everyone who walks the street seems embroiled in one sort of drama or another. There is not much 'ordinariness' in Jerusalem -- it is a place where the human experience is pushed to the limit."
The cinematic compass began to point towards Jerusalem a few years ago, with the release of Joseph Cedar's brilliant and acclaimed movie, Footnote, about rival father-and-son Talmud scholars, which received an Oscar nomination and the screenplay award at Cannes. Cedar captured the passions of the insular academic community, which lives its life in the shadow of the cold, modernist university buildings.
The Wonders spotlights a different side of the city: the ultra-Orthodox and the artists. In recent years, a new vitality in the art and cultural scene has begun to make itself felt. The Bezalel Academy of Arts and Design has moved back to the center of town (it had been exiled to the Mt. Scopus Hebrew University campus) and it is surrounded by funky cafes, clubs and fusion restaurants. An alternate art scene has developed in Musrara, a once dilapidated neighborhood just outside the border between East and West Jerusalem.
Five years ago, the Jerusalem Film Fund was established to support filmmaking here. Other upcoming films produced with the fund's help include Reshef Levi's Hunting Elephants, which stars Patrick Stewart as an eccentric British lord who is part of an elderly gang of master thieves who get together for one last job, at the urging of a 12-year-old. Sweets, directed by Joseph Pitchhadze, stars Makram Khoury as an Israeli-Arab merchant who starts a chain of candy stores. Eran Riklis just completed work on Dancing Arabs, a film adaptation of Israeli Arab writer Sayed Kashua's novel.
Clearly, the Jerusalem New Wave is just gathering steam. As Benjamin Disraeli said, "The view of Jerusalem is the history of the world; it is more, it is the history of earth and of heaven." And now it will be the history of cinema as well.
REAL LIFE. REAL NEWS. REAL VOICES.
Help us tell more of the stories that matter from voices that too often remain unheard.