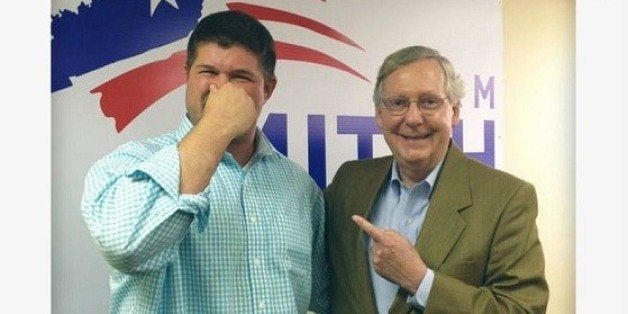 WASHINGTON -- The five words a senator least likes to hear are not "you have lost the election." They are "the federal investigation is ongoing."
Senate Minority Leader Mitch McConnell of Kentucky might have a reason to be concerned that the second sentence could lead to him hearing the first.
On Wednesday, a federal investigation in Iowa forced a state senator there to plead guilty to obstruction of justice charges stemming from $73,000 in bribes he admitted taking from Rep. Ron Paul's campaign in 2012.
A key figure in that 2012 Ron Paul campaign (and the 2008 Ron Paul campaign as well) was Jesse Benton. He ran the 2010 Kentucky Senate race for Rand Paul -- a fitful McConnell ally. And until yesterday, he was officially (but not recently, in fact) running McConnell's 2014 race.
Benton has not been accused of wrongdoing. The McConnell campaign issued a terse statement Friday morning dismissing the Iowa probe as unconnected to the senator or his circle, and Benton has denied any knowledge of or involvement in the bribe or efforts to cover it up.
This is probably not the end of the story. The plea was based in part on two sealed documents, and the U.S. Department of Justice has said that the probe is ongoing.
Locked in a close race with Alison Lundergan Grimes, a feisty Democrat less than half his age, 72-year-old McConnell was fighting for his political life even before news broke Friday night that Benton had resigned.
In a textbook attempt to bury the news, Benton issued a statement to an accommodating local news outlet at the 6 p.m. start of a three-day holiday weekend. But within the world of electoral politics, the information was too explosive to stay buried. The McConnell-Grimes race is arguably the most important this year: If McConnell hangs on and Republicans surge elsewhere, he could wind up the new Senate majority leader on election night.
A victory by the 35-year-old Grimes, a young lawyer whose first and only political job is Kentucky secretary of state, would be a sensation -- and could be the deciding vote in keeping the Senate in Democratic hands next year. The race is also likely to be the most expense Senate contest in history.
Privately, McConnell aides said that Benton had been sidelined for months in a reorganization of the campaign after the GOP primary season, and that former McConnell Chief of Staff Josh Holmes has been effectively in charge since.
But the Grimes campaign, adopting the Watergate mantra, quickly demanded to know "what McConnell knew and when he knew it." And there are a series of questions that inevitably arise, especially since Benton has been a central hub in the political affairs of both the Pauls and McConnell.
McConnell is a famously meticulous and wary lawyer-pol. His decision to bring Benton aboard as his campaign manager last year was motivated by the need to build bridges to the libertarian/tea party wing of the GOP. But the Iowa investigation was already underway. Did he or anyone in his camp ask Benton about the 2012 caucus probe before hiring him?
Benton, a friendly and confident player in the political and media wars, has been less visible, and visibly in control, in recent months. For example, his most consequential role at the famous Fancy Farm political picnic in Western Kentucky in August seemed to be organizing a cheering section in the audience. McConnell aides in recent months have played down Benton's role, touting instead the leadership of Holmes, McConnell's former Senate chief of staff. But was Benton really shoved aside because his work in pacifying the tea party was done when the senator easily won the GOP primary against a tea party foe? Or was it because the campaign had reason to be wary of what was going on with the feds in Iowa?
Benton has been the key to the tenuous alliance between McConnell and Rand Paul. Will Benton continue to play the role of a key adviser to the junior senator as he ramps up what seems certain to be a presidential bid? Or will Paul decide that he has to distance himself as well? And if Paul does back off, will Benton -- until recently a central figure in the parallel rise of the two Kentuckians -- quietly disappear? Is that really likely?
And where does the federal probe go from here? Is Benton's name in the sealed documents? And even if the McConnell and Paul camps knew nothing about the Iowa probe early on, what, if anything, do they know now?
CORRECTION: A previous version of this article stated that Benton did not attend Fancy Farm. He was in the audience for the event.
REAL LIFE. REAL NEWS. REAL VOICES.
Help us tell more of the stories that matter from voices that too often remain unheard.