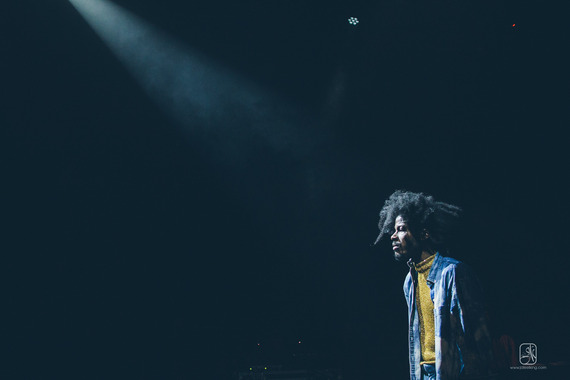 The roots of rock and roll come from the African American music of gospel and blues. Everyone knows that. For those who don't, let Jesse Boykins III stand as a statement of fact and proof. Returning to Philadelphia for the first time since 2008, and greeted by a young crowd of rabid R&B fans -- the kind of crowd that chides an opening act for daring to cover D'Angelo's "How Does It Feel" while fully clothed. The kind of crowd hungry for... no, starving for R&B. Into this city, whose musical history includes the oeuvre of Philly International Records, the Delfonics and the Spinners, Boykins sauntered into the cavernous Union Transfer, to deliver a reminder of where soul music comes from. The audience, however, a collection of mostly twenty-something music and style cognoscenti, clearly didn't need the lesson. The venue, formerly a popular family-style Italian restaurant, outfitted with stained glass windows, ornate chandeliers and dark wood furnishings provided a fitting, churchly pomp for the spirited performance of Boykins and his magnificent band. There was no choir, but there was indeed, a sermon.
To be fair, his music has already been affixed another moniker. His fans and reviewers have dubbed it "World Soul," because he so gracefully combines elements of many genres, including near and far Eastern rhythms and melodies. Many artists are hesitant to accept labeling, and Boykins is no exception. He does however use another term: schwaza, which is a feeling or moment of positivity and excitement. Described as such (and used as a pronouncement throughout his show), the term is certainly fitting. This is emotional music, evocative of feeling good. Which was evident in the reception he received at Union Transfer, as well as in the hearty call and response his performance garnered.
Philadelphia is known amongst musicians as one of the harder cities to play, with it's knowledgeable audience, keenly aware of style over substance. It's been many years since a legitimate "Soul Man" could command a stage with the operatic control of a conductor, the physical grace of a danseur, and the aggressive, yet tender cooing, a la, Teddy Pendergrass (albeit in falsetto). Panties were not thrown on stage, this time, as, perhaps, the practice is considerably less common these days. None the less, the mostly female crowd overwhelmingly approved, and was rewarded with about an hour and a half of material from his new album, as well as crowd favorite catalog material, including a stunning cover of the James Blake ballad, "Limit To Your Love." It should be noted that while Blake's music has been called "minimalist," Boykins' rendition of the song should then be called "maximalist," as he extended the spare, subtle song into a tour de force experience which would take a bit to convince one it was indeed a cover. His own material, mesmerized throughout the show. Standouts included "The Blame Game," "The Wonder Years" and "Make Believe," undulating with deep, curled bass lines and crisp snares. For his generation -- this is grown folk's music. Frankly, this was an all-around great performance, from a young prodigy, maybe still growing to his greatness. His delivery of showmanship, theater, style and gutsy performance is only underserved by the barren landscape of contemporary radio. There's no place for this kind of star on the frequency modulated dials, but the savvy listener will find him anyway.
Boykins, a native of Chicago, now making his home among the brood of artists and creatives that is Brooklyn, has earned a quiet reputation nationwide, equally as a producer, collaborator, performer -- even music video director. Having previously released two EP's and one full length album, the two-week-old tour to support his latest release, The Love Apparatus, has brought him to dates on the West and East coasts, and will carry on to Europe later this summer.
Popular in the Community