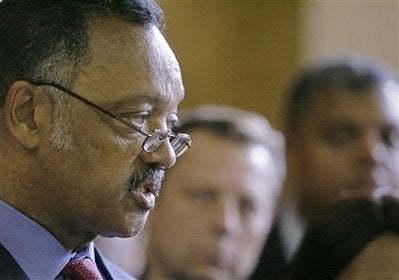 UPDATE JULY 16 9:00 PM EASTERN
TVNewser reports that Jesse Jackson did use the n-word in his controversial remarks about Barack Obama, but he did not use it in reference to Obama. From the partial transcript TVNewser received, which was authenticated by the network:
Barack...he's talking down to black people...telling n--s how to behave.
There has been much speculation in the week since these comments first broke over what else was said on the tape, speculation fueled by Bill O'Reilly's statement that there was more from the tape that Fox News would not be airing because it was "trash talk" that was "not relevant to public policy."
Via Chickaboomer, Bill O'Reilly branded the leaker a "weasel" on Fox today:
The Rev. Jesse Jackson issued an apology to Barack Obama Wednesday for making what he called a "crude and hurtful" remark about the Illinois senator's recent comments directed toward some members of the black community.

According to Jackson, a Fox News microphone picked up comments he meant to deliver privately that seemed to disparage the presumptive Democratic nominee for appearing to lecture the black community on morality.

Jackson didn't elaborate on the context of his remarks, except to say he was trying to explain that Obama was hurting his relationship with black voters by recently conducting "moral" lectures at African-American churches.

Jackson's apology came a few hours before Fox News planned to air the remarks.

Speaking to CNN Wednesday, Jackson said he feels "very distressed" over the comments.

"This is a sound bite in a broader conversation about urban policy and racial disparities. I feel very distressed because I'm supportive of this campaign and with the senator, what he has done and is doing," he said. "I said he comes down as speaking down to black people. The moral message must be a much broader message. What we need really is racial justice and urban policy and jobs and health care. That's a range of issues on the menu.

"Then I said something I regret was crude. It was very private. And very much a sound bite," he also said.
Well, Swamp fans, as Jackson explained to me by telephone, his remarks occurred during an off-air moment during a Fox New Channel interview that aired Sunday.

Jackson didn't realize that the mics were still "hot," as in turned on and recording when he made a few off-the-cuff remarks about Obama's faith-based programs.

Bill O'Reilly has the story and plans to report it on his Fox program, "The O'Reilly Factor" tonight.

Even though O'Reilly has booked me and another guest to respond to the video, he is withholding a full transcript or recording of Jackson's remarks even from me until the program airs.

So far I have only been told by a producer that Jackson criticizes Obama's proposed faith-based programs for "talking down to black people."

And (A warning here to younger or more sensitive readers) Jackson also says something about how the senator was "going to get his (twin objects of male anatomy) cut off."

Jackson, who recalled his remark as, "The senator is cutting off his you-know-what with black people," expressed deep regrets for saying it, even in what he thought was a "private conversation."

"I want to be clear," Jackson said. "My support for Barack Obama is unequivocal. I apologize to Barack and the Obama campaign for my crude and hurtful comments."
Update: Video of Jesse Jackson's remark:
Jackson apologized for his statement on CNN:
Update: A statement from the Obama campaign: "As someone who grew up without a father in the home, Senator Obama has spoken and written for many years about the issue of parental responsibility, including the importance of fathers participating in their children's lives. He also discusses our responsibility as a society to provide jobs, justice, and opportunity for all. He will continue to speak out about our responsibilities to ourselves and each other, and he of course accepts Reverend Jackson's apology," said Obama campaign spokesman Bill Burton.
And a very harsh statement from Jackson's son, Rep. Jesse Jackson Jr.:
I'm deeply outraged and disappointed in Reverend Jackson's reckless statements about Senator Barack Obama. His divisive and demeaning comments about the presumptive Democratic nominee -- and I believe the next president of the United States -- contradict his inspiring and courageous career.

Instead of tearing others down, Barack Obama wants to build the country up and bring people together so that we can move forward, together -- as one nation. The remarks like those uttered on Fox by Reverend Jackson do not advance the campaign's cause of building a more perfect Union.

Reverend Jackson is my dad and I'll always love him. He should know how hard that I've worked for the last year and a half as a national co-chair of Barack Obama's presidential campaign. So, I thoroughly reject and repudiate his ugly rhetoric. He should keep hope alive and any personal attacks and insults to himself.
**Watch Elisabeth Hasselbeck of "The View" become tearful while discussing the reaction to Jackson's comments with Whoopi. Click here!**
Popular in the Community