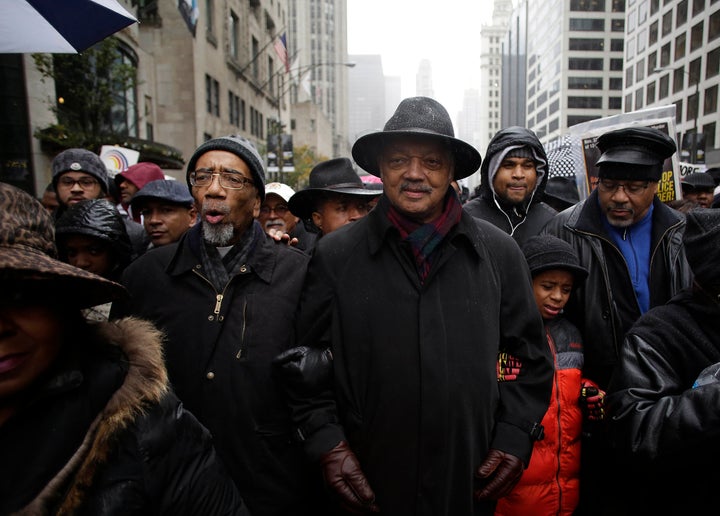 CHICAGO, Nov 28 (Reuters) - Civil rights leader Rev. Jesse Jackson on Saturday joined a chorus calling for Chicago's police superintendent and a top prosecutor to resign for the way they handled last year's fatal shooting of a black teenager by a white police officer.
More than a year after the October 2014 shooting, Cook County State's Attorney Anita Alvarez this week announced a murder charge against Officer Jason Van Dyke in the slaying of 17-year-old Laquan McDonald.
Hours later, the Chicago Police Department, headed by Police Superintendent Garry McCarthy, released a graphic video of the shooting to comply with a court order.
Van Dyke's lawyer has said the officer opened fire because he feared for his life and the lives of other police officers when he saw McDonald had a knife.
In addition to calling for the removal of Alvarez and McCarthy, Jackson demanded the appointment of a special prosecutor to try Van Dyke. He said he wanted a federal investigation into the police department with the aim of changing what critics say is a culture of racial bias.
"We need bold comprehensive change in the police department and the criminal justice system," Jackson said during a news conference at his Rainbow PUSH headquarters. "Too much time for too little crime."
McDonald's death has rekindled a national debate over police treatment of African-Americans and other minorities. The soul-searching was triggered last year by high-profile police killings of black men in Missouri, New York and elsewhere.
Jackson also called for a White House conference on violence for cities in urban areas and innovation to help create opportunities in disenfranchised communities.
The video clip, taken by a camera mounted on the dashboard of a squad car, showed McDonald being shot as he walked away from officers. A total of 16 shots were pumped into his body, even after he lay motionless on the pavement.
Jackson spoke the a day after about 2,000 protesters flooded Chicago's Magnificent Mile, a strip of designer stores, to voice outrage over the killing and how the case was handled.
Some shops temporarily closed their doors because of the protests, which coincided with the start of the holiday shopping season, as demonstrators locked arms and blocked entrances. At times, police had to escort shoppers inside.
Popular in the Community