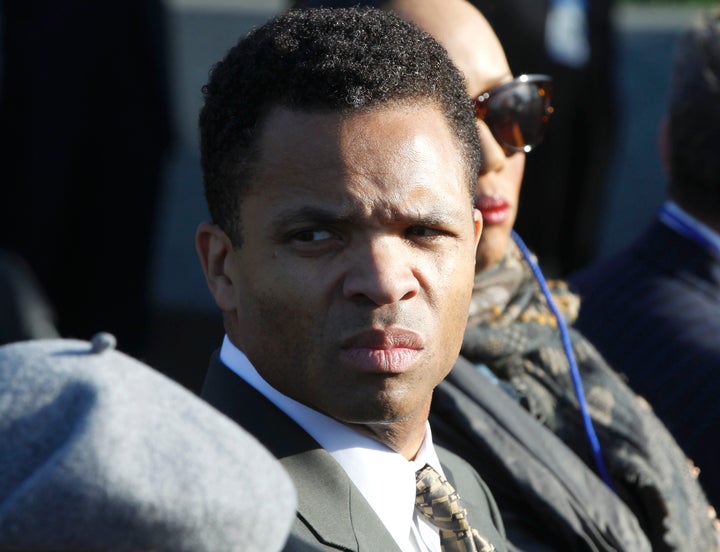 WASHINGTON -- Although it's been a month since Rep. Jesse Jackson Jr. (D-Ill.) took a medical leave from Congress for unknown reasons, his father said Tuesday that it's not appropriate to ask what's going on.
During an appearance on a local NBC affiliate in Chicago, Rev. Jesse Jackson was asked to disclose his son's medical condition. He was on the show to discuss an unrelated topic.
"No. That's inappropriate," Jackson responded. "I speak as a father. During this pain, as he comes out of his crisis, we will be with him. And we hope that he'll be fully restored to his health. Right now, he's going through a tremendous challenge."
Rep. Jackson's office first indicated on June 25 that he was taking a "medical leave of absence" and that he had been gone since June 10. The reason initially given was "exhaustion," but since then, his staff has said that he checked into an inpatient medical facility at an undisclosed location and that his condition is more serious than originally thought.
A handful of members of Congress close to him told The Huffington Post that they have no idea what is wrong with the congressman. A request for an update from Jackson's office was declined. Instead, a spokesman pointed to the most recent statement put out by his office on July 5:
"Congressman Jackson's medical condition is more serious than we thought and initially believed. Recently, we have been made aware that he has grappled with certain physical and emotional ailments privately for a long period of time. At present, he is undergoing further evaluation and treatment at an in-patient medical facility. According to the preliminary diagnosis from his doctors, Congressman Jackson will need to receive extended in-patient treatment as well as continuing medical treatment thereafter. We ask that you keep Congressman Jackson and his family in your thoughts and prayers during this difficult period."
Still, some crumbs of information are starting to come out. Rep. Emanuel Cleaver (D-Mo.), who chairs the Congressional Black Caucus, told Fox News' Chad Pergram on Tuesday that he had no comment on the matter. But Cleaver said he expected Jackson to be absent from Congress anywhere from two weeks to four months.
Rev. Jackson said Tuesday that his son is "slowly regaining his strength" and is "taking his time and recovering."
His condition "was worse than we thought at first. So he's under real medical supervision," said Rev. Jackson. "At some appropriate time, there will be a fuller disclosure."
Some of the congressman's colleagues are starting to get agitated by his silence. Sen. Dick Durbin (D-Ill.) said Monday that it's time for Rep. Jackson to explain what is keeping him from serving in the House.
"As a public official, there comes a point when you have a responsibility to tell the public what's going on," Durbin said at an event in Chicago. "If there is some medical necessity for him not to say more at this moment, then I will defer to that. But he will have to soon make a report on what he's struggling with."
Calling all HuffPost superfans!
Sign up for membership to become a founding member and help shape HuffPost's next chapter
BEFORE YOU GO