CHICAGO (AP) — The Rev. Jesse Jackson announced Saturday that he will step down as president of the Rainbow PUSH Coalition, the Chicago-based civil rights group he founded more than 50 years ago.
Jackson, 81, announced his resignation during a quiet farewell speech at the organization's annual convention, where the group paid tribute to him with songs, kind words from other Black activists and politicians, and a video montage of Jackson's 1984 and 1988 presidential campaigns.
Jackson, who has dealt with several health problems in recent years and uses a wheelchair, capped the proceedings with muted remarks. Flanked by his daughter, Santita Jackson, and his son, U.S. Rep. Jonathan Jackson, the once-fiery orator spoke so softly it was difficult to hear him.
"I am somebody," he said. "Green or yellow, brown, Black or white, we're all perfect in God's eyes. Everybody is somebody. Stop the violence. Save the children. Keep hope alive."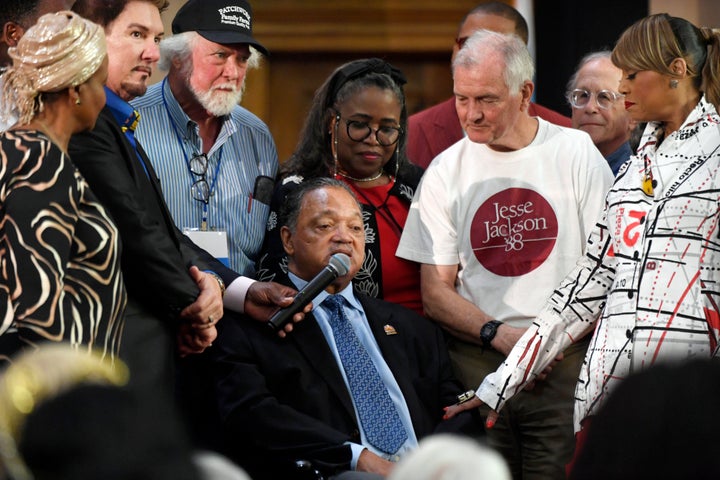 The Rev. Frederick Douglass Haynes, "a long-time student of Rev. Jackson and supporter" of the Rainbow PUSH Coalition, will take over as the group's leader, the coalition said in a statement. Haynes is the pastor at Friendship-West Baptist Church in Dallas, according to the church's website.
Jackson has been a powerful advocate for civil rights and a strong voice in American politics for decades.
A protégé of the Rev. Martin Luther King Jr., he broke with the Southern Christian Leadership Conference in 1971 to form Operation PUSH, initially named People United to Save Humanity, on Chicago's South Side. The organization was later renamed the Rainbow PUSH Coalition. The group's mission ranges from promoting minority hiring in the corporate world to voter registration drives in communities of color.
Jackson has been a driving force in the modern civil rights movement, pushing for voting rights and education. Among other things, he joined George Floyd's family at a memorial for the slain Black man and has participated in COVID-19 vaccination drives to counter Black hesitancy about the drugs.
Before Barack Obama was elected president in 2008, Jackson had been the most successful Black presidential candidate. He won 13 primaries and caucuses in his push for the 1988 Democratic nomination, which went to Massachusetts Gov. Michael Dukakis.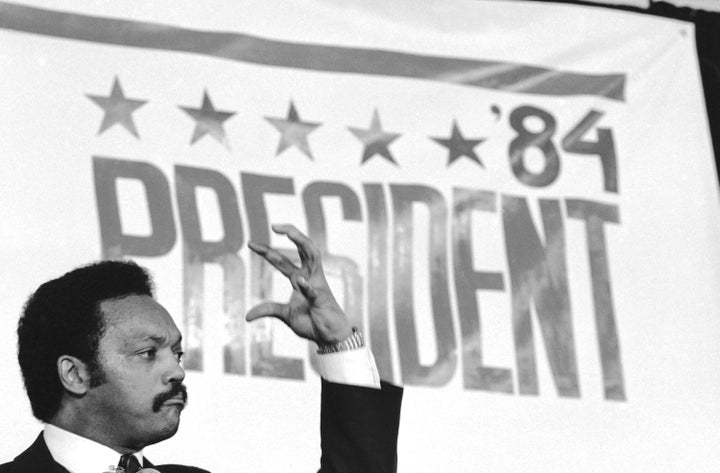 Jackson said in his remarks that he plans to continue working on social justice issues, including advocating for three survivors of the 1921 Tulsa Race Massacre who this week saw a judge dismiss their lawsuit seeking reparations.
"We're resigning, we're not retiring," Jackson said.
Ron Daniels, who works with the National African-American Reparations Commission, a panel working for financial payments to Black people as compensation for slavery, told convention-goers that Jackson is a "synthesis" of King and another 1960s civil rights leader, Malcolm X.
"He is an authentic genius," Daniel said. "(Jackson) had the unparalleled capacity to frame and articulate ... political strategy in a way common, ordinary people could understand it."
Marcia Fudge, secretary of the U.S. Department Housing and Urban Development, thanked Jackson for paving the way for Black politicians like herself.
"Most people talk a good game but they have no courage," she said. "But you never left us, no matter how hard (things became)."
Santita Jackson implored convention-goers to follow her father's lead and continue to fight for equality.
"Rev. Jackson has run his leg," she said. "What are you going to do?"
Richmond reported from Madison, Wisconsin. Associated Press reporter Gary Fields in Washington contributed to this report.
Support HuffPost
The Stakes Have Never Been Higher
Popular in the Community