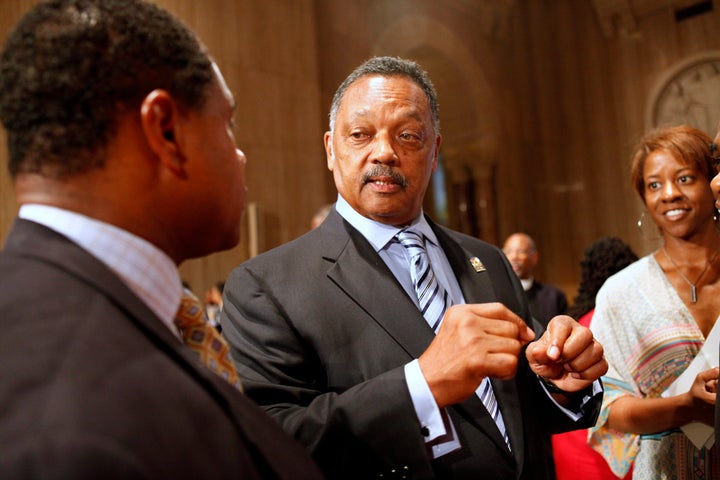 A gay former employee of the Rainbow PUSH Coalition has filed a lawsuit against Rev. Jesse Jackson, accusing the leader of the civil rights group of sexual harassment and discrimination.
Tommy R. Bennett said he was sexually harassed and forced to clean up after Jackson's sexual escapades with women in hotel rooms, according to the Courthouse News Service. Bennett worked for the Rainbow PUSH Coalition from July 2007 until Dec. 2009.
According to the complaint, Bennett says the harassment began shortly after he was hired as the group's national director of community affairs, when Caroline Wiggins, the coalition's membership and volunteer coordinator, went to the reverend to "inform him that she did not want to be under his supervision because Mr. Bennett is homosexual."
The complaint goes on to say that Wiggins would make "a limp wrist gesture" at Bennett anytime she passed him in the hallway, and that she once led a prayer that God would "bind these homosexual spirits that are in our office" and "get these homosexuals out of here and do it in Jesus' name."
Bennett also alleges that Jackson made him do "demeaning and demoralizing tasks" involving bringing women to his room after work hours and cleaning the room after Jackson had sex with the women.
Once, Bennett says he was "summoned" to the reverend's hotel room and asked to apply a prescription cream on Jackson's inner thigh. When he refused, Bennett says Jackson "became very angry" and called him a "little motherfucker."
The complaint states that Bennett felt he was subjected to the treatment because of his sexual orientation. He asserts that his orientation was well known due to appearances he had made as a gay character on the nationally syndicated radio talk show "The Tom Joyner Morning Show."
Bennett filed a similar complaint with the Chicago Commission on Human Relations in 2010. Jackson and Rainbow PUSH responded earlier this year, saying they "unequivocally deny Tommy Bennett's false claims of harassment, retaliation and discrimination."
"The organization does not condone or tolerate discrimination in any form," the statement said, according to the Chicago Tribune. "His inflammatory allegations are an attempt to malign Rev. Jackson and the organization, and are hurtful and harmful to the progressive community. We are fully cooperating with the Chicago Commission on Human Relations and expect to be fully exonerated."
Bennett was laid off December 23, 2009, reportedly due to lack of funding. Bennett is asking for $98,300 in back pay, front pay and lost benefits, and $350,000 in punitive damages, for sexual harassment and intentional infliction of emotional distress.
Popular in the Community