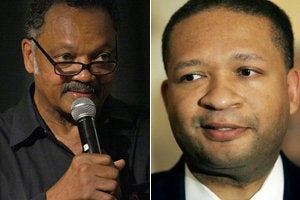 Reverend Jesse Jackson is moderating a stinging rebuke of Rep. Artur Davis over the Alabama Democrat's position on health care legislation.
Days after insisting it was impossible to be both black (which Davis is) and vote against health care reform (which Davis did), Jackson said he called the Alabama gubernatorial candidate to "assure him of my abiding admiration."
"I offer no challenge to his integrity as a leader. Representatives should all vote their conscience in the interest of their constituency," said Jackson, in a statement from his Rainbow PUSH Coalition. "There is a growing disparity among the black and the poor and we desperately need voices and votes."
"Among the black and the poor, the infant mortality rate is higher, life expectancy is shorter, poverty is growing and unemployment is highest," Jackson went on. "We need comprehensive health care that is more accessible and less expensive for all Americans. The historical Davis journey as a change agent continues and his latest quest deserves the support of the caring."
Running for the governor's chair in Alabama, Davis has bucked the Democrat Party on several major pieces of legislation this year. He sided against leadership on the climate change bill and was the lone member of the Congressional Black Caucus to oppose health care reform when it came to a vote two weeks back.
All of which was enough to irk Jackson. At a CBC dinner on Wednesday night, the famed civil rights leader denounced Davis's vote, saying, "We even have blacks voting against the health care bill from Alabama. You can't vote against health care and call yourself a black man."
"Rev. Jackson is entitled to his opinion," Davis told The Hill newspaper the following day. "The voters are entitled to a governor who represents everyone in the state. They're not looking for someone who speaks for a single community."
He added, "His judgment is through the prism of race."
Support HuffPost
The Stakes Have Never Been Higher
Popular in the Community