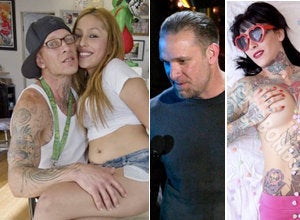 Nazi enthusiast Jesse James had all sorts of sex while he was married to Sandra Bullock, including last year's foursome with a man and two women (one of whom was known mistress Michelle 'Bombshell' Mcgee) that may or may not have involved a latex glove. Jesse is currently in rehab, reportedly for sex addiction.
Life & Style's press release follows:
In an exclusive interview with Life & Style, tattoo artist and owner of Ocean Beach Tattoo and Piercing in San Diego, Eric McDougall, and receptionist, Skittles Valentine, confess to having a freaky foursome with Jesse James and Michelle "Bombshell" McGee last June - and Skittles had intercourse with Jesse without a condom.

The racy encounter took place one drunken night after the Ink-N-Iron tattoo festival last June while Sandra Bullock was busy promoting The Proposal. "Michelle came into my shop and was like, 'I'd like to introduce you to my boyfriend,'" Eric tells Life & Style. "I recognized Jesse right away."

After Eric filled in Jesse's octopus tattoo with a little color free of charge, Jesse and Bombshell went to a liquor store downstairs and returned with booze to lighten the mood. Michelle made the first move, kissing Skittles, and then they all found their way to the tattoo parlor's private back room. "Jesse and Michelle both wanted Skittles," says Eric, noting there was never a mention of Sandra.

"Eric and I were having sex, so we switched off, and Jesse and I had sex," Skittles tells Life & Style exclusively. "I had an awesome time. I think Jesse is so cute." The foursome ended only when Bombshell got jealous of Skittles spending too much time with Jesse -- and the two ended up in a hair-pulling, knock-down fight! (Requests for comments from Jesse and Michelle were not returned.) While Eric can't recall if he used protection during the more intimate part of the night, Jesse didn't use any protection. "Maybe I used a latex glove," says Eric. "I don't know. Sometimes as a last-case scenario I tie a latex glove finger off."
Popular in the Community