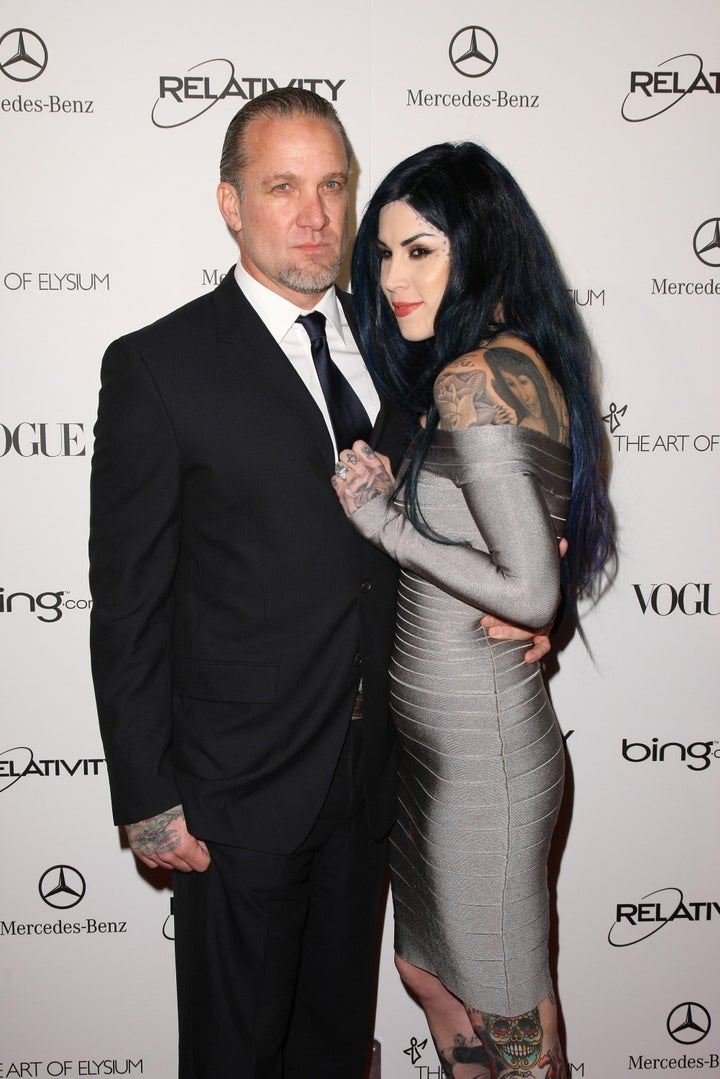 Jesse James announced last week that he is engaged to Kat Von D and now he faces some bad news: more Nazi photos have surfaced.
Just after Jesse was caught cheating on Sandra Bullock last year, a photo of him doing "sieg heil" while wearing an SS officer's hat made the rounds. His number one mistress, Michelle Bombshell McGee, did a fetish Nazi shoot, wearing a swastika armband.
Now Us Weekly has unearthed more disturbing photos, including one of Jesse smiling as his friend does a Nazi salute.
An insider tells Us Weekly that Jesse isn't anti-semitic, saying, "The swastika deal is to scare people. It's part of biker culture."
Meanwhile, Jesse's former employees from West Coast Choppers, the Orange County motorcycle shop he shut down last year, have taken to Facebook to bash him, Radaronline.com reports.
"I left a good job, working for nestle for 7 years to being tortured everyday by a certain sh*tbag aka our boss for almost 4 years. I'll never forget what a dummy I was!!"

"Every year JJ does this sh*t. 'Santas FAKE.' This year it's 'Jesse's D*CK!'"

"Too bad Jesse is a sh*tty business man, could have kept a quality bike shop running if he started treating employees with respect and stop spending the money they made him on worthless vehicles."
Popular in the Community