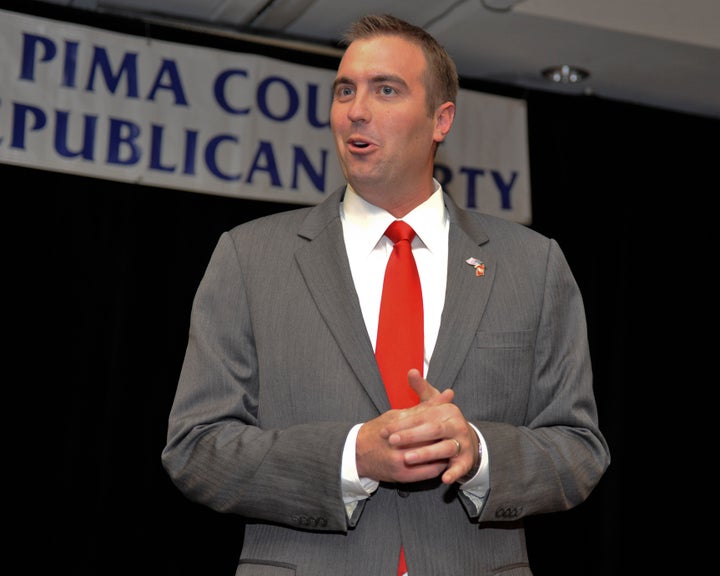 When a Tucson, Ariz., TV journalist tried to ask GOP congressional candidate Jesse Kelly about a controversial endorsement he has received, she unexpectedly found herself verbally harangued by his spokesman both during and after the interview on Wednesday.
Americans for Legal Immigration PAC (ALIPAC) is run by William Gheen, who says on the group's website, "The rallying cry is: Illegals Go Home!' No corporate propaganda will change the fact that most Americans do not want to surrender or capitulate to the lawless masses rushing into our nation."
According to the Southern Poverty Law Center, ALIPAC is "supported" by a designated hate group and "allied with various Minuteman factions." The Anti-Defamation League has also pointed out ALIPAC's support from white supremacists and anti-Semites.
KGUN9-TV's Jennifer Waddell sat down for an interview with Kelly, and attempted to ask him a question from one of the station's viewers about the endorsement. She was quickly interrupted, off-camera, by Kelly's spokesman John Ellinwood:
Waddell: We have something from one of our viewers again. This is Joe Evano: "Recently you accepted the endorsement of the Americans for Legal Immigration group. Senator John McCain and the Anti-Defamation League have denounced --

Ellinwood: (off camera, interrupting): I want to stop you.

Waddell: Oh --

Ellinwood: That's false.

Waddell: Okay --

Ellinwood: He did not accept recently.

Waddell: This is --

Ellinwood (interrupting): No. It's false. That was from 2010. So would you please read some correct answers?

Waddell: Well, this is not an "answer." This is something --

Ellinwood (interrupting): That was not recent.
Kelly then calmly held up his hand and allowed Waddell to continue. She asked him, "Why then did you accept that endorsement?"
"It was in 2010. This election is about jobs, and the economy and lower gas prices. Frankly it's completely out of bounds," he responded, dodging the question.
But according to Waddell, after the interview wrapped up, Ellinwood "continued his verbal attack through the hallways and in the front lobbies of our studios." He used the words "trash" and "sleaze" to characterize the viewer's question, saying Waddell should never have asked it.
Ellinwood later called KGUN9 news director Forrest Carr and demanded to know whether there would be "incendiary 'gotcha' language" in another interview the network was going to do at 3 p.m, KGUN wrote in its report. When Carr stood by the viewer question Waddell posed, Ellinwood canceled the appearance.
"If you're a journalist in Tucson and you dare to ask that question, be prepared to have angry fingers jabbed in your face, your professionalism impugned, and interviews canceled," KGUN9 wrote.
While ALIPAC did first endorse Kelly in 2010, it also renewed its endorsement of the Arizona candidate last week -- in other words, "recently."
Kelly is running against Democrat Ron Barber for the open seat being vacated by Rep. Gabrielle Giffords (D-Ariz.). Barber is a former aide to the congresswoman.
Watch Wadell's full report here, and a clip of the interview below:
Calling all HuffPost superfans!
Sign up for membership to become a founding member and help shape HuffPost's next chapter