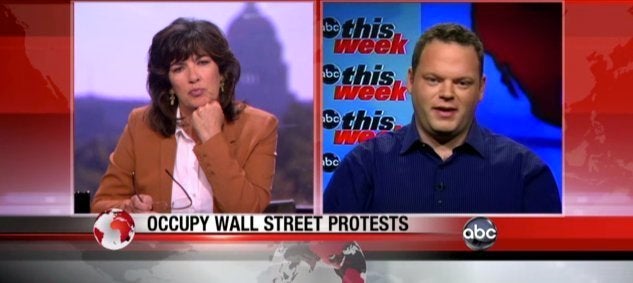 Jesse LaGreca, the Occupy Wall Street protester who won plaudits for dressing down Fox News, continued his takedown of the media on ABC's "This Week," telling host Christiane Amanpour that he might be the only working class person to ever appear on a Sunday morning news show.
On Sunday, LaGreca took his criticism to ABC, where he made similar charges about the media failing to report on the struggles of working class Americans. Speaking to Christiane Amanpour, he took aim at the very people at the program and their colleagues.
He charged that "the working class people in America – 99% of Americans who aren't wealthy and aren't prospering in this economy – have been entirely ignored by the media" and lay the blame on pundits and political leaders.
"I mean, the reality is that I'm the only working class person you're going to see on Sunday new -- political news -- maybe ever," he said. "And I think that is very indicative of the failures of our media to report on the news that matter most importantly."
Amanpour let out a shocked laugh at LaGreca's assertion that he would be the only working class person to ever appear on a Sunday news show. She smiled and said, "We are trying our best, Jesse" before quickly steering the conversation back to the specific demands of the movement.
LaGreca went on to predict that the movement will continue day after day, and beseech political leaders to listen to the protesters.
WATCH (Jesse LaGreca's interview starts at 4:22):
Popular in the Community