On Tuesday, sisters Violet, 11, and Zoe, 9, came home from school with severe sunburns -- they were outside for 5 hours for field day and were not allowed to apply sunscreen because of a school policy, their mom posted on her blog.
"Two of my three children experienced significant sunburns. Like, hurts-to-look-at burns," Jesse Michener from Washington wrote. It was raining that morning, so Michener didn't apply sunscreen on her kids. But even if she had, the kids would have needed another coat once the sun came out (the AAP recommends applying sunscreen with an SPF of at least 15 every two hours). The girls weren't allowed to put any sunblock on though, and the reason cited was school policy.
Tacoma Public School district spokesman Dan Voelpel told Yahoo! Shine that, according to statewide law, teachers are not allowed to apply sunscreen to students and students can only apply it to themselves if they have a doctor's note.
Mom was particularly outraged because her daughter Zoe has a form of Albinism. She said the school's staff was aware of her condition, and they still didn't make an exception.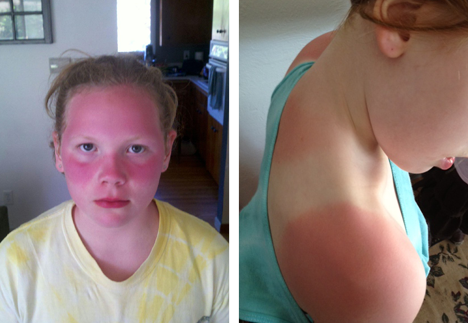 The girls had never taken part in field day before nor had they been outside for an extended period of time at school, so Michener says she didn't know anything about the sunscreen rule or that her kids needed a prescription.
Michener told The Huffington Post that adults made comments about her kids burning, but because of the law, did nothing about it. She wrote on her blog, "one of my children remarked that their teacher used sunscreen in her presence and that it was 'just for her.' So, is this an issue of passive, inactive supervision? Where is the collective awareness for student safety?" At the very least, a hat might have protected the girls, but, "alas, hats are not allowed at school, even on field day."
Three days later, the girls are still in pain, Michener told The Huffington Post. Their swelling has gone down, but Violet's nose and forehead are blistered and Zoe is just as red as she was on Tuesday.
The school district has since apologized and informed Michener that a new law, "allowed for districts to make their own distinctions about what is and isn't allowed at school with regard to sunscreen and other over-the-counter medications" and that the policy should be revised by October.
Michener told The Huffington Post that her intent is in no way to vilify the school. "I'm out to change policy that ties their hands from making good decisions," she said. After Michener originally posted the story on her blog, she received an outpouring of responses from other parents from Alabama to New York who said their schools abide by similar policies that do not protect kids from sun exposure. In the last few days, she has formed a team of people who are researching precedents and national policies so that they can start educating people and work toward a change.
As for Zoe and Violet, "They will heal this week, but long term effects are yet to be seen," Michener told The Huffington Post.

Related