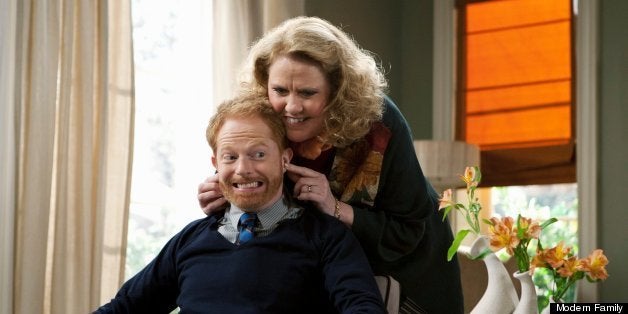 Jesse Tyler Ferguson, aka our favorite TV ginger (runner up: Christina Hendricks), is best known for playing the beloved Mitchell Pritchett on ABC's award-winning comedy "Modern Family." But when he's not on the lot, rehearsing on the stage or playing couch potato with his fiance, Justin Mikita, Ferguson spends his time designing bow ties for his charity Tie The Knot. HuffPost LA chatted with the local funnyman to uncover his greatest inspirations, his strangest job ever and where he thinks New York has LA beat.
HuffPost: When did you first know you wanted to be an actor?
Jesse Tyler Ferguson: I can't remember a time when I didn't, but I did juggle between wanting to be an actor, a zookeeper or someone who bakes cakes. Not a baker. Someone who bakes cakes.
You recently co-founded the nonprofit organization, Tie The Knot, with your partner Justin Mikita. The charitable cause features bow ties designed by you, with sales going toward various organizations that are fighting for marriage equality. How did you come up with the bow tie idea?
I wanted to dip my toe into the fashion world, but being an outsider, I didn't want to overcommit myself or overestimate my ability ... so I decided to go with a clothing item that would take up very little bodily real estate. Plus, I love bow ties.
When did you start wearing bow ties?
I first started wearing them regularly when I was lucky enough to get invited to black tie award shows for "Modern Family." I realized that there were only so many ways to spruce up a tux.
Have you always had impeccable style? If not, what are some looks that you will never try again?
I think I have grown into my sense of style and I still would never call my style impeccable. Anna Wintour is impeccable. I am a work in progress and hope to always be a work in progress. I don't think there is a look that I wouldn't try again -- maybe the Bill Cosby sweaters I used to wear.
What were the first thoughts that ran through your head when you read "Modern Family?"
This question always makes the cast laugh because we get asked it in every interview. It is seconded only by: What makes a "Modern Family" modern? The real answer to this question is that I thought it was an amazing script and I was desperate to be a part of it. The fake answer we are going to start giving is: We thought it was a piece of crap and are still surprised people like it.
You have done a lot of work on the stage. How different is it filming a television show? What is the best part about TV?
My first love has always been theater, so I think I will always have a very special place in my heart that can only be filled by performing in front of an audience. Theater is definitely an actor's medium. On stage we have total control of the performance. Film is more of an editor's medium. Your performance is at the mercy of how they choose to cut it. I love doing both. Film allows for more subtly and theater allows for more broadness. They are different sets of muscles.
You're no stranger to television. You have been on "The Class," "Do Not Disturb" and "Ugly Betty." What sets "Modern Family" apart?
It's so hard for a television show to become a hit. It's way beyond a good script. A million things could keep a show from becoming successful. It could be cast wrong. It could be directed or edited poorly. The network could choose not to support it. Fortunately for us, all these pieces fell into place and then on top of that, the audience was there. That, of course, it the most important element. The best of shows will not stay on the air if the audience support isn't there.
In 2006, The Hollywood Reporter named you as one of their "Ten to Watch." If you had to name a few people to watch right now, who would they be?
Annie Parisse from "The Following," Mireille Enos and Joel Kinnamen from "The Killing," Chris Messina from "The Mindy Project," Sarah Paulson and Lily Rabe on "American Horror Story."
Minnesota is the most recent state to legalize same-sex marriage, making it the 12th in the country. What is up with California? When is it our turn?
Hopefully, we will know something later this month about Prop 8 bring overturned. It was heartbreaking when Prop 8 passed and I think many people were shocked that California voted that way. I do think that Proposition 8 and the Perry v. Brown case sensationalized marriage equality and certainly made it a "hot topic". It really kick-started serious discussion about gay marriage. Every civil rights movement must have its challenges. This was just one of ours.
You have played Leo Bloom in "The Producers" at the Hollywood Bowl. LA's theater scene doesn't compare to New York City's. What does LA have to offer, in your opinion?
There is no way that LA can compete with NYC as far as the theater scene goes. It's harder to get people to the theater in LA for some reason. That being said, I've seen some amazing theater in LA at the Ahmanson, the Mark Tapper and The Geffen Playhouse. The Hollywood Bowl is certainly something unique to Los Angeles. It is so special. But it's not the greatest venue for musical theater. I had a great time doing "The Producers," but I don't know if I ever need to do another musical in which my performance has to be projected onto a jumbo-sized screen in order to be seen.
Strangest job you have ever had?
I ran stocks between floors of the World Trade Center in the late '90s.
That changes weekly. I love Katsuya Sushi, and Son Of A Gun on Third Street.
What is your relationship with Eric Stonestreet like? We have heard that he bases his character, Cameron, off of his mother. You two make a very convincing (and loving) TV couple.
Eric is one of my closest friends. He is the only person in this world that will ever truly understand the excitement and pressure of being Cameron and Mitchell. We will always share that bond. I care about him deeply. You can't fake chemistry and I certainly have chemistry with Eric. He is hilarious and a joy to be around. But just like normal couples, we can get on each others nerves at times!
What do you do to unwind after a day of shooting? What are your morning routines when you guys are in season?
I like to come home and cook dinner with Justin. I always prefer to stay in and watch TV. I'm a homebody. My mornings usually start very early so I roll out of bed, shower, make coffee and get into my car. I get my morning news on the drive to the studio.

What are you most looking forward to this summer? Least looking forward to?
I have a lot to be excited about this summer, "Comedy of Errors" at Shakespeare in the Park and I'm getting married! I always miss my cast over the summer hiatus. I guess that is what I hate most.
Recently, the Bow Tie of the Day on your site was "The Runyon," inspired by Runyon Canyon. What are some of your favorite places in LA, or your other inspirations?
I love Malibu beaches, Abbott Kinney in Venice, Sunset Junction in Silverlake.
My LA is a series of Q&A profiles with our favorite Angelenos. To see others, be sure to check out My LA.
PHOTO GALLERY
Jesse Tyler Ferguson
Calling all HuffPost superfans!
Sign up for membership to become a founding member and help shape HuffPost's next chapter