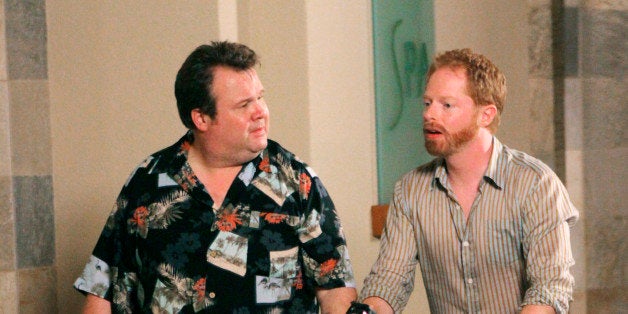 Jesse Tyler Ferguson took to social media after a fellow actor criticized the portrayal of a same-sex couple on "Modern Family" as being "the gay equivalent of 'blackface.'"
The 39-year-old Ferguson, who has nabbed five Emmy nominations for his work on "Modern Family," said he knew "lots of guys" who could relate to Cam (Eric Stonestreet) and Mitch (Ferguson).
"We can't be expected to represent every gay person," he wrote on Facebook. "We can only represent these two people. Also, Mitch is basically a version of me...so I never know how to take it when people say that he is stereotypical. And in defense of Cam, I still can't figure out how a clown & football coach who also happens to be gay is a stereotype."
He went on to note, "As a closeted kid of the '80s I would have loved to have had a show like 'Modern Family' to watch with my parents. It would have meant a lot to me to see who I secretly was reflected on television. TV has come a long way and it continues to forge new ground."
You can check out Ferguson's full Facebook post here.
Ferguson's remarks followed those of "Desperate Housewives" actor Tuc Watkins. The openly gay Watkins, who played Bob Hunter on "Housewives" and can currently be seen on "Awkward," said he had "a hard time laughing at the gay guys" on "Modern Family," arguing that the show's portrayal of a same-sex couple "doesn't feel 'modern' at all."
"It feels a little bit like the gay equivalent of 'blackface,'" he added, according to reports. "Sure, people come in all shapes, sizes, etc. So why are we fed such '80s stereotypes every week?"
Earlier this year, "Modern Family" came under fire from the American Family Association's Bryan Fischer, who argued that the ABC series was "designed to make you think that same-sex households are wonderful" and "the optimum nurturing environment for children," while depicting heterosexual marriage as "bondage, dreary," and "gloomy."
"People are just watching TV to be entertained," Fischer said at the time, "not realizing that their view of life is being twisted in a way that's very harmful to them and harmful to our culture."
UPDATE Dec. 23: Watkins apologized to Ferguson with an open letter cited by Queerty, Gay Star News and other media outlets.
"I'm glad to see that a FB post can stoke a fire that burns in the LGBT community, and supporters of our community," he wrote. "Many doors have opened in gay people's fight for equality. Civil rights, marriage rights, and depictions of us individually and collectively on television. Great strides have taken us from tolerance into acceptance and towards true equality."
My comments were extreme, and my use of the word "blackface" inexcusable. I regret creating dissension among the ranks, especially when we're all in this fight together.

I see your point. I hope you'll consider mine.
REAL LIFE. REAL NEWS. REAL VOICES.
Help us tell more of the stories that matter from voices that too often remain unheard.
BEFORE YOU GO
PHOTO GALLERY
Get The 'Modern Family' Look