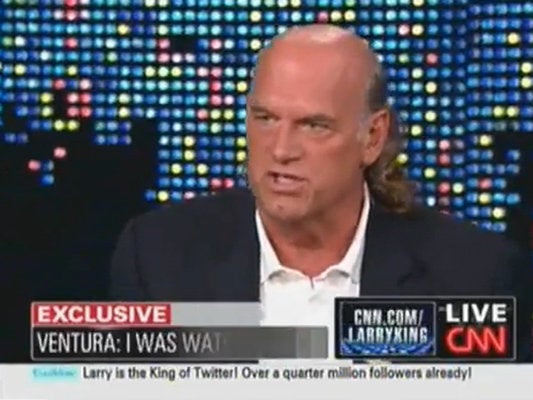 Former Minnesota Governor and one-time professional wrestler Jesse Ventura went public on Larry King Live yesterday with some harsh criticisms of the Bush administration, as well as Senator Norm Coleman.
...Coleman's always been a hypocrite. He never does what he says. He said election night, when he won, that [Al] Franken should drop out, and he should be the senator. Well, then the same should hold true after the recount.
Ventura, who beat out Coleman in the 1998 Minnesota gubernatorial race, said that any federal appeal by the senator should be thrown out. Ventura also came out against the Bush administration, calling George Bush the "worst president in my lifetime" and saying he has "no respect for Dick Cheney."
Claiming that he was water-boarded as part of Navy Seal training he received during the Vietnam War era, Ventura says:
[Water-boarding] is torture... It's drowning. It gives you the complete sensation that you are drowning. It is no good, because you -- I'll put it to you this way, you give me a water board, Dick Cheney and one hour, and I'll have him confess to the Sharon Tate murders.
Popular in the Community