Jesse Williams spoke out against President Donald Trump's remarks regarding National Football League players who choose to kneel in protest during the singing of the national anthem. The actor also questioned the necessity for pageantry in sports at all.
During a speech in Alabama Friday to campaign for Sen. Luther Strange, Trump said people should boycott the NFL over protests like those demonstrated by former San Francisco 49ers quarterback Colin Kaepernick, who took a knee during the national anthem before games last year to protest police brutality and racial injustices.
The actor called Trump "a very horrible, a guy who thinks he's a dictator, who treats America like it's a game show."
"It's also important to realize this anthem thing is a scam," Williams said. "This is not actually part of football. This was invented in 2009 from the government paying the NFL to market military recruitment to get more people to go off and fight wars to die."
"This has nothing to do with [the] NFL, or American pastime, or tradition," Williams continued. "This is to get boys and girls to go fly overseas and go kill people. They're marketing. They're pumping millions and millions of dollars into the NFL to get us to put on a pageant in front of the NFL football games to get you to go off and fight."
"This not only betrays the sentiment and trust of fans, but casts an unfortunate shadow over the genuine patriotic partnerships that do so much for our troops," the congressional report stated.
"As you know, the NFL has a long tradition of patriotism," NFL spokesman Brian McCarthy said back in August, confirming that the practice of players being on the field began eight years ago. "Players are encouraged but not required to stand for the anthem."
Williams reiterated his message on Instagram, offering his support to Kaepernick and others taking a knee.
Before You Go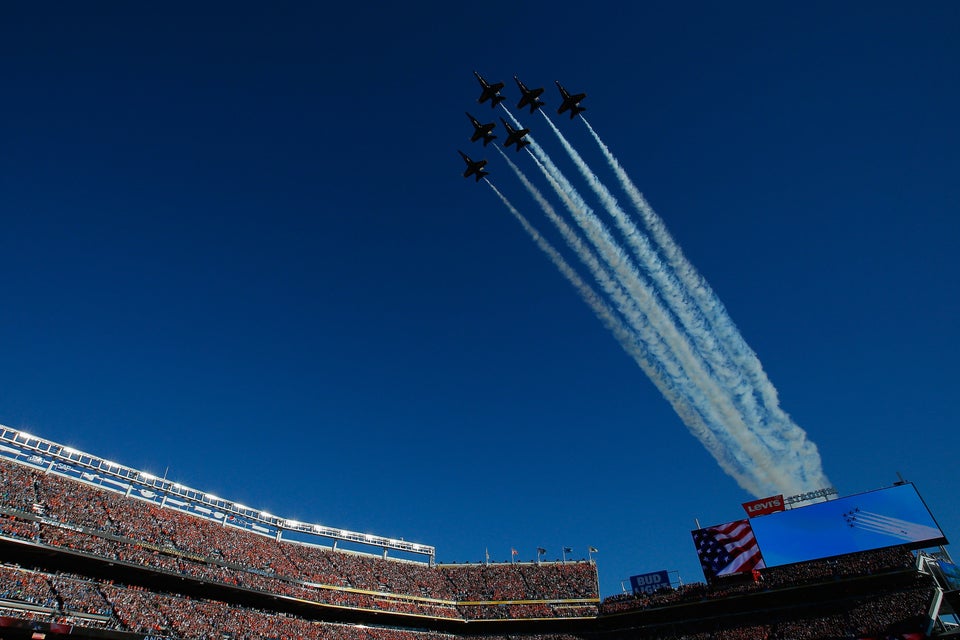 Patriotism At NFL Games
Popular in the Community