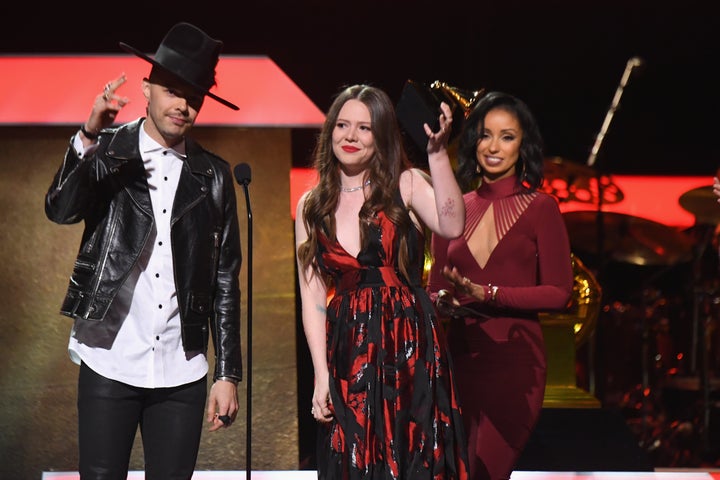 "We felt it was the perfect moment to speak up and say 'We are also the face of this country and what we want to do is work and find our place in the world just like everyone else'," Joy told HuffPost during a recent phone interview.
It was an emotional moment for the brother-sister duo, known simply as "Jesse & Joy," who won the Grammy for Best Latin Pop Album that night. The number of people who heard the artists' speech was limited to those who had tuned into the Grammy's pre-telecast online, but they said the simple act of being the only Mexican-Americans on the red carpet felt like the perfect way to chip away at harmful stereotypes of their community.
As Jesse, 34, and Joy, 31, celebrate over a decade in the industry ― during which they've become a familiar fixture on the Latin music charts with hits like "Espacio Sideral," "¡Corre!" and "Ecos de Amor" ― the siblings feel more compelled than ever to use their platform for good.
That's where the band's new music video for their single "Un Besito Más" comes in. The group debuted the video on July 11, during this year's National Council of La Raza (which recently rebranded as UnidosUS) conference.
The video, directed by Colombian filmmaker Simón Brand, follows the story of a young and talented U.S.-born girl who suddenly loses her undocumented parents to deportation after the family survives a tragedy. It also includes statistics, in both English and Spanish, to contextualize the issue.
For Jesse and Joy, the drive to raise awareness in support of the millions of U.S.-born children who fear losing their parents to deportation was inspired by their experience being raised by a Mexican father and an American mother in Mexico City.
"En carne propia (firsthand), we know what amazing things can be achieved coming from an integrated family," Jesse told HuffPost. "['Un Besito Más'] is a song we wrote for our dad who passed away four years ago, there's a lot of special feelings and emotions that we wanted to translate into something that was bigger than us and our daddy. And we just thought it was a great moment to use the power of music and share a bigger message than us."
Joy says immigration is an issue that "hit most close to home," and it felt like it was their responsibility to show the tragic consequences of deportation.
"We realized how many of us don't really understand what is behind this issue," she said. "A lot of us hear the word 'deported' or 'deportation' and we don't know what that means. It's basically just another word that we can only imagine what it's like but none of us really truly know what is behind it. We really don't know the faces behind this word. We don't know what is happening to these families."
Growing up in a Mexican and American home was "amazing," the artists said. The siblings grew up speaking both Spanish and English and were exposed to music in both languages, but straddling those two identities didn't come without its share of difficulties.
""A lot of us hear the word 'deported' or 'deportation' and we don't know what that means... We really don't know the faces behind this word. We don't know what is happening to these families.""
Joy recalled the way some people mocked the brother and sister because despite being bilingual, their Spanish and English wasn't "completely perfect."
"I remember going to our dad to say 'I don't like that they're making fun of me or why are they making fun of us for the way we speak?'," she said. "I'm never going to forget what he told me. He goes: 'Well look, they can mock you all they want but remember that you're speaking in two different languages and you're doing twice the effort.' I think that stuck. And while we were growing up we really learned to see with two visions of absolutely everything, that includes music."
"Jesse & Joy" began sharing that dual identity with fans recently, with the release of their eponymous bilingual album in February. Fresh Spanish-language music is on the way as well, including the single "3 AM" ft. Cuban duo Gente de Zona (which Joy described as "Jesse & Joy on mojitos" and Jesse flipped to "Gente de Zona on tequila").
"We were singing almost only in Spanish for almost 10 years and it was, for us, super delicate to kind of cross that line, but it got to a point where we couldn't be afraid of it anymore," Joy said. "We knew we had a big fan base we couldn't let down, but we've opened the doors to our house. They've gotten to know a big part of the house but there's one room that hasn't been open. We want to open that door, as well, and let them get to know that side of us whenever the music feels right."
"So yes there will be more music in English as much as there will be more music in Spanish ― and there will be some Spanglish in between," she chuckled.