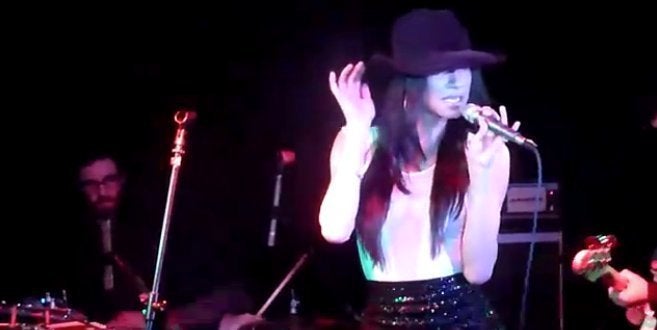 The rush to the top of the musical mountain by Hercules and Love Affair was a triumph for the still-bubbling nu-disco/house movement in the States. But an added bonus for fans was how the dance-pop collective brought the statuesque and diva-like singer Nomi Ruiz into the spotlight. The throaty vocalist helped bring an R&B flair to one of HALA's signature songs, "You Belong," and so impressed founder Andy Butler that he invited Ruiz out on tour with the band.
Ruiz has since left the group and is currently fronting her own disco-pop outfit Jessica 6 (below, check out clips from throughout her career as part of today's Live Music Show). The group's 2011 debut See the Light is a scintillating collection of sexy beats and attitude that recalls the singles produced by Giorgio Moroder and Gino Soccio.
There's a decidedly political bent to almost everything Ruiz does, as well. As a transgender woman, her in-your-face sexuality and songs of joy and freedom have provided an empowering message to the LGBT community. And, as she says in this interview she did via email for Network Awesome, it's a role she takes very seriously.
What is your musical background? Did you always have a notion that you wanted to sing, or did that come later on in life?
I always knew music was in me. I've been singing, writing and recording since I was a child. I really had no other choice. It's the only thing that has ever brought me joy. There was never anything else I thought I should pursue. I've sacrificed many things for my music and I would do it all over again.
How did you come to start singing with Hercules and Love Affair? Why did you not participate in the group's second album?
Antony thought it would be a good idea for me to sing "You Belong," and it just snowballed from there. Honestly, after a year of working with HALA, they just couldn't afford me, and I couldn't afford to put my personal work as an artist aside for nothing any longer.
Your singing voice seems a natural fit for the kind of music that you were known for with Hercules and your new group. Do you feel it was inevitable that you would become a kind of modern disco diva?
I never thought I would ever be associated with dance or disco music. It was all a shock to me. I grew up very hardcore, with hip-hop and R&B. My brother even makes fun of me when he hears me singing on a dance or disco song, but it's all so natural to me for some reason. I love melody and singing and writing to anything that moves me. I guess that's why my records are so eclectic now.
When did you hit on the idea of starting your own band?
I was overwhelmed by the support I received from fans all around the world after touring with HALA, and I wanted to reconnect with them when I left. I thought it made perfect sense to dive back into dance music while introducing them to my personal story through my songwriting and by closely collaborating with other producers and musicians.
What can you tell me about your choice of a band name?
I had recently watched Logan's Run when it came time to choose a name for the project. At first I was simply drawn to the way Jessica 6 sounded, but when you connect it to the rebellious story that is told in the movie, it becomes so much more. It's funny because now people call me Jessica, which at first was strange but I now find pride in. Jessica 6 has truly become my alter ego.
How do you feel about being known (as one article referred to you) as the "transgender superstar of tomorrow"?
I prefer the "transgender superstar of today."
Do you feel any added pressure to provide a public face for the trans community? Or do you welcome that?
I used to be afraid of the pressure, but when I began to realize that I provide that no matter what, I have really come to embrace it. My fans have made me so much more confident than I was when my personal life came into the mix with my music. They have made me so much stronger than I ever thought I could be. Their support really lifts me up. They make me proud to be who I am and to sing for a community that needs a voice.
Has being trans provided any particular challenges with maintaining your musical career?
If I look at it that way, I could really make a mound out of the downfalls, but with every door that closes, another one opens, and that's all I've ever needed to focus on. There are many people who refuse to work with me because I'm trans. I was supposed to perform for Guess Jeans in Germany and was fired after they discovered I was trans. Many agencies, producers, record labels, music journalists, etc. refuse to work with me or even acknowledge my existence because I am trans, but in the end I don't need any of them. My fans are the only people who will ever matter. They show up to my shows and have allowed me to make a living doing what I love to do.
What do your parents/family feel about your career as a singer?
My family is so supportive, which is very important in anyone's life. They push me to be better and are always there when I need them. I'm a very lucky girl.
What is next for you and Jessica 6?
I'm working on the next record right now, which will be recorded in Greece, Los Angeles, and New York. It's a collection of love songs specifically written from a subcultural point of view. It's time we had a record just for us. It's time the truth was told.
Watch the charisma radiate from Nomi Ruiz, future pop icon, in this 10-video collection of her work with Hercules and Love Affair, and Jessica 6:
Upcoming Jessica 6 performances/Nomi Ruiz DJ gigs:
June 23 DJ gig: Gazi Music Hall Athens, Greece
June 30 DJ/Live: Arraial Pride at Terreiro do Paço Lisbon, Portugal
July 6 Jessica 6 Live: Gibson Club, Frankfurt, Germany
Aug. 5 DJ Gig: The Kitchen Nightclub, Dublin, Ireland