Jessica Alba's back-to-school tradition with her family is adorably relatable.
While chatting with HuffPost, the actress said that the first day of school means making sure she snaps at least one photo of her two daughters — Honor, 10, and Haven, almost 7 — before they head back to the classroom. She said she has also a tradition with her husband, producer Cash Warren, and it's too real for parents.
"Then Cash and I always like to cry about the picture together," she said.
When asked if that part of parenting ever gets easier, she replied with a "nope" and a laugh.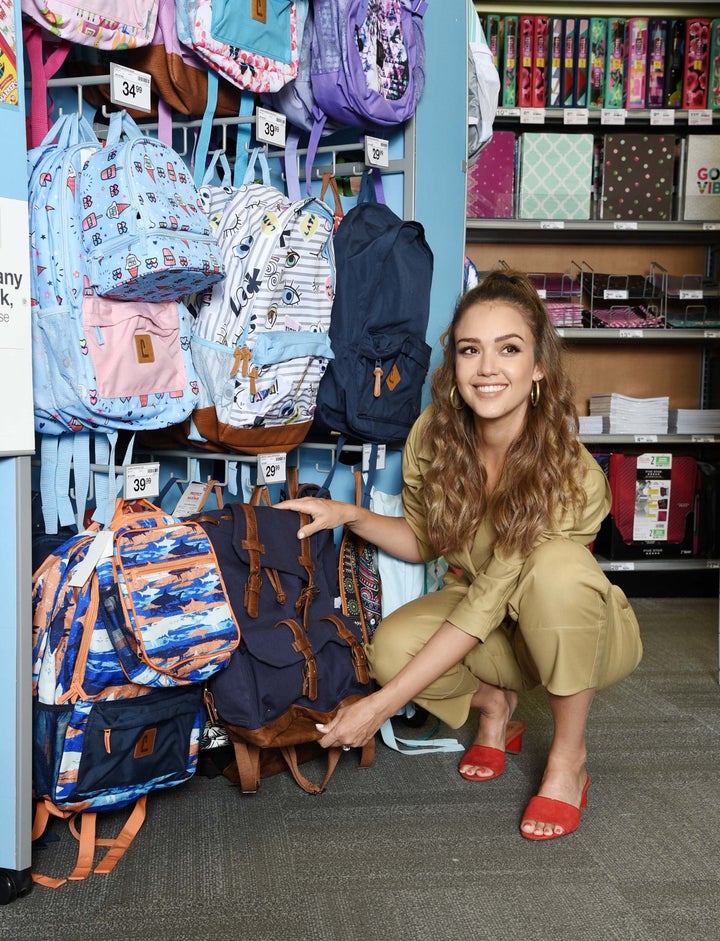 As she gets her kids ready for the school year, Alba is partnering with the Staples for Students campaign, which gives Staples shoppers who spend $25 or more in stores a chance to win a grand prize of a $50,000 scholarship (presented by Alba) or one of four $25,000 scholarships. People can help locally through DonorsChoose, a fundraising platform for teachers, by donating in Staples stores to a classroom project. Staples will match donations through the back-to-school season.
As a kid, Alba loved shopping for school supplies, which is why this project with Staples and DonorsChoose resonated with her. Getting ready for the school year is now something she enjoys doing with Honor and Haven.
"It's fun because for us, it's a moment to kind of reflect on what they accomplished the year prior and what they want to accomplish this next year and what it means for them," she said.
Alba, the founder of the Honest Co., said she likes including her kids on many of the projects she supports to teach them the value of giving back.
"Being able to do the things that you need to do but also give my kids that life lesson that not every kid gets to have what you have and not everyone has the same resources [teaches them] it's important to give everyone the same shot in life," she said.
When the school year is in full swing, Alba and Warren, who also have an almost 7-month-old son named Hayes, split up their duties pretty well in the morning so they can get the girls out the door. Sometimes the sisters help each other out too.
"Honor actually sometimes does Haven's hair and will do her own hair, which is sweet," she said. "I didn't have a sister, so that always makes me feel all warm and fuzzy."
Alba said the school that her daughters attend is "really, really great" and has "wonderful" teachers, but that doesn't spare her and Warren the occasional tough homework problem.
"The way they learn math is so wacky," she said. "It's about grouping numbers and breaking down — like, they learn division before they learn how to subtract ... It blows our brains."
Aside from those important math skills, Alba hopes her daughters will continue to learn the value of compassion and empathy.
"It's a lifelong lesson to try to put yourself in other people's shoes and circumstances," she said. "And when someone is doing something that you may not agree with, try to have some compassion for their reality. Those are things that just never go away."