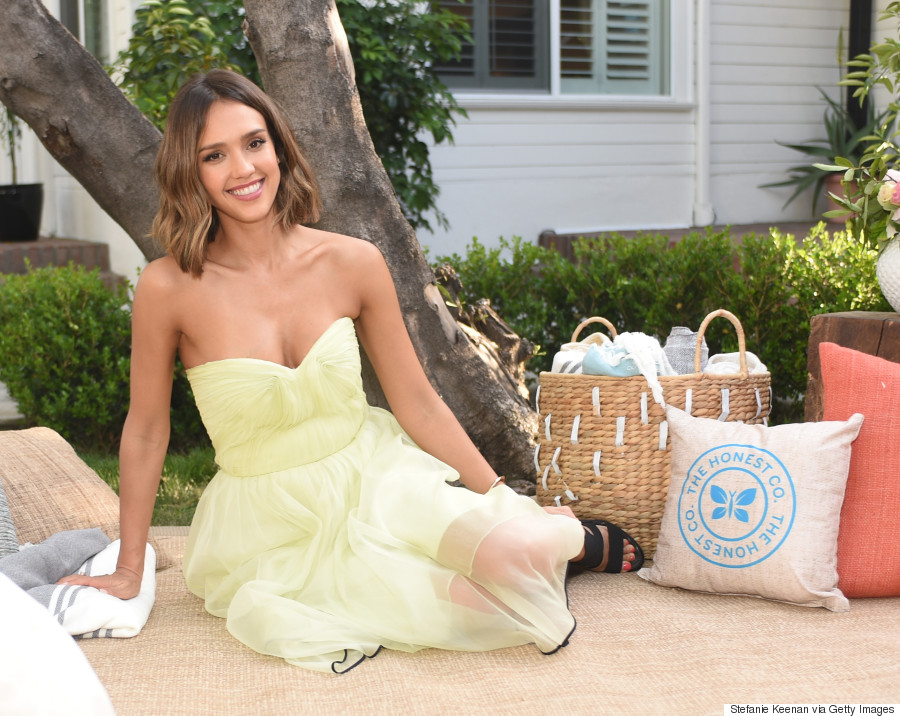 A decade ago, the name Jessica Alba was synonymous with Hollywood. The actress landed at the top of every "hot list," appeared on the show "Dark Angel" and in movies like "Honey," and made fans and designers alike go ga-ga over her sense of fashion.
Nowadays, the name Jessica Alba means a lot more in the world of showbiz. The 34-year-old just covered Forbes' Self-Made Women issue, after becoming one of the 50 ceiling crashers in the industry as the co-founder of The Honest Company, whose goal is to re-define the "family brand" with effective, beautiful, eco-friendly and affordable products. Along with Christopher Gavigan, Alba has grown the four-year-old company into a $1 billion success story.
"We're such a young company, and we're just getting started," Alba told The Huffington Post in a phone interview. "We've laid a strong foundation, but this is just the beginning."
But how did it all begin? Well, Alba saw a need for a healthy lifestyle brand and decided to "fill a hole" in the marketplace. ""We've changed the game," she said. "You cannot find, I believe, any other brand, especially the things that we offer, out there."
Actually, the mother-of-two says the only way to start a successful business is to recognize a gap in the game, and attempt to squeeze through it. "If you have a dream and you have ideas and you want to make them a reality, you got to go for it, and you have to be smart with the way you go for it," she said. "It's so hard to start a company if you don't think it will make a difference. You have to understand the company and give it your all -- blood sweat and tears -- because theres going to be a lot of pushback. But what's cool about living in the United States is it can become a reality and opportunities are here for the taking."
Currently, Alba is using her healthy, proactive outlook on life to promote something she believes in: flourishing from the inside out. She has teamed up with Zico Premium Coconut Water for their Crack Life Open national campaign, which aims to remind people that life is better when our hearts and minds are open. "These days, it's all about the hustle and bustle of life and being pulled in so many different directions. You have to take time to take care of yourself and you have to make yourself a priority. You can't be the last one on the list that matters anymore," Alba told HuffPost about the partnership.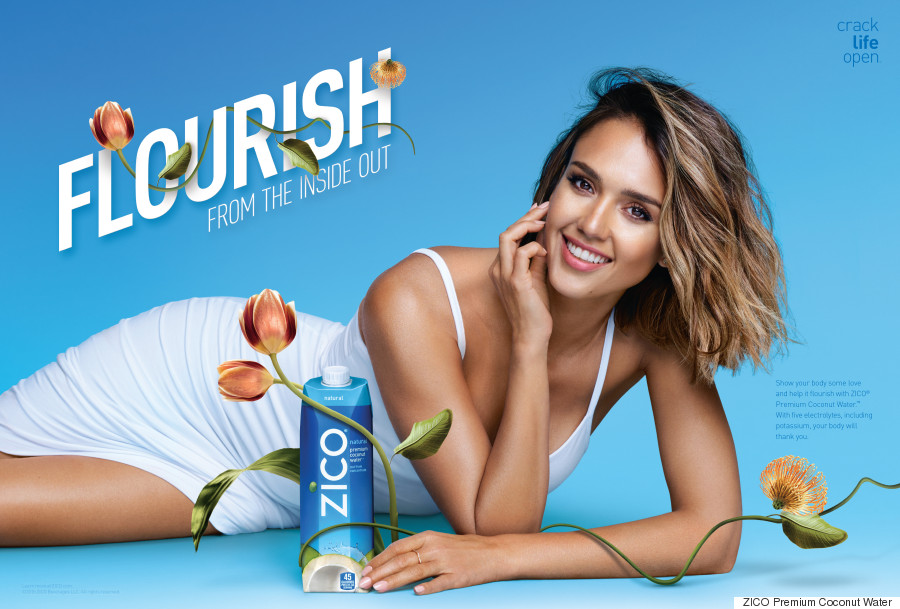 Like Arianna Huffington's book, Thrive, which Alba referenced, Zico wants to avoid the "burnout" and have individuals thrive on a physical and emotional level, and ultimately live a beautiful life. "It's more than just selling you a drink," Alba said, "It's more about a philosophy and a take on life."
And despite everyone's assumptions that the spokeswoman balances her career, business and family life perfectly, Alba insists she doesn't, and feels like she's always sacrificing something. "I always feel like I'm being pulled in so many different directions," she said. "I guess my litmus test on if I'm being stretched too thin or not are my kids. If they're happy and they're thriving then I just keep at it, but if I see that there's anything faltering in their behavior, or how they're feeling, then I stop everything and I focus on them."
"I don't know how to balance time. I don't have a consistent schedule for anything," she added. "I love when I can take a couple of spin classes a week, take a couple hot yoga classes a week and have a girls night out and a date night once a week, that would be great. Does that happen? No. But that's my ideal. I wish there were more hours in the day!"
Still, despite those 24-hour days, Alba makes time to pursue acting roles -- she just recently wrapped filming on "Mechanic: Resurrection" with Jason Statham and appears in the "Entourage" movie (out now). She's also raising two daughters, Honor, 6, and Haven, 3, a doting wife to husband Cash Warren, writing books (The Honest Life), traveling the world for conferences, walking the red carpet, appearing in Taylor Swift music videos, being a spokesperson for various projects and running a company. Oh, and she does it all pretty darn well.
Calling all HuffPost superfans!
Sign up for membership to become a founding member and help shape HuffPost's next chapter
BEFORE YOU GO
PHOTO GALLERY
Jessica Alba