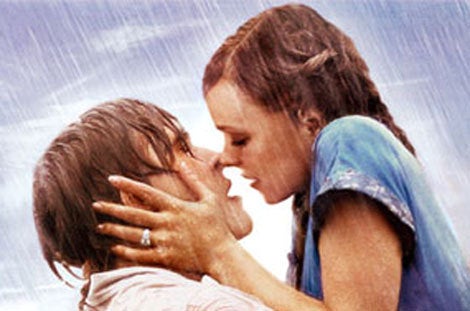 Imagine this: Ryan Gosling, bearded and desperate, standing on the beach, soaked by the pouring rain. I wrote you letters, he tells the lost love of his life. A stunned woman can't believe her ears. And then, as tears flow, Gosling kisses... Jessica Biel?!
Yep, it could have happened.
Rachel McAdams, of course, plays the iconic role of Allie in the 2004 film, but that doesn't mean there weren't other people who wanted the gig. Biel was one of them, and to this day, she rues the lost opportunity.
"That's one that I wanted so badly," the star tells Elle in a new cover story. "I was in the middle of shooting Texas Chainsaw Massacre, and I auditioned with Ryan Gosling in my trailer--covered in blood. [Director] Nick Cassavetes put me through the wringer in an interesting, excitingly creative way. But there's a million that get away. We're gluttons for punishment. It's just rejection."
Still, Biel has plenty of reason for optimism when it comes to her career. After all, not everyone gets to risk their life in the name of art.
"The other day, Colin and I were in our harnesses, hoisted up 30 feet in the air looking down," she remembers while talking about filming "Total Recall" with Colin Farrell. "The adrenaline rush of that was explosive. We hit the bottom, looked at each other, and burst into giggles. That was an I-love-my-job moment."
Biel will next star in the ensemble romcom, "New Year's Eve," the drama "The Tall Man," and the comedy, "Playing The Field" with Gerard Butler. None of which are "The Notebook," but hey, it's a living.
For more, click over to Elle. And to see her first ever gig, watch below (starting at 7:17 of the first video)!
Calling all HuffPost superfans!
Sign up for membership to become a founding member and help shape HuffPost's next chapter