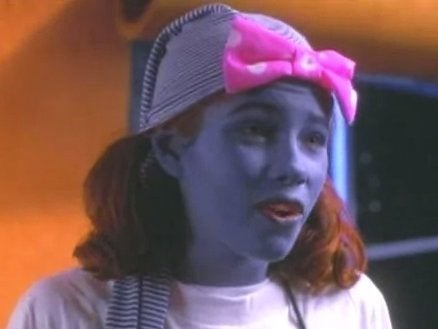 The world first got to know Jessica Biel in "7th Heaven," but it wasn't quite her first acting role. We've unearthed the footage, and it's so darn cute it may make her blue in the face.
In 1994, at just 12 years of age, Biel starred in a twenty minute, CGI-filled fairy tale musical called "It's A Digital World." She plays a blue-skinned girl named Regrettal who lives with her brother and uncle in a shoe house in Tiny Town, a magical little shire that has played host to all of the fairy tales. Unfortunately, things aren't so great in Tiny Town at the outset of the film -- disarray and miscommunication reign over public affairs -- but hope springs up when a little animated character named Digi Digital has swooped in to perhaps save the day, if he can be convinced to give up his penchant for only doing fun things.
Biel pulls out all the stops in the film, singing and being blue in more ways than one. The short film, according to the fantastic detectives at The Back Row, was made as a sort of ad to secure funding for a feature, but obviously that didn't happen.
Still, the man who directed it, Paul Greenberg, still boasts about it on his LinkedIn resume, including the part where he notes that he was the first person to cast Jessica Biel in Hollywood.
So when you see Biel in December's "New Year's Eve," just take a moment to marvel at just how far the little blue girl has come. Fast Forward to 7:17 to see her for the first time.
Popular in the Community