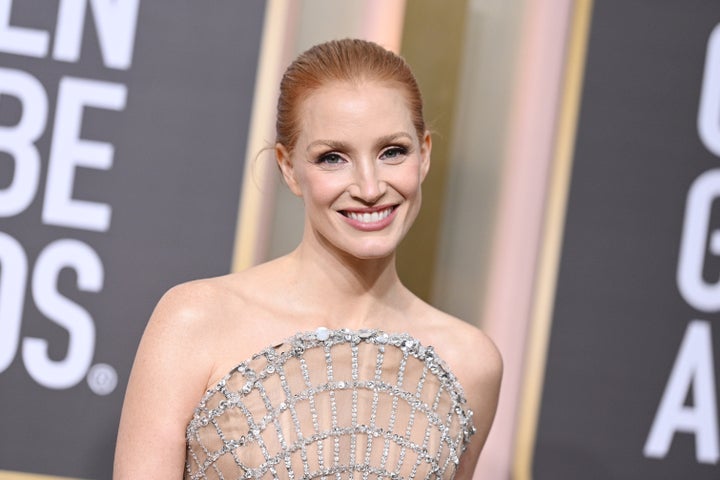 Jessica Chastain made headlines for continuing to mask up at awards shows as the COVID pandemic eased earlier this year, notably matching her face coverings with her gorgeous gowns.
While she would occasionally take off her mask for red carpet moments, Chastain explained why she was otherwise diligent about masking ― and was quick to say she wasn't "making a political statement."
"We were testing every day on our show, and even if you had no symptoms if you tested positive for COVID, you were out for a week," Chastain, who stars in "A Doll's House" on Broadway, explained during The Hollywood Reporter's annual Tony Nominees Roundtable, published last week.
"And I was meeting people at the stage door who flew in from Shanghai and flew in from all over the world," she continued. "To be out of the show for a week? It just felt like it was so irresponsible."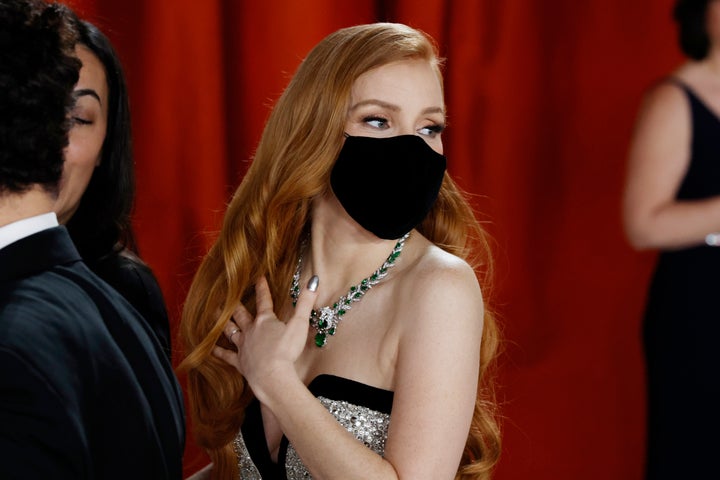 "So I was wearing the mask at the Oscars. I got quite a lot of flak for that. A lot of people thought I was making some political statement. I don't know what they thought," the "Interstellar" actor said.
Singer Josh Groban, also present at the Tonys roundtable, jumped in and said, "Theater people knew. We knew."
"Well, OK, good. I'll tell you, the best thing is someone at the stage door gave me a mask that said, 'I'm On Broadway,'" Chastain said of the highly appropriate gift.
"But yeah, the SAG Awards, the Oscars, a lot of people were like, 'What are you doing?!'" she said. "I just couldn't get sick. And I didn't. I haven't missed a show."
Chastain's diligence about masking paid off. She avoided a COVID-19 wave on the awards circuit after the 2023 Golden Globes, which saw celebrities like Jamie Lee Curtis and Michelle Pfeiffer test positive.
The actor went viral after she responded to a fan who tweeted a photo of Chastain wearing a bedazzled mask that matched her Golden Globes dress.
"And you know who didn't get COVID at the Golden Globes?" the fan wrote.
"Phew!" Chastain answered, with two emojis.
Popular in the Community