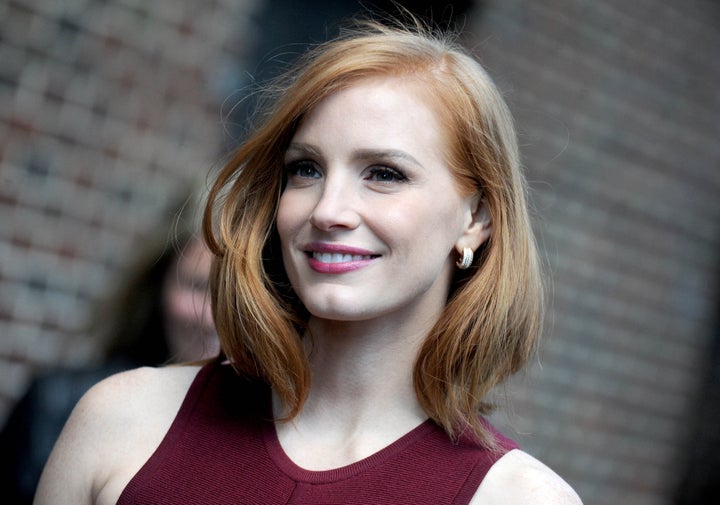 Jessica Chastain has written a powerful essay on what it's like to be a woman in Hollywood.
The actress is currently filming "The Zookeeper's Wife," which, in addition to having a female director (Nick Caro), boasts a predominantly female crew. Chastain wrote an op-ed for The Hollywood Reporter published on Wednesday in which she describes her experiences working on sets where both genders are represented. Chastain writes:
For me, sex really isn't the qualifier in the way someone directs -- but I just know that when you have a set with predominantly one gender, whether it be all men or all women, it's not going to be a healthy place. I imagine it's the same thing in the workforce or other environments: When you have both genders represented, then you have a healthier point of view. The energy is great, you all are working together as a community, and everyone is participating in the exchange of ideas. You don't feel a hierarchy; you don't have anyone feeling like they are being left out or bullied or humiliated. Sometimes being the only girl on a set, you can feel like a sexual object.
Chastain, who starred this year in "Interstellar" and "Crimson Peak", added that she believes diversity in filmmaking is integral to the progress of cinema:
I want to make sure I'm contributing to cre­ating diversity in the industry. I want to work with anyone who is talented, but I know that some people have to work harder to succeed in this business than others. I did Texas Killing Fields with Ami Canaan Mann, Zero Dark Thirty with Kathryn Bigelow, Miss Julie with Liv Ullmann and now Zookeeper's Wife with Niki. And I'm doing another film with a female director that's not been announced yet. I read this incredible article Chris Rock did [in the Dec. 12, 2014, edition of The Hollywood Reporter] where he talked about race in Hollywood, and he said that if there is an African-American who needs help, he's going to be way more into helping them because he understands they don't have the opportunity that other people do.