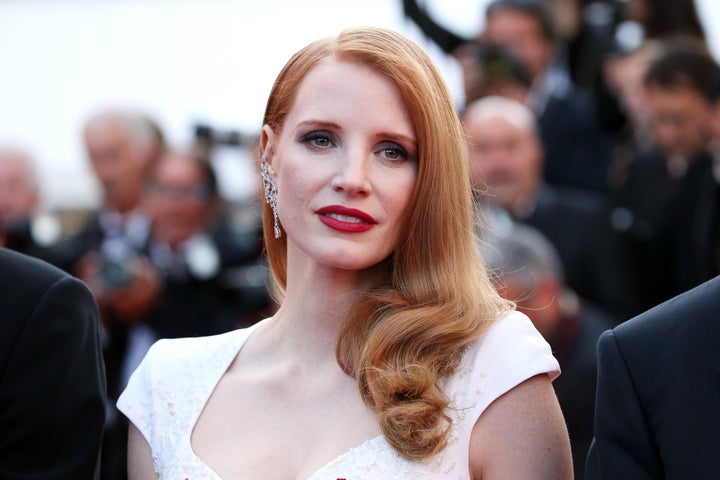 The actress posted a tearful video on Thursday calling for "transformative social change" after receiving backlash earlier this week over tweets condemning the "alt-left" and violent protests. 
"I'm making a video because my heart is very heavy," Chastain said. "I've learned so much the past few days about the trauma many people are experiencing in our country. I've had the opportunity to listen, more than to speak, and it's really hard for me to express my feelings, my thoughts, in 140 characters."
"I wanted you guys to know that I hear you," she continued "I want you to know that I'm committed to creating transformative social change, that I'm committed to dismantling systems of oppression. I share in the sense of what is happening in the country."
"I hear you," she concluded. "You may never have met me, but I love you."
Although it's not clear why Chastain decided to post the video, the actress, who regularly speaks out about political matters and shares her distaste for President Donald Trump on social media, has stepped on some toes as of late.
Things between the "Molly's Game" star and some of her followers started to sour after she shared a Time Magazine article about why the "alt-left" is a problem, writing, "If we resort to violence as a way to combat hate, we become what we are fighting."
She also had recently engaged in a heated exchange after posting a quote from Martin Luther King Jr. about non-violent protests.
When one follower hit back with another excerpt from a speech by King, about being disappointed by the "white moderate," Chastain refused to back down. 
"If the color of my skin is going to cause you to generalize, perhaps you should look back over whether or not I've been silent to injustice," she wrote.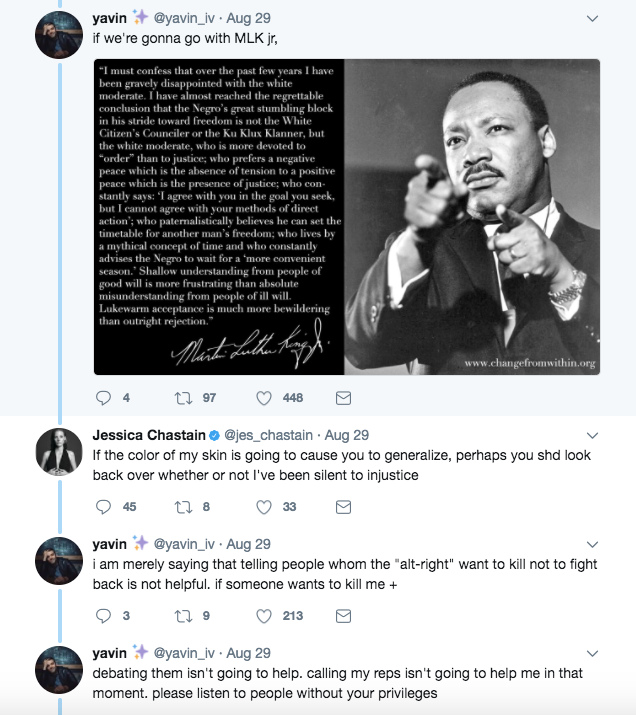 The same follower continued to encourage Chastain to stop and "listen to people without your privileges" before suggesting that her fans not fight back against attacks from the "alt-right." 
"Nonviolent protest has NOTHING to do with self defence," Chastain responded. "Please look at the last article I posted. Data shows that nonviolence works better."
The social media user attempted to the continue the discussion, but Chastain stopped responding before uploading the video hours later. 
REAL LIFE. REAL NEWS. REAL VOICES.
Help us tell more of the stories that matter from voices that too often remain unheard.
BEFORE YOU GO
PHOTO GALLERY
How Jessica Chastain Breaks Redhead Beauty 'Rules'