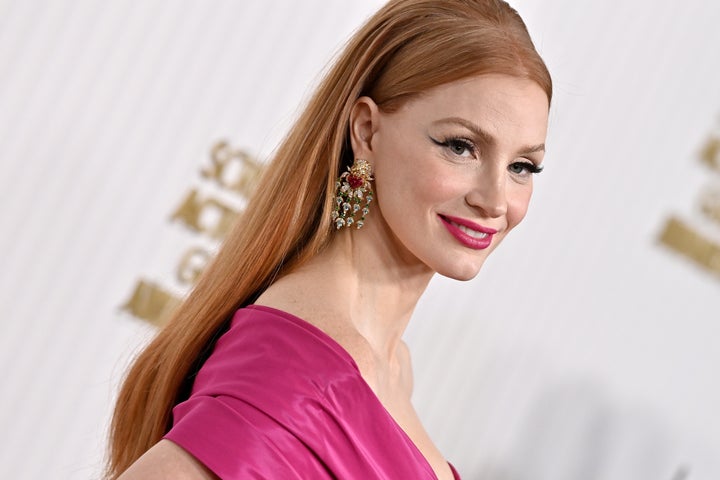 Jessica Chastain fans might want to consider carrying around copies of "It" and "The Help."
The "George & Tammy" star was at the center of a recent TikTok video that went viral due to her refusal to sign a book for a fan.
In the video, the fan asked the Oscar winner to sign a copy of "The Seven Husbands of Evelyn Hugo," a 2017 novel by Taylor Jenkins Reid that will soon get a film adaptation on Netflix.
Although the streamer hasn't released the cast list yet, zealous fans of the book have long campaigned for Chastain to play a pivotal role. But the actor made it clear to her fan in the viral TikTok that she's not involved in the project.
"I can't sign that, just because I'm not doing it," the actor said before agreeing to take a selfie with the fan instead.
Chastain offered a pretty solid reason on Wednesday for refusing to sign the fan's book.
"I've been asked multiple times by fans, to sign books that I'm not attached to contractually," she wrote on Twitter. "Because it feels wrong, and like Im taking credit for someone else's work, I'll say I cant sign because I'm not doing it. That doesn't mean I've read a bad script."
"The Seven Husbands of Evelyn Hugo" tells the story of a retired Hollywood actor, Evelyn, who enlists a journalist to conduct a final interview about her life. Social media users have been vocal about how Chastain would be a perfect embodiment of the character Celia St. James, who starts out as Evelyn's rival.
In a follow-up tweet, Chastain implied that she's aware of the hype around her casting.
"I know how excited many you are about adaptations," she wrote. "Please dont read too much into a video."
In January, Andy Cohen asked Chastain on "Watch What Happens Live" if she was aware "of how many people want you to play Celia St. James."
"I do know there is an online thing about it," she replied before adding: "Sure, send me a script."
It's unclear what happened after Chastain said she was open to the part, but it is now clear that she will not appear in the film.
Popular in the Community