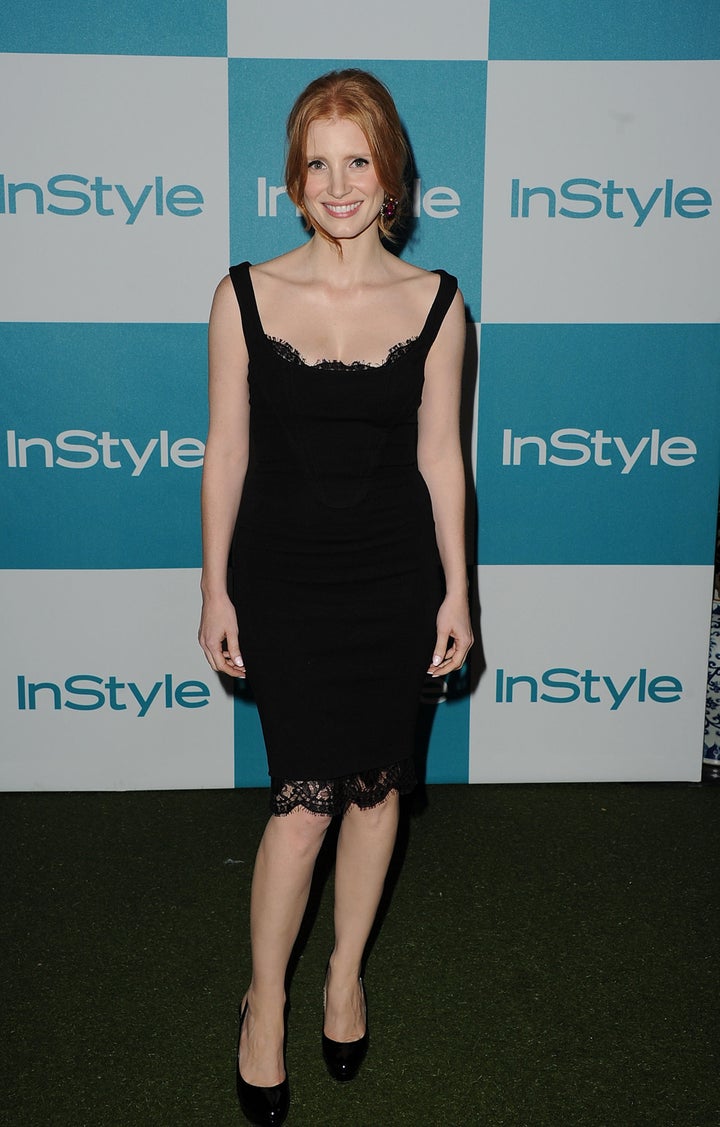 Here is the preemptive answer to the question each one of you will, inevitably, ask at some point over the next six months:
Her name is Jessica Chastain, and she's here to stay.
The angelic redhead in the highbrow, Cannes-winning "The Tree of Life," and the dyed blonde Monroe-esque bombshell in this weekend's new hit "The Help," the Juilliard-trained stage veteran is all of a sudden everywhere.
"Oh my god, I keep telling people, you're going to have to go out of your way to not see a film I'm in this year," the bubbly actress laughed in a conversation with The Huffington Post. "It's an amazing problem to have. It's wonderful to be an actor with so many movies out."
It's not an exaggeration; Chastain has a total of seven films scheduled for 2011 release. In part due to the unique frustrations of Hollywood - "The Tree of Life" was delayed nearly two years, while her upcoming dramatic thriller, "The Debt," saw its release pushed back 8 months - it's nonetheless a sweet payoff for the humble new star.
That being said, it wasn't some sort of stroke of luck, or wish granted, that put her in the position to walk so many red carpets this year. A working actress since childhood, she's put in time in guest arcs on TV series and a number of indie films, including 2009's "Stolen Lives," with another actor who would soon blow up: Jon Hamm.
Her success is a product of exhaustion, as she puts her entire self into each film, sometimes extending past what is probably a healthy boundary between reality and the world in which her characters exist. Following the long shoot on Terrence Malick's "The Tree of Life," Chastain felt the need to flee the country to clear her head.
"I was leaving that set and, so much of me leaving, I was so concerned about making it easier for the boys, who I'd become very close to, those three little boys, that I underestimated how difficult it was going to be for me to say goodbye to them," she remembered, talking about the boys who played her and on-screen husband Brad Pitt's sons. "And so when we left, I was absolutely devastated, just emotionally so sad. I got on a plane and flew to Paris to take a French course because I needed a change of scenery."
That trip, it turned out, would only lead to another opportunity to jump down the character rabbit hole, as she met with "Shakespeare In Love" director John Madden on a stop in London to discuss a role in what would become the Holocaust vengeance dramatic thriller, "The Debt."
Once she convinced him that she was right for the part of a young Mossad agent sent on a team to East Berlin to take out a former madman Nazi doctor, it was time again to immerse herself in a story. Unlike "Tree of Life," in which she played the matriarch of a family that was the focus of existential pondering, Chastian's new role foisted upon her more hardened reality, inspiring her to learn more about the unspeakable human suffering that her Rachel character had witnessed, and was trying to avenge.
"Making the movie was of course exhausting, but the most difficult part was the months before, because that was the whole research part of it," Chastain revealed. "I was reading a lot about the Holocaust. I read about [Nazi Dr. Josef] Mengele and I read a lot about the medical experiments that they did, which were really atrocious. I hadn't been exposed to those kind of details before. I was just trying to soak up as much as I could of that, because of course Rachel would know."
In a sort of preparation method acting, the shocking truths she learned were impossible not to internalize.
"During that time, it was during the holidays, it was over Christmas and stuff, and even my mom asked me, 'Are you okay?'" she laughed in retrospect. "Because I was so depressed, because how could you not be? Every day I would wake up and just start my work, which would be reading about this stuff for months. So I was in a really sad and dark place."
The preparation is obvious in her subtle and affecting performance, with a palpable mix of fear and repressed emotion coursing through her face, whether she's in the office of the target doctor, now operating under a pseudonym, or showing off the difficult martial arts moves that she also had to learn for the film. But before audiences can take in that harrowing effort, there is the matter of another hatred-tackling story.
Luckily, her role in "The Help" isn't quite so fraught with heavy emotion. Instead, the role called for her to play a ditz, with more superficial changes. Still, those presented their own difficulties.
"For 'The Help,' it was a big physical transformation for me, which was really scary," the vegan actress joked aboout the 15 pounds that she somehow had to gain, "but then also, there was of course an accent, but I also, in addition to the accent, I really pitched my voice up, because in real life my voice is much lower... It's my first venture into comedy."
The laughs will be brief, given the rest of her upcoming slate. Following "The Debt," she'll star with Al Pacino in an adaptation of a once-banned Oscar Wilde play, "Salome"; re-teams with Worthington for the self-explanatorily named, dramatic crime thriller, "Texas Killing Fields"; plays Michael Shannon's mourning wife in Cannes favorite "Take Shelter"; and features in Ralph Fiennes' directorial debut, a Shakespeare adaptation, "Coriolanus," about a vengeful Roman warrior.
It doesn't slow down for Chastain, either, as 2012 is already slotted to bring the indie Depression-era bootlegging drama, "The Wettest County In The World," with co-stars Shia LaBeouf and Tom Hardy, and a semi-sequel to "The Tree of Life."
And don't expect it to end there.
WATCH
:
Related
Popular in the Community