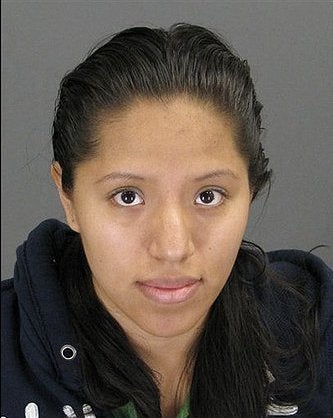 Kennesaw State University student Jessica Colotl studied political science and dreamed of becoming a lawyer until a series of minor traffic violations propelled her to the center of a nationwide debate on illegal immigration.
Colotl's family came undocumented to America from Mexico when she was 11. After she was arrested in late March for driving without a license, the sheriff's office turned her over to immigration officials and put her in an Alabama detention center. Her ordeal was only just beginning.
After lobbying by Kennesaw State officials and her sorority sisters, ICE released Colotl last week. Federal officials deferred action on her case for a year, allowing her to complete her classes.

But Cobb County Sheriff Neil Warren obtained a new warrant for her arrest on Wednesday, saying she lied about her address when she was booked into jail following her initial arrest. Making a false statement to law enforcement is a felony under Georgia law.

If Colotl is convicted on the felony charge of making a false statement, it will be virtually impossible to get a judge to agree to extend the deferral, [Colotl's immigration lawyer Charles] Kuck said. But he said he is almost positive that the district attorney will dismiss those charges.

Colotl's situation can be attributed to the U.S. Immigration and Customs Enforcement 287(g) program, through which state and regional law enforcement units can work with federal customs agencies to enforce immigration laws locally.
If [a local agency] conclude that someone is in the country illegally, they can turn that person over to ICE. Last year, a change to the partnership program prioritized the detention and arrest of those who have allegedly committed crimes.

The Cobb County Sheriff's Office is one of 71 law enforcement agencies in 26 states that have entered into this partnership program, according to the ICE website.

Labeling the program a "civil rights disaster," Mary Bauer, legal director of the Southern Poverty Law Center, said it "leads to racial profiling, distracts police from looking for real criminals and destroys families."

Beyond local immigration law enforcement, Colotl's case brings to light the thorny situation undocumented immigrants face when trying to pursue higher education.
The Atlanta Journal-Constitution reports that applicants to Georgia universities are only given three choices of citizen status disclosure; undocumented students are forced to lie on the application:
The form used by the 35 institutions that make up the University System of Georgia asks prospective students to disclose their citizen status. They have just three options:

Nonresident alien: A person who is not a citizen or national of the U.S. and who is in this country on a visa or temporary basis and does not have the right to remain indefinitely;

Permanent resident: A non-citizen living in the U.S. under legally recognized and lawfully recorded permanent residence status as an immigrant.
Colotl, who is widely supported by civil rights activists and is being represented by lawyers free of charge, told the AP that she is "certain" she will graduate from Kennesaw State:
"I really believe that something positive should come out of this, probably an immigration reform or at least the DREAM Act," she said.
Popular in the Community