Paradigm Shifters is a series of interviews with a select group of women and men from eclectic walks of life. It will highlight unspoken, real life insights on how they have been able to turn weakness into strength. A naked soul point of view of how their breakdowns were really a preparation for breakthroughs. They are your quintessential Paradigm Shifters; internal shifts converted into genuine change.
Everything I have ever done has been focused on this underlying theme of shifting the paradigm because, "what we think determines what we feel and what we feel determines what we do." Hence why Empowered by You takes lingerie, which has traditionally been seen merely as a tool of seduction and redirected that energy as a tool of empowerment.
I hope from these stories you will look at your own situations, struggles and accomplishments through a different lens. At the very least you will be more equipped with real life tools to change your own paradigm. At the end of the day we are our own Alchemist turning the silver we were born with into the gold we are destined to become.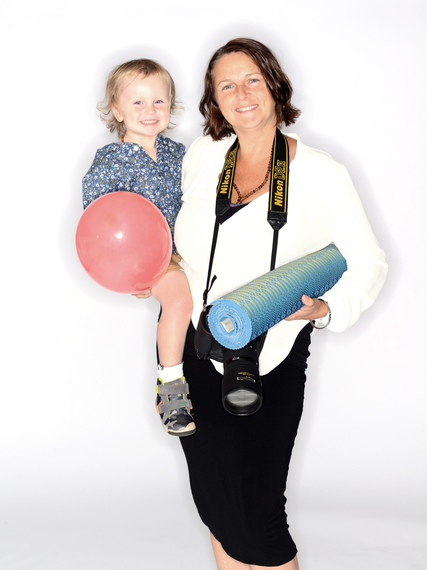 Jessica Farrell - Creative Director at South Moon Under
Do photography and yoga fuel your inspiration?
Yoga and photography absolutely play into my everyday efforts. I am able to advise our photography team on light, camera setting and image composition. When I think we need to move in a different direction, I have experience that I can [draw from] that can help [the team] visualize [an idea], but one that is still their own. And my yoga teacher training was a life changing experience. Yoga has helped me to quiet my mind, to sit back and listen, and to support the people that are working with me. As a teacher we are trained to support and uplift our students without ego and I strive to bring this philosophy to work with me every day.
With a massive reach to such a dedicated community you have the potential to have a deep emotional connection with your audience. Do you ever envision this community uniting forces to have some sort of impact?
It's an incredible idea to create change or difference through South Moon Under. As a company there hasn't been anything major planned yet. We do some small things. We have solar panels at the home office, our carpeting is made from recyclable soda bottles, stuff like that. Many of the brands that we sell contribute in different ways as well and we are calling them out in our "Become Better" section of our lookbook and website. All of these little things add up to big things and maybe one day there will be a more specific organization that we will partner with. I'm sure our founder (Frank Gunion) has lots of ideas.
Tell me about your proudest moment.
I can honestly say that every day that I walk through the doors of my office building I feel a sense of pride. We are still so small, but we create so large. Highlights [include] the moment that the last photo of a lookbook is taken. When we wrap a lookbook shoot - it's usually been about two days and we have done so many outfits and worked so many locations that we are literally exhausted and dripping with sweat - we look around at each other and we just cheer. We are like, "Wahoo!" It's awesome. [We do that] four times a year right now. Sometimes we shoot a little more local. The shoot that will be coming out in the next couple of weeks was shot at a farm in Pennsylvania. The shoot before that was in New Orleans and [the shoot] before that was in the Bahamas. I think our next shoot will be up here [in NYC]...that's what I'm scouting today. Who knows where we will go next? That's the exciting part.
What is your vision for South Moon Under?
I'd say growing our store locations and customer base is a very exciting prospect. We are just scraping the surface of the Mid-Atlantic and I can't even imagine how explosively exciting it would be to have stores throughout the world. [The opportunity] to translate to our customers the feeling, vibe and energy of our stores and culture is exciting. Our roots are beach but our fashion is pretty, relevant and handpicked. We can outfit our customers for any part of the day and they can feel safe, sexy, powerful and cool in those choices.
What do you feel is the biggest paradigm shift you've experienced when seeing something differently changed your life?
I think it's a few different things for me. Yoga teacher training strips you down. It gives you who you are back again. It takes away all of the junk, all of the stupid things you've been carrying, all of the excuses. I knew once I was finished with my training that I was going to teach somehow. My career was still extremely important to me but there was also this [desire to] give back with yoga. As soon as I finished my training, I started teaching kids at a family homeless shelter. It was ten to twenty kids at a time, ages of about four to eleven. Once a week for an hour I walked in that door and they came running to me, screaming, "Yoga!" And at the end of yoga we did Savasana, the relaxation pose. These kids were able to take that hour, do some strong things for their bodies, calm their minds a little bit, and know that everything was going to be ok. And I hope that everything is ok for all of them because they are special kids. It was an incredible experience.
Oh and [later on in life], I became a mother. Seeing the world through a mother's eyes is a profound shift. I could go on for days about how caring for another human being changes so many parts of your life but the short version is everything you do matters. Every little single thing I do is important because this little guy is growing up with me. Everything I say, everything I do, everything.
What was your breakdown to breakthrough moment?
One of my best friends and I went to Puerto Rico for a month. We had no cares in the world. We traveled all over the island, we met people, and we had a great time. It was the most awesome experience of my life. I was in a nine-year relationship at the time with someone who I thought I was in love with. But when I was there I realized he wasn't the person I was supposed to be with. Once I came back, I set everything straight. I stayed my own person and didn't try to change for someone else. From that point on my photography career blew up.
What do you want your legacy to be?
There's two parts to this. Professionally, [I want to have created] beautiful, thoughtful images that speak to people in any way that they need to be spoken to. [I want to have created] a body of professional work that is admired for its beauty and its ease of execution. Personally, I want my son to be proud of me. I want my son to stay free and open to the beautiful gifts that are all around us. I don't want to tell him that he can't do something. I want him to always reach for the stars but do it as a good person.
Mother, yoga teacher, successful career woman ...Jessica Farrell is the prime example that you can have it all as long as you stay true to yourself. Every step you take, every move you make matters and is an opportunity to lead the way. Jessica's creativity and philosophy are a guiding force in her life and the lives of the ones around her. An inspiration!
Calling all HuffPost superfans!
Sign up for membership to become a founding member and help shape HuffPost's next chapter