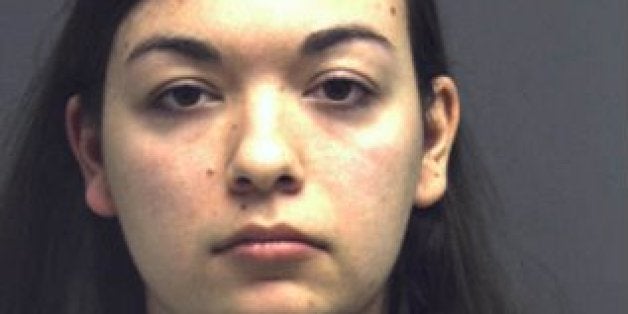 A Virginia woman who killed a 23-month-old boy out of frustration because he was crying was sentenced to just five years Monday.
Jessica Fraraccio, 22, pleaded guilty in October to killing the small boy, according to WJLA.
Fraraccio was entrusted as a babysitter to care for toddler Elijah Nealey. In August 2012, weeks before Elijah's second birthday, Fraraccio killed him.
On Monday, Judge J. Howe Brown sentenced the woman to 50 years, but suspended 45 years, The Washington Post reported. After her release in five years, Fraraccio will be ordered to send one dollar to a charity of her choosing on the date of the toddler's death.
The details of the killing are tragic.
After changing her story multiple times, at one point saying the boy slipped in the tub and hit his head, Fraraccio eventually confessed to the killing. She told police that while Elijah was eating lunch, Fraraccio pulled the chair out from under him out of frustration because he was crying.
The toddler hit his head on the table and floor. Prosecutors said that as Elijah wailed even harder, his babysitter carried him around the house upside down, hitting the child's head on the stair railing and other objects. She then covered his mouth and nose with her hand as the boy screamed, suffocating him to death.
On the same day his little boy died, father Mike Nealey was arranging a birthday party for his son at a Chick fil-A.
"She basically...smothered him with her hand because he wouldn't stop crying," Nealey said. "We would have never thought this. Never. The way we knew her, she seemed like a fine person."
When the judge read the sentence, The Washington Post reported there were audible gasps in the courtroom from family members and friends of the Nealey family who expected their son's killer to get at least 40 or 50 years.
Judge Brown defended his sentence.
"Nothing I can do brings back Elijah or makes [his parents] feel better," Brown said. "Likewise, nothing I can do to punish [Fraraccio] is more important than her memory of what she did."
Elijah's obtituary said the boy loved Spiderman, Elmo, dinosaurs, and his sisters.
"His favorite words were 'RRRROOAARR' and 'Piderman,'' the obituary reads.
Calling all HuffPost superfans!
Sign up for membership to become a founding member and help shape HuffPost's next chapter
BEFORE YOU GO
PHOTO GALLERY
Elijah Nealey