Paradigm Shifters is a series of interviews with a select group of women and men from eclectic walks of life. It will highlight unspoken, real-life insights on how they have been able to turn weakness into strength. A naked soul point of view of how their breakdowns were really a preparation for breakthroughs. They are your quintessential paradigm shifters; internal shifts converted into genuine change.
Everything I have ever done has been focused on this underlying theme of shifting the paradigm because, "What we think determines what we feel and what we feel determines what we do." Hence, why Empowered by You takes lingerie, which has traditionally been seen merely as a tool of seduction and redirected that energy as a tool of empowerment.
I hope from these stories you will look at your own situations, struggles and accomplishments through a different lens. At the very least you will be more equipped with real life tools to change your own paradigm. At the end of the day, we are our own Alchemist turning the silver we were born with into the gold we are destined to become.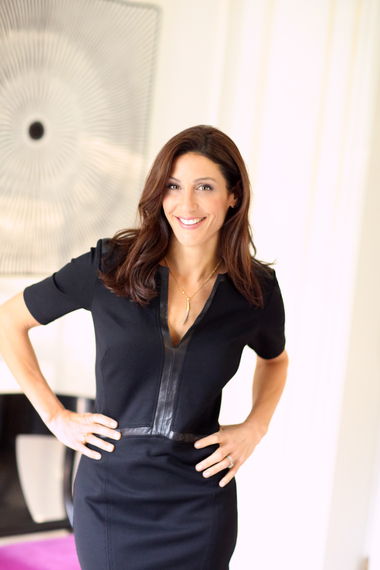 What was the spark to create Stella & Dot Family Brands?
Early in my career I started an e-commerce company and approached that business very analytically. I created commercial success, but I didn't create true success, which was not just something that looked good on a resume but something that made me feel soulfully connected to what I did, why I did it, and who I did it with.
The next time I started a business I didn't want to start it with my head, I wanted to start it with my heart. When I started that company (which went on to become WeddingChannel.com) we had been featured on Oprah and a lot of entrepreneurs reached out saying, "Give me your best business advice," and at the time I didn't feel like I had good advice. I realized the people who wanted to start a business were approaching it from a desire to be in charge of their own life. I became obsessed with the idea of democratizing entrepreneurship for the modern woman so there could be more choice, possibility and happiness in women's lives.
When I looked at the options out there, I didn't see one that was built for a modern world. I knew I could create a company that was about incredible product, that was made better by technology and that would reinvent what flexible entrepreneurship could be.

What do you feel you credit the success stories of all these independent stylists who are now a part of Stella & Dot? What do you think is that secret sauce?
I think our biggest point of pride as a company is that we don't measure our success in our revenue, we measure our success in how much commission we've paid. And that's over three hundred million dollars out in flexible earnings.
Our secret sauce is that we recognize happiness equals success. Unlike in a traditional corporate career where there is typically one ladder, within Stella & Dot, we give choice around letting someone pursue their passion in their product category, so we offer three different brands. We let them set their own pace with their own goals and celebrating every goal as valid in its own right. Someone who wants to earn five hundred dollars a month, if she achieves that, is no less successful than someone who wants to earn ten thousand dollars a month and achieves that. It's definitely an effort in, results out. Recognizing that it's not a one size fits all is really critical.
The other thing is that we really don't see ourselves as just a jewelry or technology company, we're a people company first. We don't believe it's enough to give people the way to do it; we want to give them the will.

Where do you get these mechanisms to coach entrepreneurs?
I based it on my real life experience as someone who started this business out of my living room with a full time job, while being pregnant and having one child. I'm releasing a book in May that tries to provide a framework for others to create a life that they want on their own terms called "Find Your Extraordinary" and it is our own training methodology for how to cultivate success in life.
It addresses a path to creating it on your own pace through passion, persistence, positivity, the people that you meet as well as productivity. It's something that we developed because I really believe that for people to be successful they need to have a holistic approach to life. What I love about our community and is that it is very clear that it is not a person's pedigree or circumstance that determines their success, it's about what they choose to do next in life.
You started this business while you had two kids to take care of at home. How did you do it?
When I went into this, I did it very intentionally. I wanted to think of myself as a Mom working, not a working Mom, knowing that the Mom part would come first. But that did not mean that I had to dim down my ambition of making an impact on the world even one iota. I simply needed to recognize that it would happen on my own terms and on my own pace.
In my early days as an entrepreneur mother, I think I tried to be a supermom and I really had to learn to give up the guilt and stop trying to be a Stepford wife and ask my partner for more support. It was a journey and I think it's one that is so important for women because we try to do it all.
Ultimately I realized I had to simply do what matters most and that has certainly led me to more success and more happiness in my life.
What have you learned about the power of network? What ignited the growth of the Stella & Dot network?
People are the most important part of your path and that's because people make it all worthwhile. I've always looked at everyone I encounter as someone who could be a domino or a linchpin in building something in my life or that I might be something significant in theirs. It's a journey of talking to someone who may be a domino but they ultimately introduce me to linchpin. That's been the foundation behind the partnership within Stella & Dot.
When it started in the beginning, I wanted to keep control of the mission so it was me in my living room doing one trunk show at a time. At that trunk show I met ten people and then I would have another one and meet another ten people. It was one door at a time that I shared the vision for what we wanted to create. The network of people truly was the most organic grassroots, one person at a time.
What was your breakdown to breakthrough movement?
In high school, I was on what would be considered to be the fast track to ordinary. I was too busy being a moody teen to take school seriously I had a teacher kick me out of class because I was sauntering in late. When she grabbed me I asked, "How can you kick me out?" and she said, "It's because you're the biggest waste I've ever seen." It was a huge wakeup moment that maybe she saw in me something that I wasn't ready to nurture in myself. From that moment on, I realized that she was right. I was wasting my potential by not showing up with effort.
From there I really turned it around. I went to community college instead of going straight to a four-year school but when I got there I was determined to do the best that I could. When I told people I wanted to apply to Stanford they laughed at me but I did it anyway and I went. I learned to be my own biggest source of belief and when other people doubted me, I doubted them instead of doubting myself.
What would you like your legacy to be?
The most important thing to me is that my children believe I was the greatest mother for them. My broader impact on the world I want to be about changing the workplace for women--for women to have more happiness and choice and flexibility in their lives.