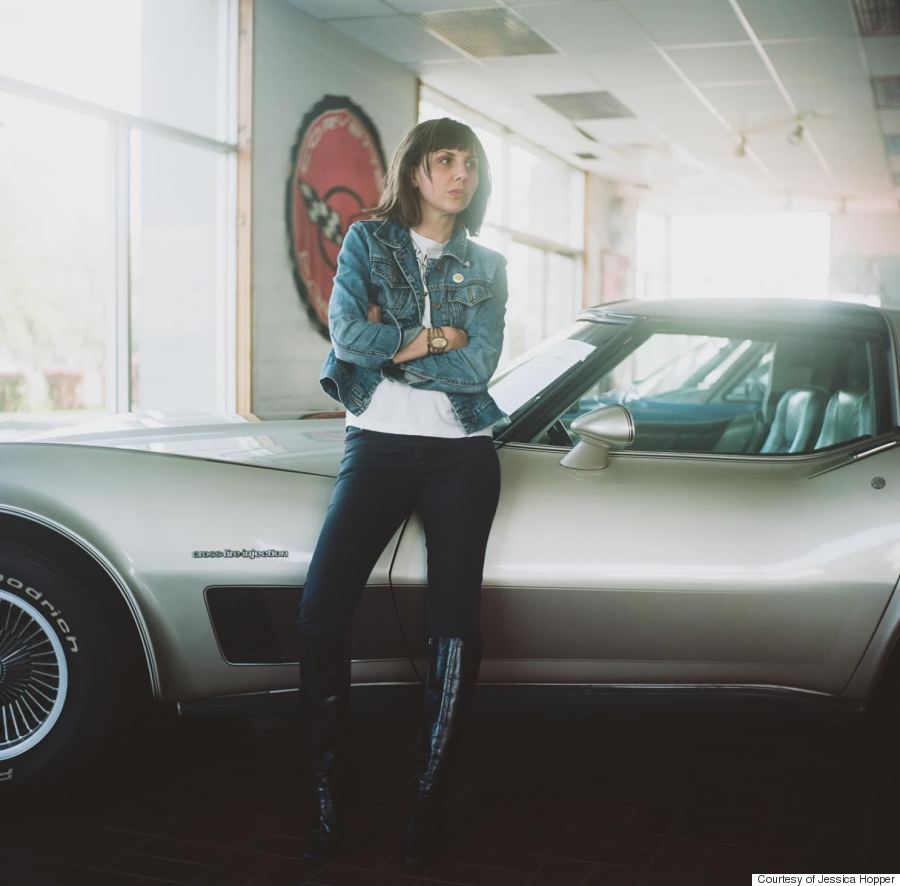 Jessica Hopper named her second book The First Collection Of Criticism By A Living Female Rock Critic knowing it wasn't really accurate. As she mentions in the introduction, there had been Lillian Roxon's Rock Encyclopedia in 1969, Caroline Coon's The New Wave Punk Rock Explosion in 1988 and Rock She Wrote in 1995.
But Hopper, a legendary Chicago-based music critic, music editor of Tavi Gevinson's Rookie Magazine and editor of the Pitchfork Review, has put together a game-changing collection of writing. Republishing her best work, which includes a horrifying interview with Jim DeRogatis, the only reporter who investigated R. Kelly's sexual assault allegations at length; an essay on the complicated gendering of emo music; a takedown of Miley Cyrus' "Bangerz"; a reflection on being a teenage girl trying to impress boys with your knowledge of grunge music; and dozens of other essays, interviews blog posts and reported features; Hopper has created a bible for aspiring writers, not just music critics.
Hopper's feminism has always been an important part of her relationship with music, and through her work, she's become one of the leading advocates for other female writers on the Internet. She regularly solicits pitches and shines spotlights on younger writers' work. "This title is not meant to erase history but rather mark a path," she wrote in her book's introduction. "This book is dedicated to those that came before, those that should of been first, and all the ones that will come after." It's a sentiment that easily sums up her take on music and mentorship, too.
Below, Hopper talks about finding your professional cheerleading squad, gender politics in music, and saying "I just can't" to Chris Brown.
When you were editing some of the stories from when you were younger, did it feel like you were editing yourself or a completely different person?
My mom, who is an editor, who's been an editor for her entire life, gave me advice. I complained to her about how tough it was and she basically said, "Approach your teenage self like you would one of the girls you edited at Rookie." And I immediately was able to drop that realm of my shame-y judgement toward myself, toward my life, toward whatever baggage I had and treat it in a strict, but loving way. It completely changed my ability to reckon with the book.
In the acknowledgements, you thank so many Rookie writers. There's something so special about thanking people so openly without asking for anything in return. I'm just going to go out on a limb and say mentorship is a big part of what you do. When and how did that become something that you knew you wanted to do?
I couldn't have written without that sort of cohort of Rookie writers, contributors and editors, and other editors and my sister and Tavi [Gevinson]. It was really like having a cheerleading team on the sidelines at all times. Some of those people are published authors themselves and could give me really concrete stuff and somebody else could be just someone who texts me like, "Fuck yes. You can do this." It meant exactly the same, whether they were in high school or whether it was Emma Straub, who has a bestseller.
In my mind, I was always writing this book for other younger writers like Hazel Cills or writers I work with at The Pitch, who are 22 years old and are as brilliant as they come. I think only maybe in the last two or three years when I was working at Rookie and I started to feel that elder stateswoman vibe, where it was like, "Oh, I guess I do have some words of encouragement. I do have some experience I can offer."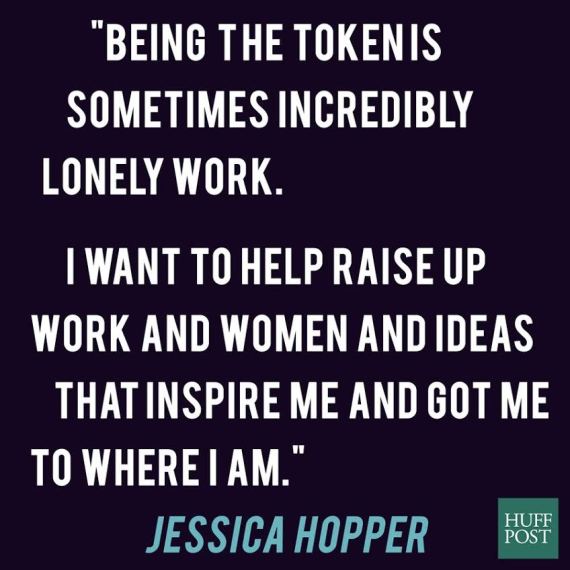 Part of my whole thing as a writer and as someone who sometimes gets offered special opportunities is that I've always tried to open the doors that were opened for me to people who are younger, in part because sometimes people did do that for me, but lots of times that didn't necessarily happen to me. There's this sort of mythology in music and music criticism -- the myth of the first or the only, that there can only be one successful woman who can have her name out there. The [book] title kind of speaks to that. I want there to be like 3,000 of us, not 150 loosely affiliated woman. I want it to be a whole cohort, a gang. In the last two years when a lot of doors and opportunities have opened for me, I'm really quick to usher in all the girl geniuses that I'm friends with.
Being the token is sometimes incredibly lonely work. I want to help raise up work and women and ideas that inspire me and got me to where I am, as well as create opportunities for all these people who race past us because their ideas and their ambition is bigger than mine ever was. And mine was pretty fucking big.
As I was reading this book, I wished I had found some of these articles when I was younger. I read your emo essay, "Emo: Where The Girls Aren't" and thought, "This would have meant so much to me 10 years ago." I grew up in the Long Island emo scene, going to shows feeling like I was there to watch boys. I didn't feel like I could see myself in that music until I found bands like Bikini Kill much later, which you also discussed. I'm not an adolescent anymore, but reading these kinds of stories is still powerful. It still makes me really think about being a teenager and having that young, complicated relationship with music we may not fully understand.
It's funny you say that about the emo essay. The other day, I was talking to Meredith Graves from Perfect Pussy and she was like, "I read this essay so long ago on the Internet and I had no idea you wrote it!" I was like, at least it made it out there somewhere in the LiveJournal/Tumblr/re-share world. It was from a magazine that's long out of print and never even had a digital version.
When I wrote that [...] the very initial reaction that people had was, by the way, entirely gendered. I got mail for literally years, people writing actual letters talking about how wrong I had gotten it or how they had cried reading that piece. It doesn't surprise me that that piece has resonance because of the ways that scenes and music and shows are very gendered experiences still.
I was at a Taking Back Sunday concert a couple weeks ago and when I was little, they were like my favorite band. But I was standing in the back and I had such a visceral reaction, like, "I can't be here. This doesn't make sense to me anymore." When I was re-reading your interview with Jim DeRogatis, it reminded me of the theme you bring up a lot: what will I and will I not compromise for the sake of something that may sound good to me. That really spoke to me very recently and I'm starting to think about this so much more.
It's complicated. It's hard to sometimes make pop or punk or hardcore or techno conform to do the moral gymnastics we need it to if we're going to keep listening, and keep going to those shows.
How do you reconcile that? Would you go to a show of a totally misogynistic band?
I don't have that kind of time in my life and I never have. I love plenty of artists that are "problematic." Some of my faves are problematic, but music for me has always been personal since I got into punk rock. Part of that was the politics of it, in the way that I found myself in it and the world that it opened up to me, the vocabulary it gave me, the sense of self it helped give me, the sense of power, the sense of community. I take it far too seriously to ever be able to go, "I just like how this sounds and I don't care about any of the other qualifying aspects around it."
You listen to the Nicki [Minaj] record, that song called "Only." I like Drake. I love eras of [Lil] Wayne. We can say, "Oh, this Chris Brown part sounds good." But I was like, "Ah. No. I can't do this." Because what they're saying in this verse about Nicki is just so disrespectful. Then Chris Brown is here. Literally, when I think of Chris Brown I think of him on Larry King and him being giving passes, really sad facts about his own life. This is too much. I can't unpack Chris Brown enough in a way that feels okay for me to dive into a Chris Brown record, like, "This my shit." I just can't.
We have so many choices -- who we listen to, how we listen, how we purchase, whether we pay for it, whether we steal it, whatever. This is sort of one more hurdle that it has to clear sometimes. Is this how I want to participate? Do I want to give this space? Do I want to let this person in my brain or do I want to just turn on a different radio station?
I sometimes forget that we can change the channel, or listen to something else.
This is the gift of the modern age, the options. There's plenty of things out there in the world that are just naturally going to fuck us up if we give it half a mind, and sometimes it's good if we let things disturb us a little and we try to figure out why. But that said, I'm never going to go to an R. Kelly show.
REAL LIFE. REAL NEWS. REAL VOICES.
Help us tell more of the stories that matter from voices that too often remain unheard.
BEFORE YOU GO
PHOTO GALLERY
2015's Biggest Albums, So Far