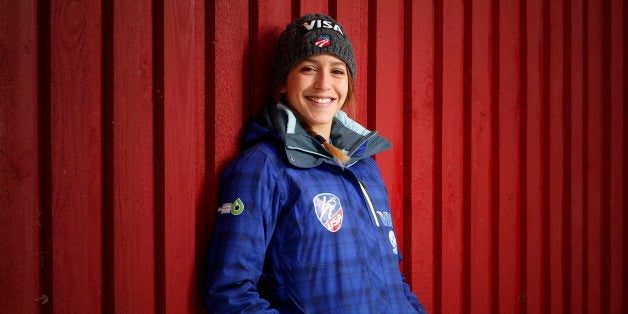 Welcome to our "Like An Olympian" series. During the 2014 Sochi Olympics, HuffPost Healthy Living will take a look at lifestyle and fitness lessons from competitors, coaches and former Olympians alike. We recently had the opportunity to speak with ski jumper Jessica Jerome, who has played an integral part in the movement to have Women's Ski Jumping included in the Olympics and made history when she became the first female ski jumper to qualify for the U.S. team.
How does it feel to finally have women's ski jumping in the Olympics?
I don't think it's completely sunk in yet. I know that I'm going to the Olympics next week, and I know I'm going for ski jumping. It's been something I have wanted to happen for as long as I can remember. I think once I walk into the opening ceremonies and I have that USA jacket on, that's when it will all come together
And how does it feel to have been the first nominee to the team?
That was kind of surreal. I knew I was capable of having jumps good enough to win. [Jerome's teammate] Lindsey [Van] is always -- the two of us are always back and forth. Mentally, she's a better competitor than I am. I knew even if I didn't win, I would have a very good chance of being nominated. I was glad to be competing; it was icing on the cake that I won.
Do you feel like there's extra pressure on your team since this is the Olympic debut for women's ski jumping?
No, not really. Not just the Americans, but across all the countries, we're good at what we do. We put on a really good show every time we jump together in a World Cup. I'm not worried at all that people are going to be disappointed.
What are your goals for Sochi?
Of course, I want a medal, that's everybody's goal going into it. Unfortunately, we only have one event, the guys have three events. It's going to be tough. I know I can be in medal contention, but just being able to go is huge for me, and I'm so excited about that. If I put two jumps together that are great by my standards, I will be happy.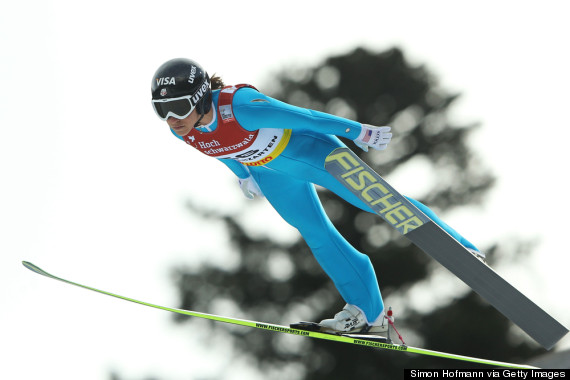 What's your training routine like?
We spend a lot of time on the hill obviously, but off the hill we're in the gym. We're in the gym in the summer probably four days a week. We do lots of weightlifting, a lot of plyometrics and quick-moving [agility] and mobility drills and what we call "pre-habs" instead of rehab. You're getting joints lubricated and muscles ready so that you can possibly prevent an injury from happening.
Is there a muscle or group of muscles that's most important to strengthen for ski jumping?
It's definitely focused on the legs, so quads and hamstrings, and then core. Not only your abs, but your lower back. We do a little bit of upper body, but we're not benching, we're not having pull-up competitions. We do upper-body pre-habs to make sure we're strong enough so that if we have a fall we're not going to rip a shoulder out or dislocate something.
Do you have a favorite quad or hamstring move?
I do a ton of squats. I will say, I prefer back squats over front squats. And deadlifts kill me. When I'm doing them, it doesn't feel like it hurts, and then the next day you can't walk. Those will sneak up on you. In the last two years my strength coach has been having us do cleans, which I'm still not good at, but I can see how it pertains to ski jumping. That's something I would like to get better at.
Does nutrition play a role at all?
Ski jump athletes have to weigh basically a certain BMI for their height and ski length. I'm 5'5" and I ski on 238 centimeters, so my body mass index has to be at about 20. We're allowed to be weighed with our boots and our suit, which usually comes to around five pounds. I have to weigh about 55 kilos [121 pounds], or I have to make my skis shorter, which can be detrimental, it's sort of a penalty.
I actually weigh more than I need to be. Over the years, I've learned what weight my body feels good at. I know what weight I can train really well at and not be super-fatigued or super-cranky. Weight is important, but it's not something I want to become a burden. I see people who stress out about food, weighing portions and counting calories, traveling with a scale. To me, that doesn't seem like fun.
Portion control with carbs is huge for me because I love carbs. I could eat bread and pasta all day, every day. I try to get the majority of my carbs for breakfast or lunch, and for dinner I try to really cut back from the carbs and get tons of protein and tons of fiber.
Speaking of breakfast: It's the morning of competition day. Do you have a go-to breakfast? What's your routine like?
Depending on where we go, certain things aren't available, so I try not to get too attached and then if it's not there, I'll have a mental breakdown. If it's an afternoon competition, I'll usually do some light exercise in the morning to get my body up and moving. I try not to eat a huge meal before I compete. I try not to stress about the weather because that's not something I can control. Then about an hour before the competition we hit the hill and I prep my skis. About 30 to 40 minutes before the start, I go on a light jog and we do what we call imitations. You get in your position and you jump and your coach will catch you to imitate what you're going to do on the hill. We'll talk technique and then boot up and go. I always try to keep the mood light. So many people get really, really serious. For me, when I get too focused it gets to my head and I psych myself out. I'm focusing on what I need to be doing and what's coming, but I'm also the one at the top of the jump talking to the other girls or maybe cracking jokes just to try and make everybody laugh a little bit. Everything is going to be better when you're having fun.
As told to Sarah Klein. This interview has been edited and condensed.
Support HuffPost
A No-B.S. Guide To Life
Related
Before You Go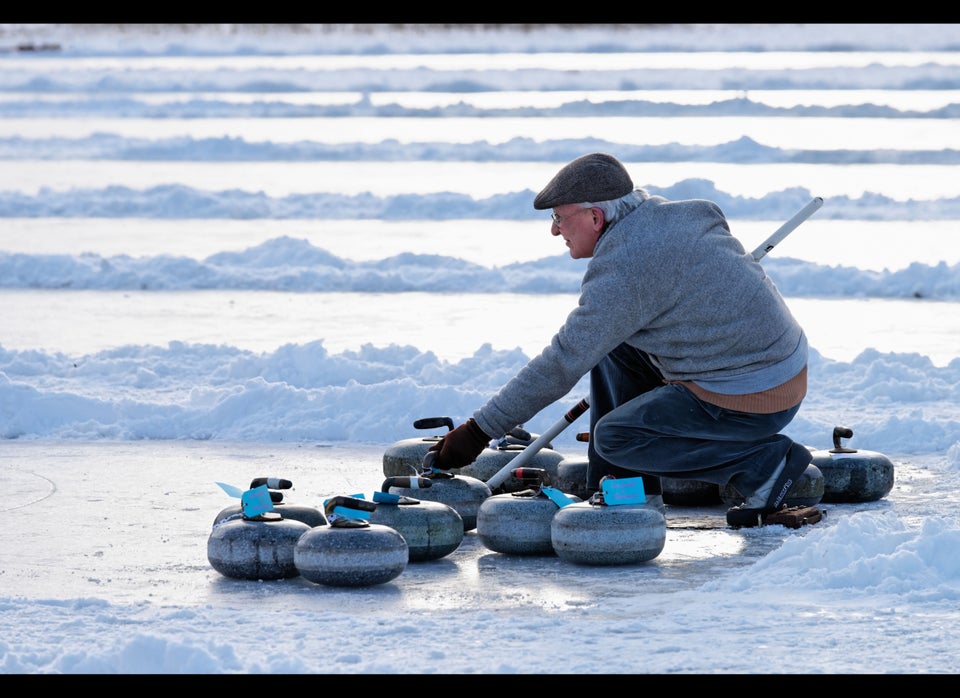 Winter Workouts That Burn Calories
Popular in the Community