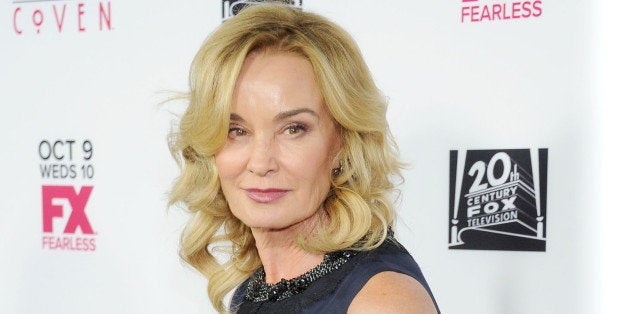 Jessica Lange might be eying an "American Horror Story" ending. In an interview with Yahoo TV, the Emmy-winner said she might do another season after "Coven" wraps, but that could be it.
"No, I'll probably do, maybe ... if we do another one, I'll do that, but then ... yeah," Lange said. "Because I'm kind of coming to the end of acting, anyhow."
Lange has won two Oscars, five Golden Globes, and two Emmys during her impressive career.
However, "American Horror Story" co-creator Ryan Murphy told The Hollywood Reporter that Lange has signed on for Season 4. When asked how long Lange would be his muse, Murphy said, "Every year she says, 'OK, that's my last one.' But she's already comitted to the fourth series. I can see 'American Horror Story' going for 10 years, 12 years, 15 years. I think it's limitless because it re-energizes every year, and I would love for Jessica Lange to be part of it every year."
While Season 4 has yet to be officially announced, Murphy said Lange has always wanted to play a "Marlene Dietrich figure, and now she gets to."
"American Horror Story" works differently than most shows. "The great thing about this show is, for the most part, everybody has one-year deals, so people who are on this show want to be on this show, which is always refreshing," Murphy said. "Every year, I sort of gather Sarah [Paulson] and Jessica, and I say, 'This is what I'm thinking about, this is what I'm interested in, this is who I think you'll play.' So there's always the option of I want to come back or I don't."
"She liked that idea, and I think she particularly loved that she got to wear Saint Laurent heels and make-up this season after last year. It's just something completely different for her. She's such a great dramatic actress, obviously, but she hasn't in her career had a lot of occasion to do comedic stuff, and this part definitely has that. Her stuff with Kathy Bates in particular is very funny," he said.
"American Horror Story: Coven" airs Wednesdays, 10 p.m. ET on FX.
Related
Popular in the Community