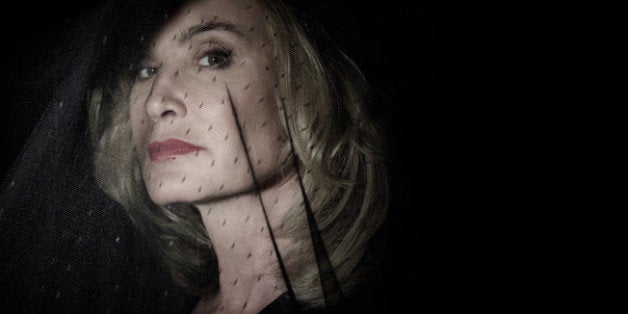 Jessica Lange's "American Horror Story" characters always have a touch of the diva about them, and this season is no exception.
In "American Horror Story: Coven," which arrives Wednesday on FX, Lange plays Fiona, the Supreme, or leader, of a group of witches. Let's just say Fiona's very used to getting her way. Lange, who's had major roles in all three iterations of "American Horror Story," clearly delights in playing such an imperious and autocratic character: Fiona stalks through the first episode sporting spike heels and major attitude. But, as is the case with her other "AHS" characters, Lange finds the human being beneath the tough, acerbic exterior. And there are good reasons for Fiona's ferocity: As far as she's concerned, witches in America are under siege.
This season, the charged banter between Lange and Sarah Paulson, who plays Fiona's daughter, is especially delicious. One can only hope for major fireworks between those actresses and their co-stars, who include Kathy Bates, Angela Bassett, Taissa Farmiga, Emma Roberts, Gabourey Sidibe, Frances Conroy, Lily Rabe, Denis O'Hare, Patti LuPone, and Danny Huston.
In the interview below, which has been edited and condensed, Lange talked to HuffPost TV about last season's buzzworthy moments, her collaboration with "AHS" co-creator Ryan Murphy and what she will and won't do on the show. (Hint: Don't look for riding crops in "Coven.")
Can you talk a little bit about why you and Ryan Murphy seem so simpatico and work so well together?
It's interesting because the genesis of this relationship really came out of nowhere. I got a call one day. I'd never met Ryan, I don't really watch TV. He started talking, and there was something [laughs]. There was something about the way he described what he wanted to do and the character that just piqued my curiosity. And the great thing about Ryan is that he follows through on things. If he says he's going to write a great part or this or that, he actually does.
It's also collaborative. I can say to him, "This is an area that I'd really love to investigate" or "I'd love to do a song and dance," and he finds a way to make it work. It's a wonderful [sharing of ideas]. I've never had anybody really write specifically for me, and somebody who knows what I do and what I do well and what I like to do. It's been a really great treat, actually.
What were the areas that you thought, "I'd like to do more of this"? What kinds of things did you want to delve into more as time went on?
That thing of despair and loneliness -- desperation and what drives a person. The idea of disappointment. What the tortured kind of do to survive. I do remember saying to him at one point, "You know, I've never played a drunk. I've always been curious to play one." So he wrote this character, the nun, as an alcoholic, and gave me those scenes to play. He is never not receptive to an idea. I think that is unique, really.
The show gives actors this huge range of things to play, from big, operatic moments to these intimate, emotional moments. Is that nice to have that array of things to try?
Yeah. The great thing too is the language, especially in the first season. They wrote these kind of arias for me, these wonderful monologues. In film, you don't usually get that opportunity, that's much more theatrical -- to have that kind of language.
Certainly "The Name Game" scene was one of the most talked about things last year. Was that enjoyable to do?
Yes, it really was. It came out of what I said -- the character I played was kind of a second-rate lounge singer in the '40s, drunk most of the time and all that. I got to do that little [scene], and it was so much fun to work on it. I'd never done any singing, and I'd never even imagined doing anything [like that] until I did [the HBO film] "Grey Gardens" and had to learn these kind of iconic pieces of Big Edie's. I enjoyed it so much, I can't tell you. I thought, this is going to push me into doing something I've never done before, and it's going to be great as an actor to do something like this at this late date.
We did the first little piece as a flashback. I said to Ryan, "Let me do another" [singing moment] because it's so much fun. Then it kind of morphed into this wonderful, strange moment, coming out [how damaged she was] and the question, "Do you know who you are?" I thought the way he designed that moment was pretty brilliant, actually.
Have you ever come across things on the show that you just thought, "I don't know if I can do this or if I want to do this?"
I've had a few of those moments, definitely.
Is it more the emotional moments?
No, no, no. Never emotional. That I can do, that I love to do, that's what appeals to me most. It's the violence. I don't want to dip into that. I've avoided those kinds of things for my entire career, and I'm not interested in that. I mean, emotional violence? Yes. Physical violence? Not so much.
In the first season, I shot my philandering husband, but I thought, "I can do that, he deserves it" [laughs]. In the second season, I had the thing where [I was] caning some bare asses, but after the second time, I said, "OK, that's it. We're not doing that any more."
Aside from "The Name Game," do you have any other favorite scenes from last season?
One of my favorite episodes is when I come into the diner after a bender and go into the bathroom and have this fantasy of slitting my wrists, and then I realize and [Francis Conroy's angel of death character] is sitting in my booth. They've given Frannie and I some great scenes together over the last two seasons.
What's it like having this cast of amazing actresses to go up against this season?
I think it just makes you work better. It's like playing tennis against a great tennis player -- you've got to kind of rise to the game. Kathy [Bates] and I have worked together before and I love her dearly and I know we work well together. It's going to be exciting to work with Angela [Bassett], I've never worked with her before. And Sarah [Paulson], we now have two seasons together under our belts, and I love working with her and Lily Rabe. Patti LuPone is coming on the show, and she's a good friend and a pal -- but I've never worked with her, so it's exciting.
Related
Popular in the Community