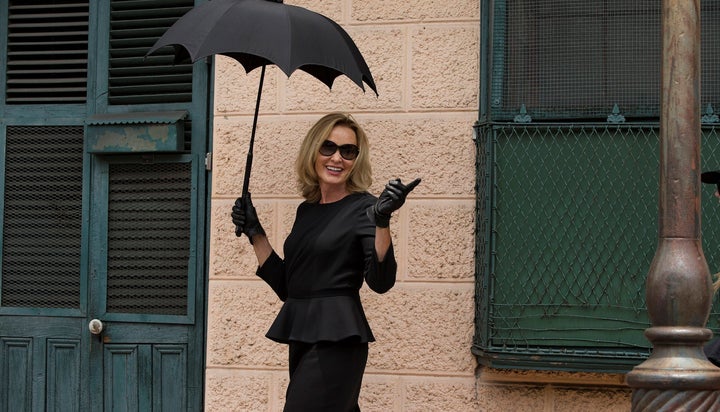 Jessica Lange to "American Horror Story" is like Jon Snow to "Game of Thrones" -- are they actually gone for good, or is there some tiny possibility they'll maybe return to their respective shows? Luckily, Ryan Murphy misses Lange as much as we do, and he just confirmed that yes, she will be back (at some point.) 
Lange, who starred in the first four seasons of "AHS," previously said "Freak Show" would be her last run on the show. She further broke fans' hearts earlier this year, confirming that she was "done" with "AHS." But who could resist the temptation to play another Murphy character? After all, Murphy told EW that with Lange, it's all about the character, and we have no doubt he'll write her another great one. "She wants to come back," he told EW, "we just have to come up with something."
We can likely count her out for a Season 5 cameo, since she'll be busy with her upcoming Broadway production "Long Day's Journey Into Night." But then again, since "Hotel" will revisit Season 1's Murder House, aka Lange's Constance Langdon's former home, perhaps the actress could carve out some time in her schedule to reprise her role. "Hotel" will partially take place in the present day and we can definitely imagine Constance and her grandson Michael checking into Gaga's Hotel Cortez.
But there may be another way Lange shows up in "Hotel." Back in March, a Tumblr post with information reportedly from an FX insider caught traction on Reddit. The insider claimed that Season 5 would feature Lange in the premiere and final episodes as an older version of Lady Gaga's Countess character. For one, this scenario is unlikely since Gaga's Countess takes place in the present, which would force the show to jump years into the future to introduce Lange's Countess. 
However, the Tumblr post did include some intel that has since turned out to be rather true. The insider claimed Gaga would play a "sophisticated heiress" -- Murphy revealed she's a "glamorous socialite" -- and that a young married couple would check into the hotel and get sucked into its darkness -- that couple is now being played by Wes Bentley and Chloe Sevigny. Perhaps the insider did have info from the network and Lange could still appear as a surprise character in "Hotel." Maybe she'll play the Countess' mother, since "AHS" does have a penchant for mommy issues.
For the full interview, head to EW.
"American Horror Story: Hotel" premieres on Oct. 7 on FX.
PHOTO GALLERY
"American Horror Story"
For a constant stream of entertainment news and discussion, follow HuffPost Entertainment on Viber.
REAL LIFE. REAL NEWS. REAL VOICES.
Help us tell more of the stories that matter from voices that too often remain unheard.