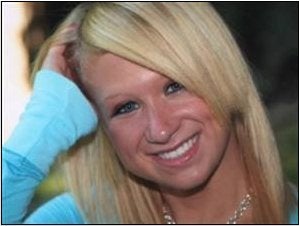 The parents of Jessica Logan, a teen who committed suicide a month after graduating from high-school, are suing their daughter's ex-boyfriend, who circulated among his friends a nude photo of Jessica that she had "sexted" (sent via text message) to him while they were dating.
Jessica's parents are also suing the school she attended, Sycamore High,for negligence, as well as several of the teens to whom Jessica's boyfriend showed the picture, for "severe" emotional harassment.
The suit was filed in Ohio by Cynthia and Albert Logan who say that the students' "degrading sexual insults" caused their 18-year-old daughter Jessica, their only child, severe emotional distress, which led her to kill herself in July 2008, a month after graduating from high school.
The complaint filed by the teen's parents names the city, school district, ex-boyfriend, and the friends to whom he purportedly sent the picture. The couple are seeking punitive damages for discrimination, civil rights violations, the invasion of privacy, and emotional distress, reports the Courthouse News Service.
According to the federal complaint, the late Jessica Logan sent a nude picture of herself, from her neck down, to her boyfriend, defendant Ryan Salyers. After they broke up, he "proceeded to disseminate the photo of Jessica to a large number of other students at Sycamore High School and Loveland High School," according to the complaint.
Jessica Logan's parents and friends, interviewed here about the girl's sexting-related suicide here, report that the troubled teen suffered harassment both in school and out after her "sexted" photo was distributed among her peers.
Logan tried to get help from guidance counselors at her highschool, Sycamore High, as well as local police, but was unable to stop the namecalling, teasing, and harassment.
Jessica Logan's mother, Cynthia, told WLWT news about her daughter's plight:
She was called filthy names, things thrown at her [...] Every single place she went they knew about that picture, they saw the picture. They knew about the picture! It's abuse. She was abused.
Jessica's friends and mother report that she would skip school or hide in the bathroom at school in an attempt to avoid the her peers, who reportedly called her a "slut," "whore" and "skank."
After attending the funeral for a friend who had committed suicide in July 2008, Jessica Logan came home and killed herself by hanging herself in her room.
Her mother told WLWT in an interview that when she found her daughter's body, "her cell phone was in the middle of the floor."
A recently released study found that over one quarter of teens had engaged in "sexting" ("sharing sexually explicit photos, videos and chat by cell phone or online"), and that a third of young adults had engaged in the practice.
It doesn't stop there -- The AP notes, "Seventeen percent of people who received naked pictures said they passed them along to someone else, often to more than just one person."
Watch MSNBC's coverage of the Jessica Logan story, which includes clips of an interview Jessica did two months before committing suicide, in the video below.
A full copy of the Logan's federal complain is available from Courthouse News Service here.
WATCH:
Related
Popular in the Community