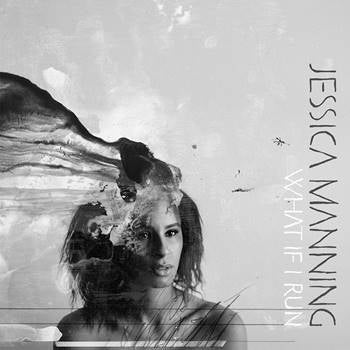 With glowing cinnamon skin and a creamy, come-hither voice, Minneapolis-based Jessica Manning is making her ascension up the music ladder. Though she is considered an alternative R&B artist, there is something imperceptibly different about her style.
Drawing inspiration from a diverse range of artists such as Frank Ocean, Little Dragon and Kevin Garrett, she utilizes electronic drums, synthesizers and guitar to build a rich foundation for her sweeping melodies and velvety vocals. Her lyrics are emotive and thought-provoking with wistful songs such as "Skies Don't Fall," "Wither," and the album's namesake, "What if I Run." Just a scan of each of the track titles sets the tone for the album's cathartic sonic palette.
While Manning was raised as a Midwestern girl, she was actually born in Stockholm, Sweden where she spent the first six years of her life. Her gift of song was easily discovered being the daughter of a soul-singing father who swathed her in music from an early age. She fell in love with Broadway show tunes, practicing them in the sanctuary of her bedroom and honing in on her craft without even intending to.
Soon Manning wanted to write her own music and she began teaching herself the guitar at the age of 15 through YouTube. With the blessing of technology leaning in her favor, she began posting original and cover recordings online, transitioning from sharing her music with her bedroom mirror to sharing her music with the world.
While posting videos on YouTube gave her confidence and validation, she was not yet ready to pursue a career in music. In 2011, she moved to New York City to attend the Parsons School of Design at the New York School where she studied fashion management. After her first year, she moved back to Minneapolis—not for a lack of ambition, but only for a lack of finance.
Instead of dwelling in her failure, she faced it head on. Though her door as a design student had closed, her door to a life in music stood agape. Continuing on her path of self-representation through sharing songs on YouTube, it was a cover of a Justin Young track that finally gave her some traction. After catching his attention, she was invited to record her debut EP with him in Los Angeles which was released in early 2013.
The self-titled EP provided her with the proper body of work to move forward in the industry. Soon after the release of her album, Manning met guitarist Zach Brose and together they began writing and performing, most frequently in the Twin Cities. It was during this period that she began her sonic evolution by experimenting with new instruments and styles. Her sound shifted from being acoustic-driven to being led by keyboards, synthesizers and electronic drums. Manning's music became richer and thicker as her composition began taking on a more modern approach.
Her first full length album What If I Run was successfully crowdfunded and recorded with producer Brett Bullion in early 2016. Since her first EP in 2013, she has solidified a signature sound which she can confidently call home. In this space, she is able to paint the walls with songs that are raw, honest, and cathartic.
REAL LIFE. REAL NEWS. REAL VOICES.
Help us tell more of the stories that matter from voices that too often remain unheard.
This post was published on the now-closed HuffPost Contributor platform. Contributors control their own work and posted freely to our site. If you need to flag this entry as abusive,
send us an email
.