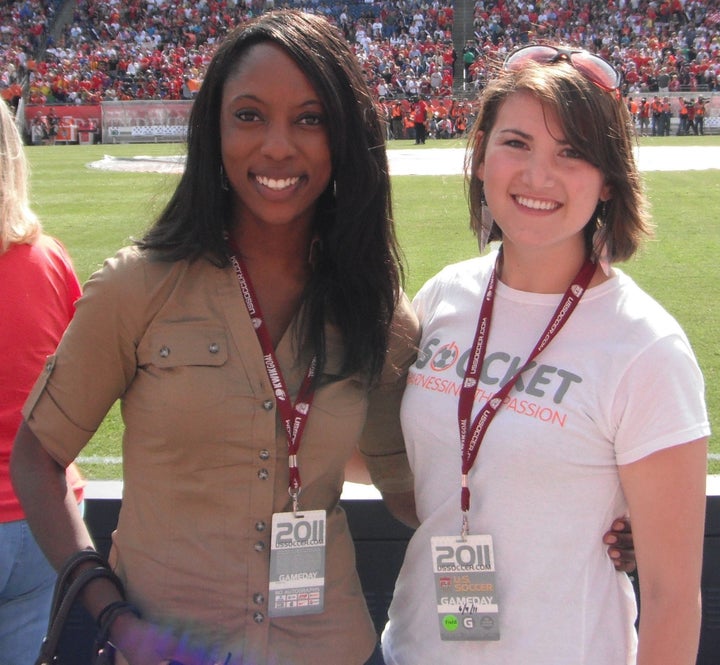 It started out simply enough.
As classmates at Harvard, Jessica Matthews and Julia Silverman took a class on engineering for non-engineering students. They were tasked with creating a solution to a problem facing the world and their first idea was a flop with the professor.
"I remember thinking, 'I can't fail! My GPA needs to be right for grad school!'" Matthews told The Huffington Post. "So we remembered a seed of an idea we had before, and that's where sOccket came from."
sOccket is the name Matthews and Silverman gave their bold product: a soccer ball that captures and stores kinetic energy that can then be used by plugging in any compatible plug into the DC outlet built into the ball.
The idea holds potential as a means of reducing the reliance on dangerous kerosene lamps, and can power an LED light for three hours on just 30 minutes of play time. It is water-resistant and never deflates.
Matthews says the ball, which has earned the attention of many major news outlets and the Clinton Global Initiative, is an important symbol of agency. Since soccer balls are omnipresent in most of the world (including in Nigeria and Haiti, among the first nations where sOcckets will be distributed), turning the ball into a source of light instantly helps children realize they can make changes in their own communities.
"The thing about kinetic energy, versus, say, solar energy, is that you can play with it. By doing an action on the ball and getting something out of it, it becomes a symbol of empowerment," Matthews said. "It's about your happiness in the now [while playing], and a hope for a better tomorrow."
"We believe innovation lives between a rock and a hard place," she added.
The sOccket will be on display and demonstrated at New York neighborhood NoLita's Openhouse Gallery, a versatile events space that hosts pop-up exhibitions. On Sept. 23, guests will be able to see the ball in action for the first time. The event will be the only place where customers can purchase balls (as part of a buy one give one pre-sale) from a small run at $89.99 which Matthews said is almost exactly what it costs the company to manufacture them at this time.
In addition, sOccket is hosting an auction offering limited edition, first-run sOcckets online. For every $50 increment of sales, a sOccket will be donated to a child in one of the communities the company is targeting. Each ball features a unique design and is signed by the designer, all of whom are somehow related to sOccket.
Matthews said that though there a couple thousand balls set for distribution across Central America and Nigeria, the auction is the only way American customers can acquire a sOccket before the holiday season is over.
As the company scales up, it hopes to operate on a "buy one, give one" model that will price the sOccket as a higher-end toy in the United States and then sell one at a nominal cost to families who can benefit from the model.
Though Uncharted Play, the company Matthews and Silverman started to distribute the sOccket, has no employees other than the two former classmates, it uses a team of two engineers, one social media manager and "more lawyers than we want to talk about," according to Matthews.
The pair threw their entire grad school savings into the idea and borrowed funds from family members. Their office space is donated by Matthews' father. "We obviously try to keep overhead low and almost all the money goes into R&D, but it's been tough," Matthews said. "It's almost been insane."
Though they're based in New York, Matthews and Silverman plan to have a factory up in running in Nigeria and would like to see sOcckets in stores by 2012. The plant would house the worldwide production of the sOcckets.
"We want to create the Google of factories," said Matthews, who is Nigerian herself. "[A plant] where people love to be there and are learning to be innovators regardless of where they are in the company."
Popular in the Community