A former Virginia Tech student admitted this week to killing another student in 2014 after the victim told her she was just "experimenting" and "toying" with her.
Jessica Michelle Ewing was sentenced to 45 years in prison on Monday after she entered an Alford plea in the death of 21-year-old fellow student Samanata Shrestha, the Roanoke Times reported. The Alford plea allows Ewing to avoid pleading guilty while acknowledging prosecutors have enough evidence to convict her.
"We were pleased with the judge's ruling," Montgomery County Commonwealth attorney Mary Pettitt told The Huffington Post. Pettitt recommended a life sentence to Judge Robert Turk.
"Anytime you kill somebody, I think we ought to look at life in prison," Pettitt said.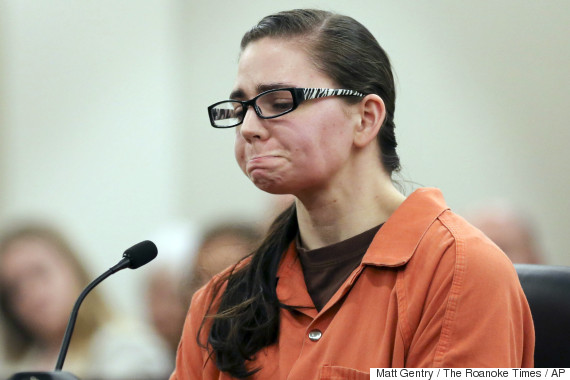 "It wasn't my intent to kill," said Jessica Michelle Ewing as she cried on the witness stand in Christiansburg, Virginia, Monday, June 1, 2015. (AP)
Ewing's attorney, Tyson Daniel, said there were several mitigating factors that merited a lighter sentence.
Before she was sentenced, Ewing offered her account of what happened at Shrestha's home in Christiansburg, Virginia, the night of Feb. 7, 2014.
Ewing said Shrestha invited her over for what Ewing described as a "date night." But when Ewing arrived in a dress, she said she was "disappointed" to find Shrestha wearing sweatpants and a casual shirt.
Shrestha eventually changed into a dress and the pair drank wine, fought with whipped cream and "engaged in sexual activity," according to the Roanoke Times.
When Shrestha told Ewing she was just "experimenting" and "toying" with her, Ewing attacked her date. Ewing strangled Shrestha, who also suffered blunt force trauma to her head and her upper and lower extremities, according to the Associated Press.
Many news organizations that reported on the case described the killing as driven by the fact that Shreshta wore sweatpants to the date. But Pettitt told HuffPost she doesn't think Shrestha's decision to wear sweatpants lead to her death. However, she said it signaled "that Ewing showed up with expectations about how this night was going to go, and those expectations were not shared by Samanata Shrestha."
Pettitt also said she didn't see any mitigating factors in the case.
Daniel disagreed. His client is a young woman with no criminal past or history of violence, he said. Daniel also noted that Ewing was the victim of sexual abuse as a juvenile, which she "really bore inside of her."
He also said Ewing's decision to explain the truth of what happened should have been considered "a point of mitigation."
"She said things that were entirely against her interests but were consistent with the evidence that the commonwealth had," Daniel said.
Calling all HuffPost superfans!
Sign up for membership to become a founding member and help shape HuffPost's next chapter
BEFORE YOU GO