A prosecutor in eastern Pennsylvania reportedly believes Gregory Graf could have killed his stepdaughter in order to have sex with her corpse.
Graf was arrested on Nov. 27 after the body of his 33-year-old stepdaughter, Jessica Padgett, was found on his Allen Township property. Authorities have charged the 53-year-old with criminal homicide in connection with Padgett's death.
According to The Express-Times, Padgett was last seen alive on Nov. 21 when she left her job at a day care center in Northampton. Police began focusing their attention on Graf after he gave inconsistent statements to officers, The Associated Press reported
At a press conference after the discovery of Padgett's body, Morganelli said Graf confessed to his involvement in Padgett's slaying, which authorities say happened the same day she disappeared.
"During an interview with the investigators, he did admit that he intentionally and knowingly caused the death of the victim at his home," said Morganelli. "He related that he utilized a firearm to cause the victim's death and he then took the victim's body and disposed of it on his property."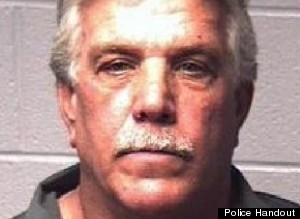 Gregory Graf
Morganelli did not immediately return a call for comment from The Huffington Post on Wednesday. During his interview with The Morning Call, Morganelli said he suspects necrophilia was a possible motive because of statements allegedly made by Graf and evidence collected at the crime scene.
"All of it is still unclear, but it is certain that this is a bizarre case," Morganelli said.
Graf and Padgett's mother, Danelle Graf, have reportedly been married since 1997. Morganelli said she was in Florida at the time of the slaying.
That "gave him an opportunity to commit the crime ... in secret," Morganelli said, according to the AP.
Morganelli said investigators do not believe Gregory Graf and Padgett were involved in any type of inappropriate relationship. The victim, the prosecutor said, was recently married and worked part-time for Graf's fence company.
Graf is currently being held without bail in the Northampton County Prison. The prosecutor said he plans to seek a first-degree murder conviction and may file additional charges against Graf, once the investigation is complete.
Meanwhile, Padgett's longtime friend, Shauna Wilkins, has set up a page on Gofundme.com to help raise money for Padgett's three children. As of Wednesday afternoon, more than $10,000 has been raised.
"Her three children were everything to her," Wilkins wrote on the website. "This fund will aid the family in caring for their basic needs during this difficult time."
Calling all HuffPost superfans!
Sign up for membership to become a founding member and help shape HuffPost's next chapter